Jul 28th 2014 | Sweet Roasted Pretzels and a Crash Course in Sushi
This month's shipment was a box containing two items. Honey roasted pretzel snacks and an unbearably cute sushi kit!
Honey Roasted Pretz
Pretz are popular (spoilers) pretzel snacks from the makers of Pocky, another irresistible Japanese snack. They're thin and crispy, and like Pocky, come in tons of different flavors. These Pretz pretzels are honey roasted. Sweet, but not too sweet. And hey, that's Mukko the red yeti on the box! He's a famous children's television star. I wonder what he's doing on there!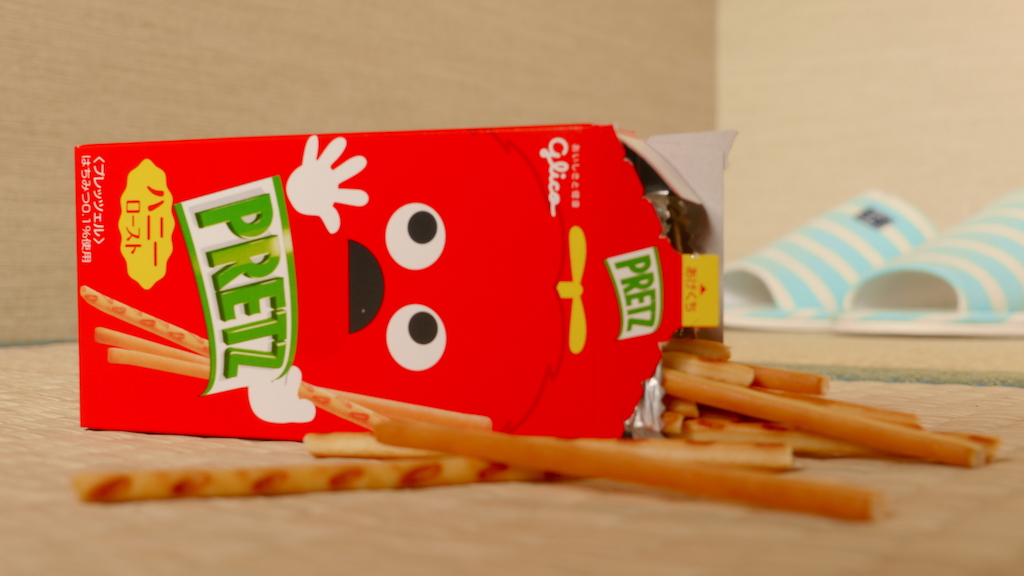 Fun Sushi Shop
Quick! What's the first thing that comes up when you think of Japan? Godzilla? No. Anime? Nope. Oddly inserted American celebrities in zany TV commercials? Wow. You're awful at this. The answer is sushi. This awesome candy set up puts you in the role of a sushi chef. You got your tamago (egg), maguro (tuna), your roe (fish egg) and rice. Don't fret if fish flavored candy isn't your thing. The box assures you that everything is grape flavored! So down to business: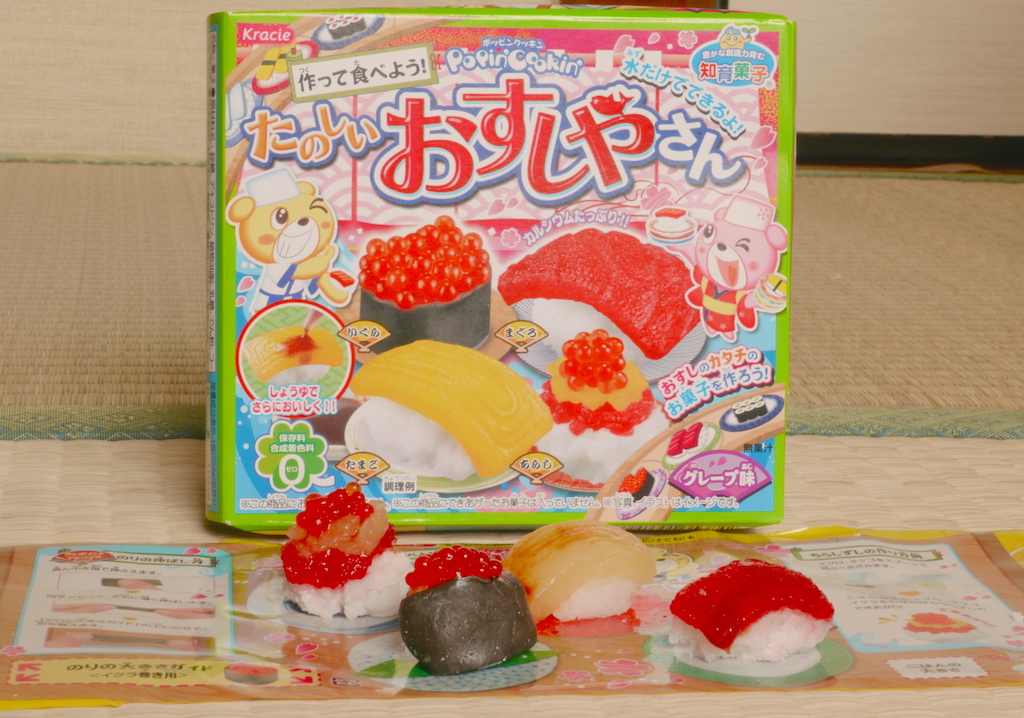 Step One: Use scissors to cut along the indicated lines and spread the sheet out. This will be your sushi dish! Get about a cup of water and use the "eye dropper" like tool to suck up water and use it to fill up the "rice" part of the white package up to its line. Then pour in the large/light blue package and stir it until it looks like fluffy rice. It's almost uncanny!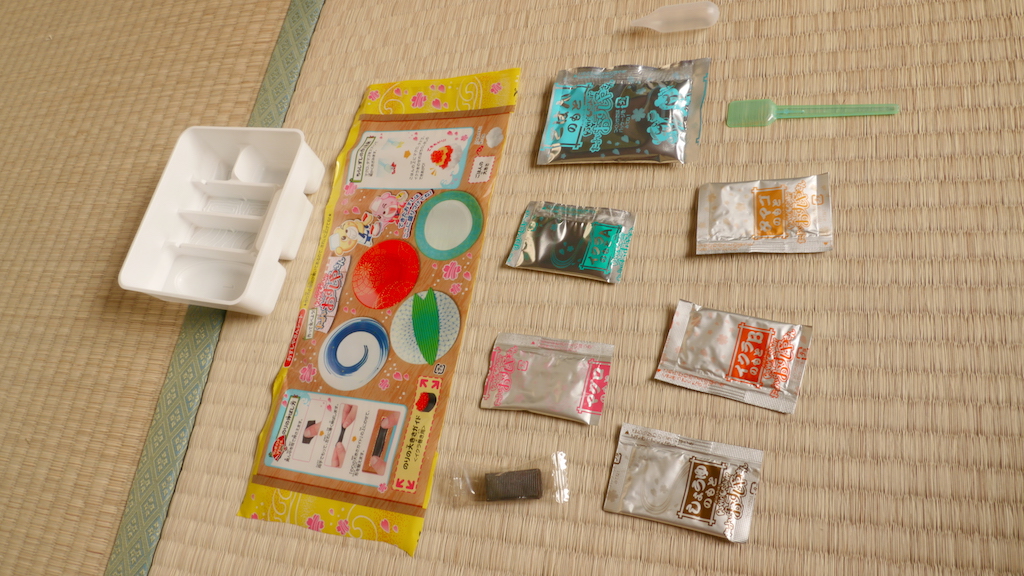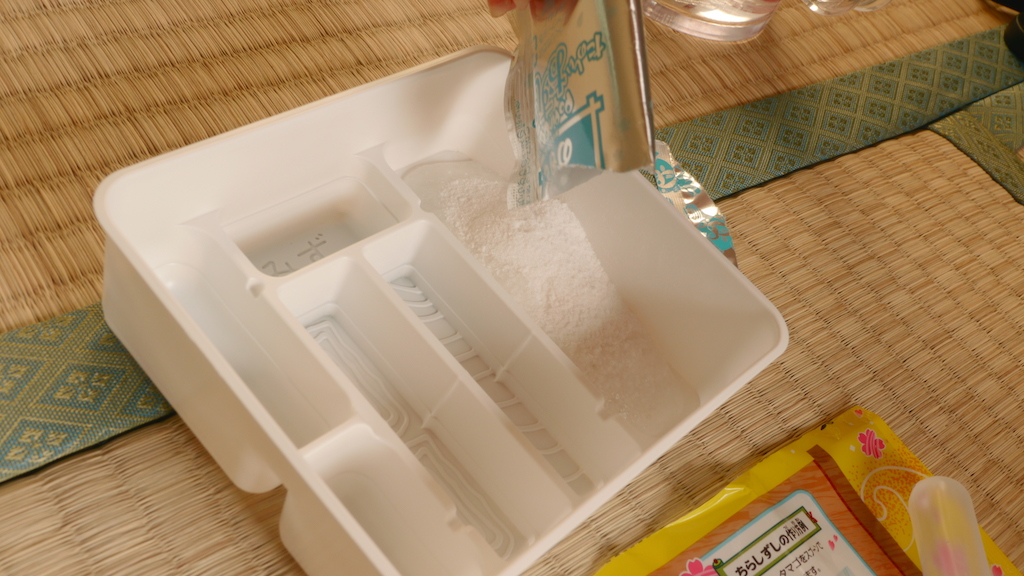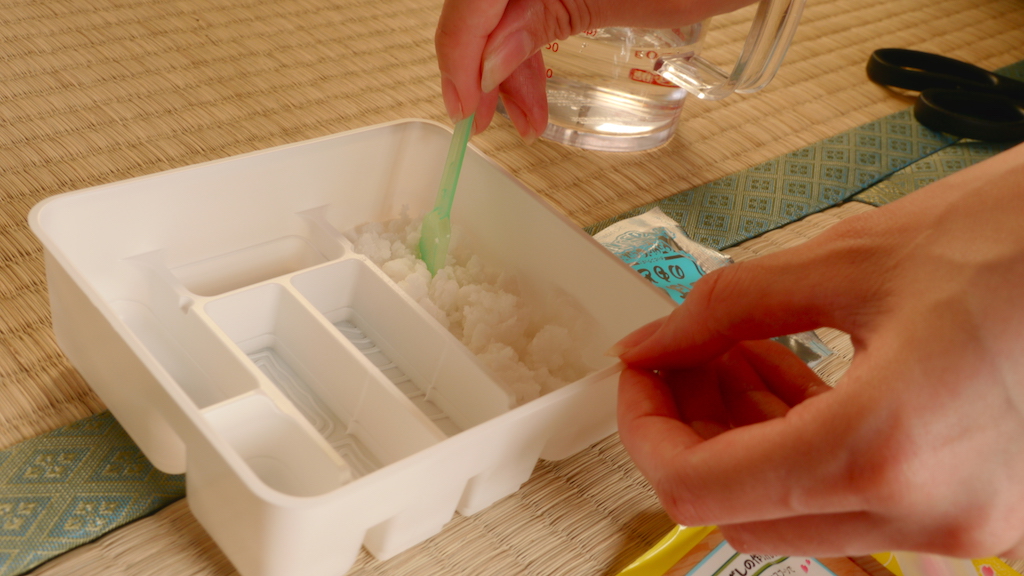 Step Two: Do the same with the egg (light orange pack) and tuna (red pack). Add water up to the line using the eye drop and mix. Shape it flat and let it sit for about about a minute.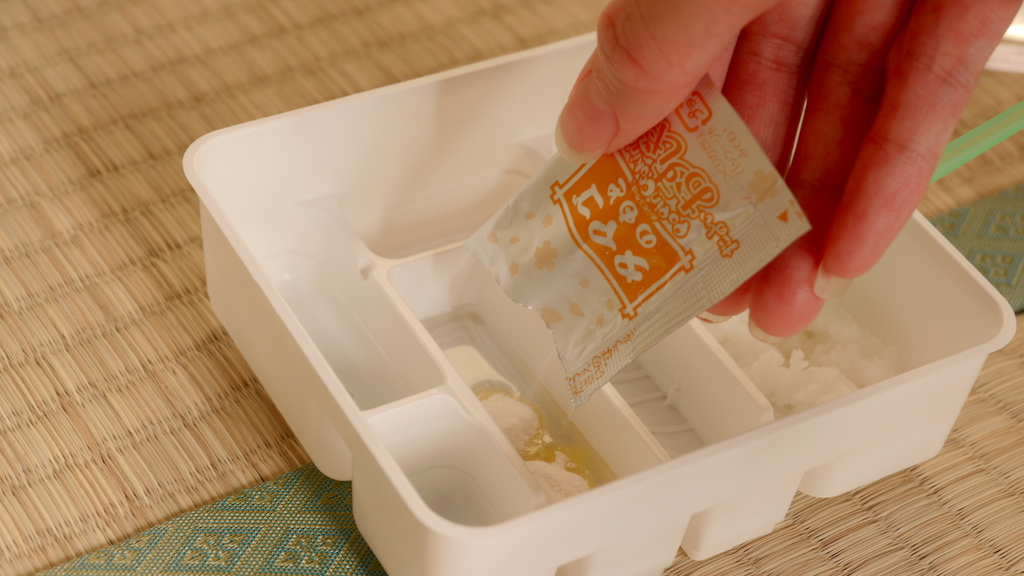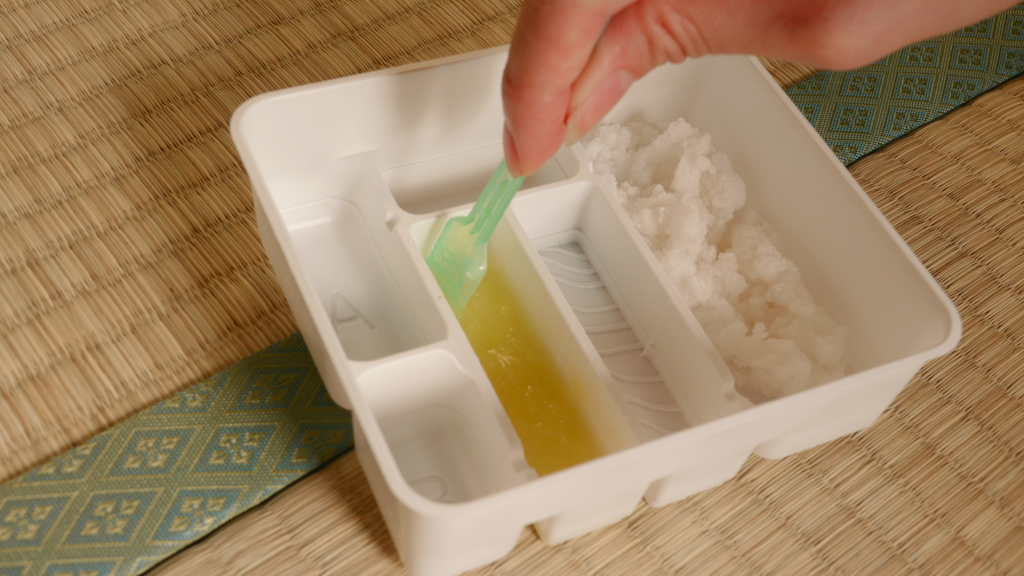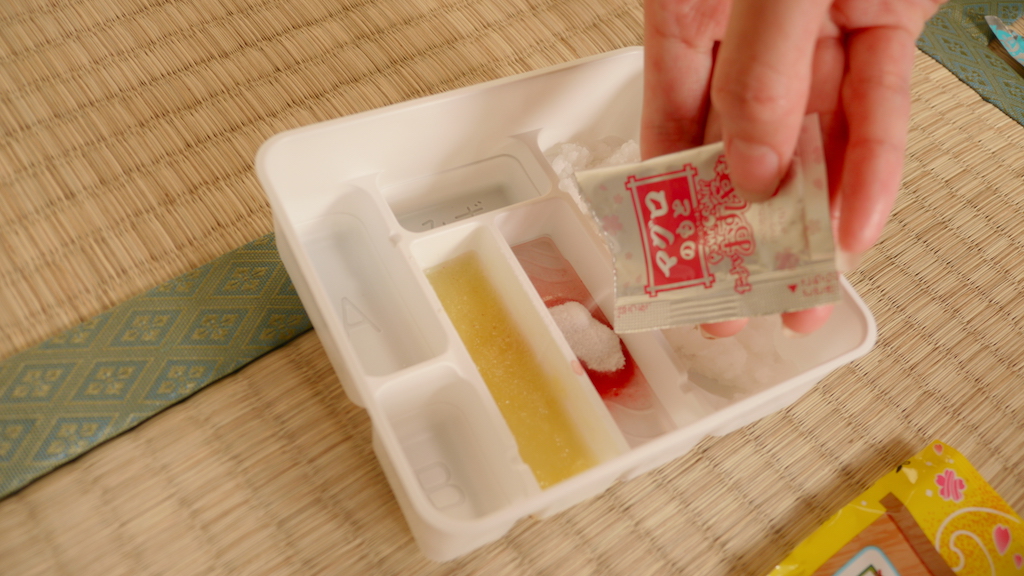 Step Three: Make the Seaweed (nori) and Roe! Take the black liquorish shaped piece of candy and smash and stretch it with your fingers onto your sushi dish. Then fill sections A and B with water up to their lines. Pour the contents of the light blue package into A and mix, and then pour the contents of the dark orange package into B and mix. Then use the eye dropper to gently drop red balls into A. Fill it with as many balls as you can.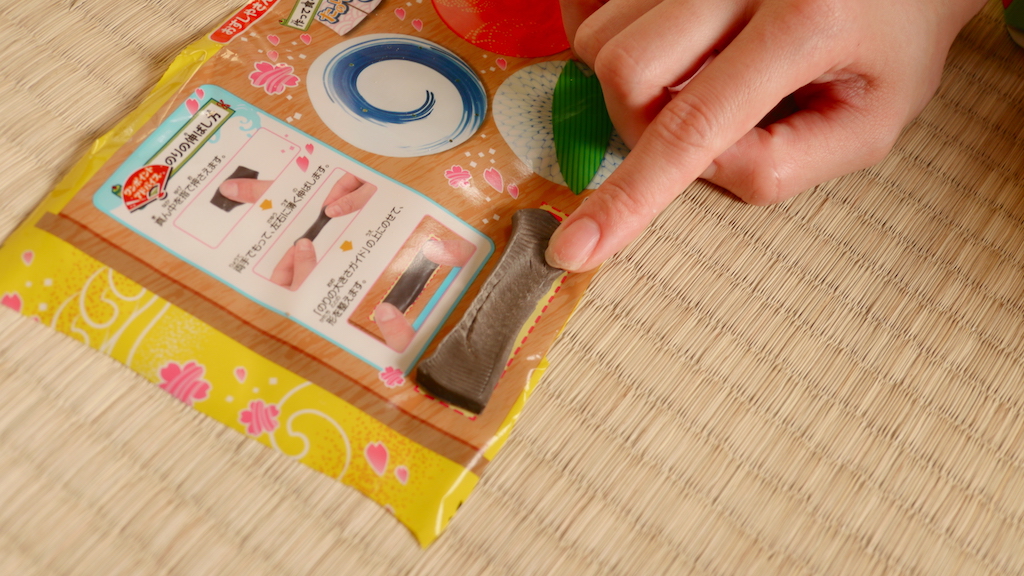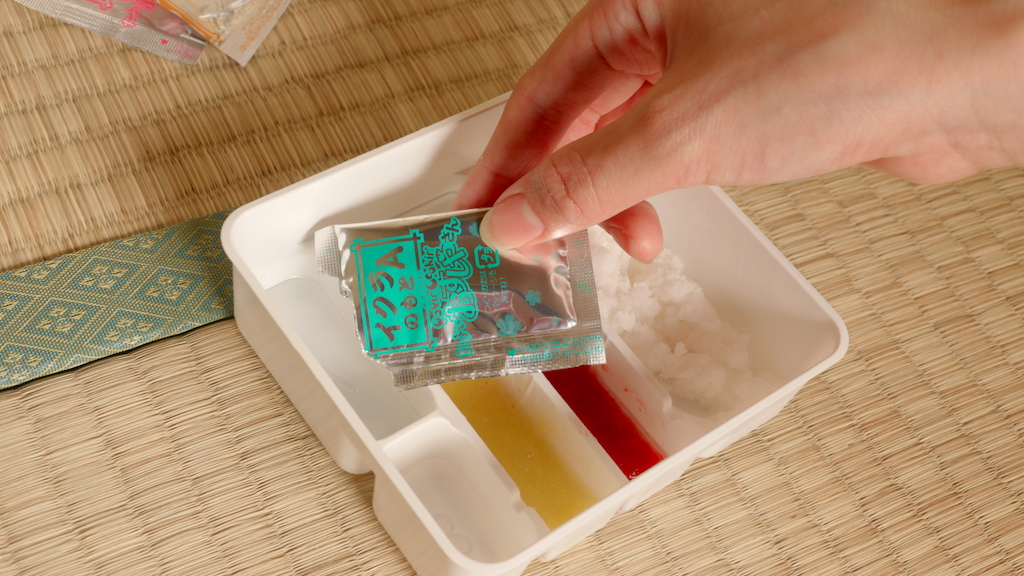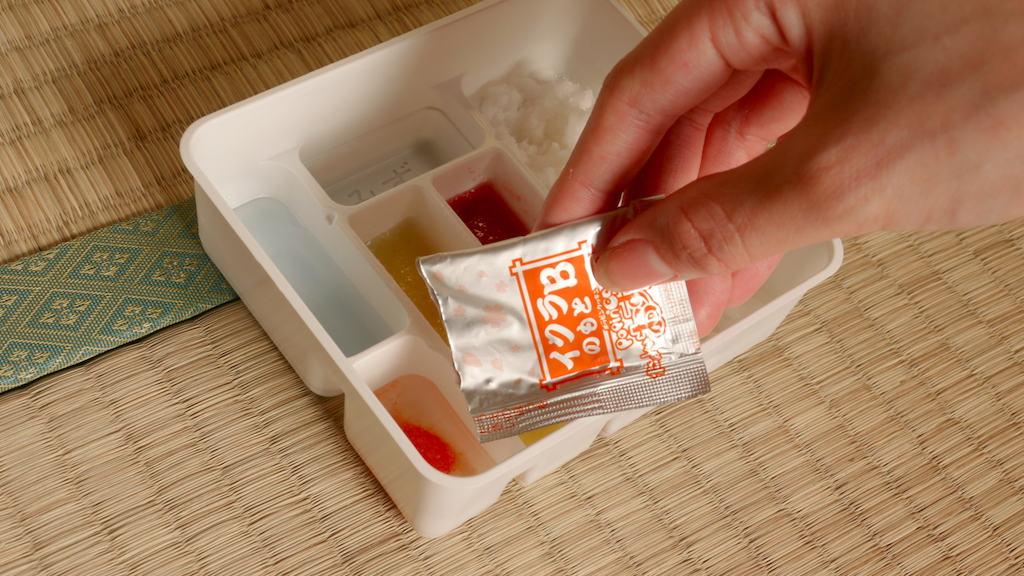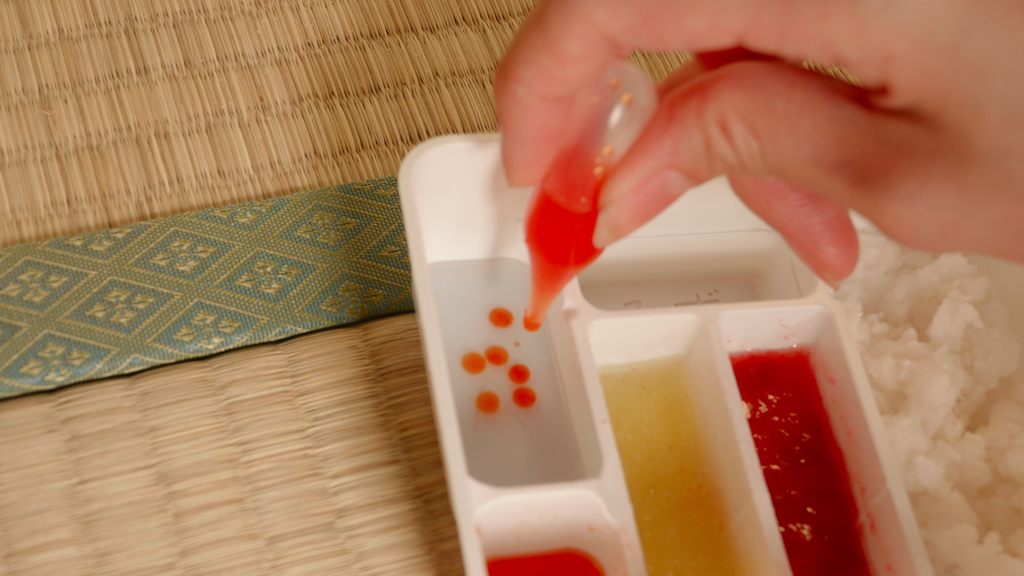 Step Four: Still with me? Let's make the sushi now! Scoop up some rice, cut your egg and tuna in half, and make sushi! You can chop up your remaining tuna and egg and wrap your rice in seaweed, then put the roe on top. Mix it up if you want. Finally, fill the only part of your package you haven't used yet with water up to its line, and mix in the contents of the brown package. This is your soy sauce!
Now it's ready ready to eat. You don't need chop sticks. Sushi is a finger food!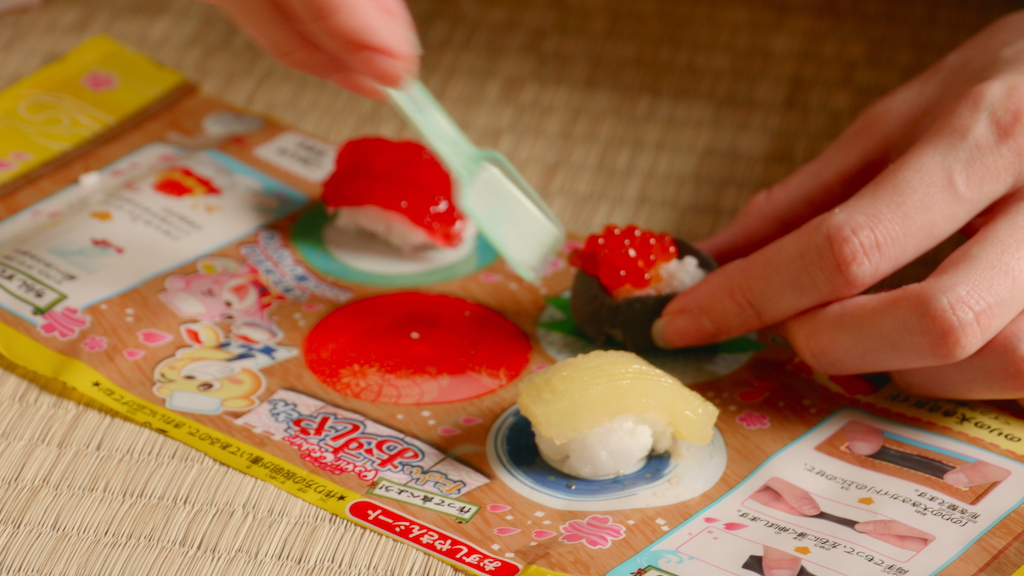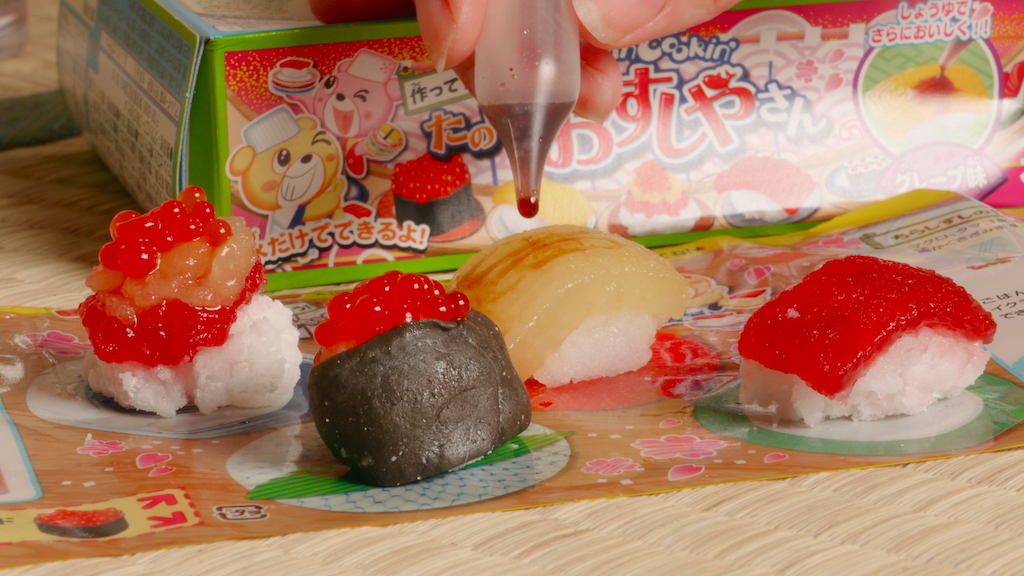 Notice: The package reads that the mix might not work well in mineral water.
Any gamers out there among the candy lovers? Sometimes I get a retro itch and there's no better place for it than Akihabara Electric Town. Just the other day I had a nostalgia overload when while rummaging through a box of games, I discovered Starfox 64 for 250yen ($2.50)! Many a barrel rolls and Slippy saving were to ensue, but what's this? Super Smash Bros. intact with its box and manual?! splodes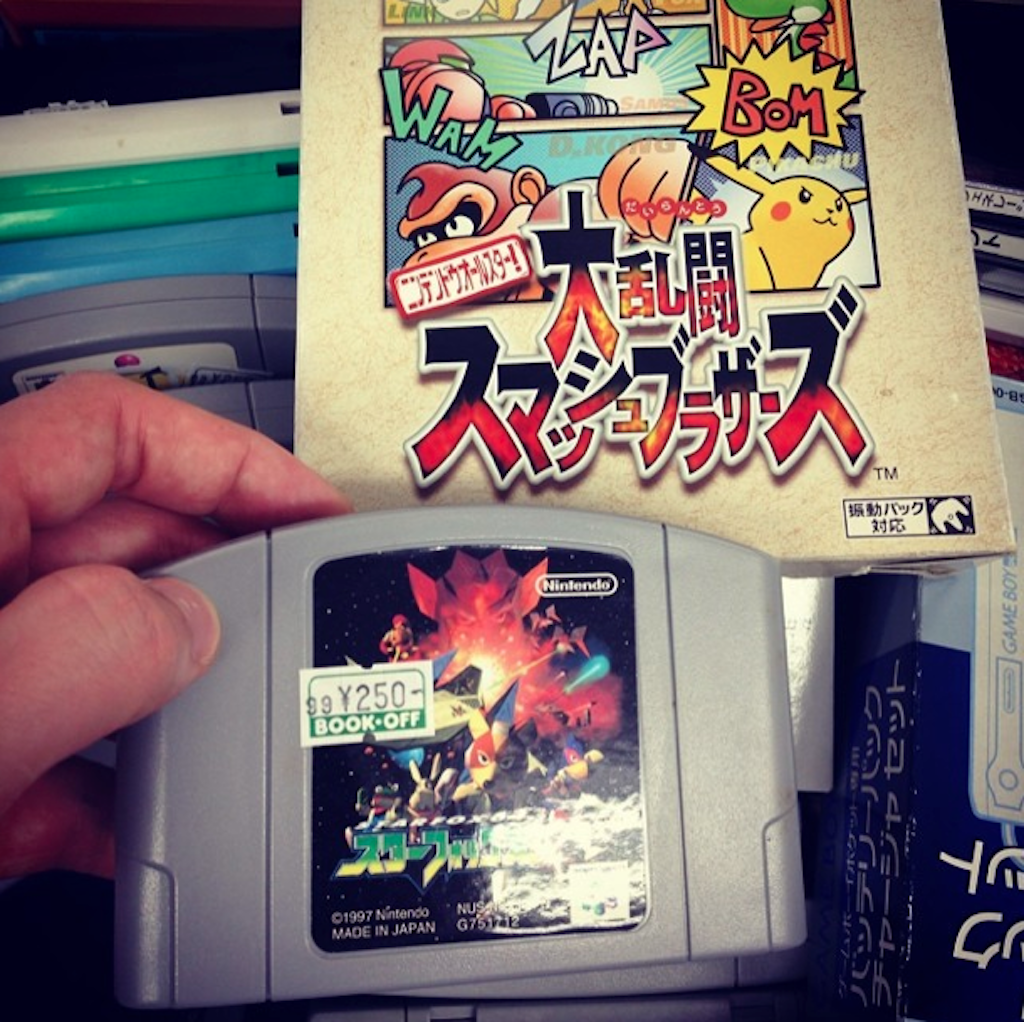 Here in Tokushima we had the Awa Odori dance festival. Around a million people come to see the dancers and taiko drummers that take over the city streets for a week. I hardly ever see foreigners in Tokushima, but during the festival I'm suddenly not the only one anymore. Also, saw this cat.