Nov 14th 2014 | Roses are Red, Cherries are Too. This Candy Explodes? That's Kind of New.
This month's shipment was a box containing three items. They should arrive to you by December 14th. The contents were cherry Puccho, chewy rose flavored sweets and popping cotton candy!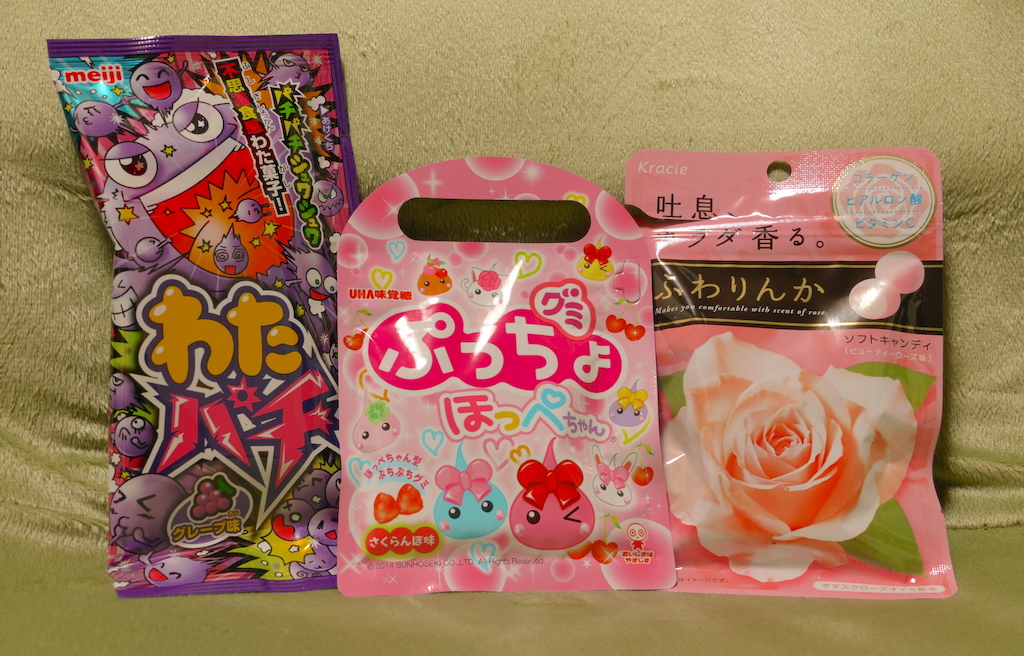 Cherry Puccho Gummis
Hoppechan (ほっぺちゃん) is a popular game series with children featuring cream-like characters that sort of remind me of tamagotchi. I've actually never seen or played it, but it's popular enough be a Puccho Gummi! These cherry flavored Puccho are supposed to look like the title characters. I really hope they didn't mind me eating them.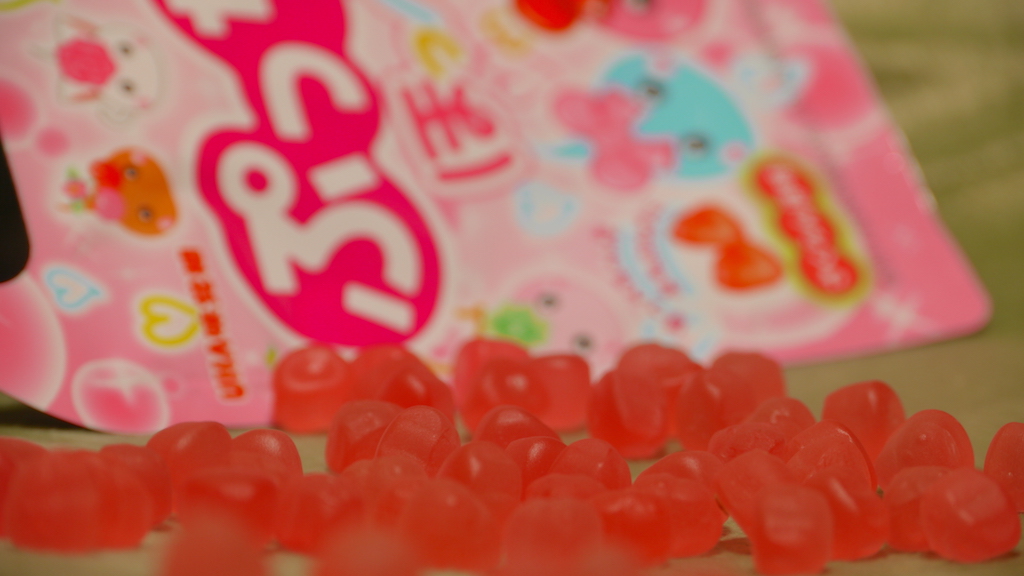 Fuwarinka Rose Soft Candy
This candy taste like what I imagine my mother's perfume cabinet would taste like if it was sweet and edible. The taste might be very different to Westerners, but rose is a pretty common flavor in Japan. Especially with girls. Fuwarinka (ふわりんか) is another difficult Japanese word to explain, but it can mean a "sweet fragrance."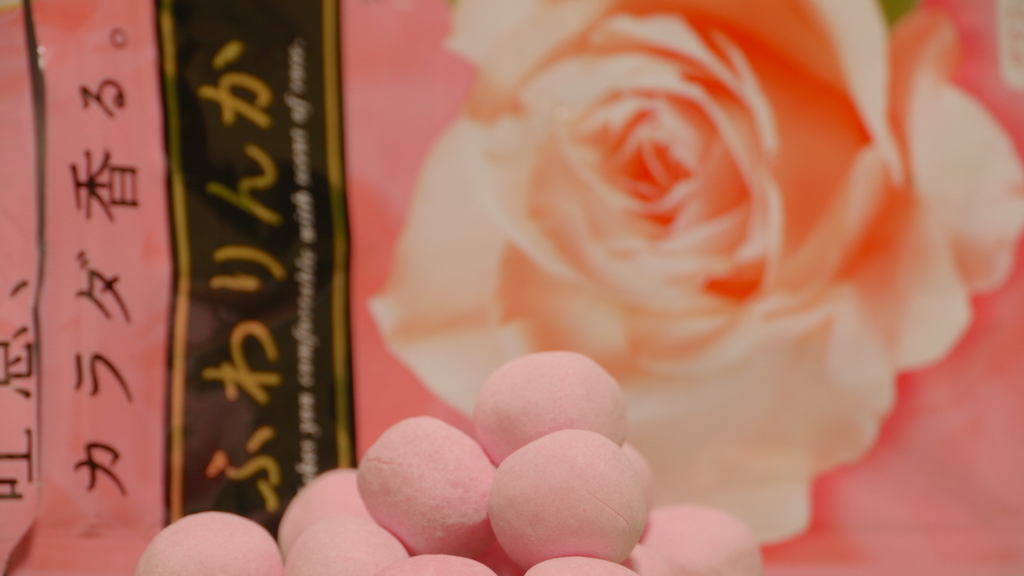 Watapachi Popping Grape
I normally like to try the candy Bemmu (editor's note: Bemmu is the guy running this club, Aaron is writing this newsletter) sends me without reading the package beforehand. That way, I can get a feel for the candy from a blank state. So ignoring the guy with the exploding mouth, I shoved this cotton candy-like confectionery into my mouth ever so haphazardly, and I paid the price.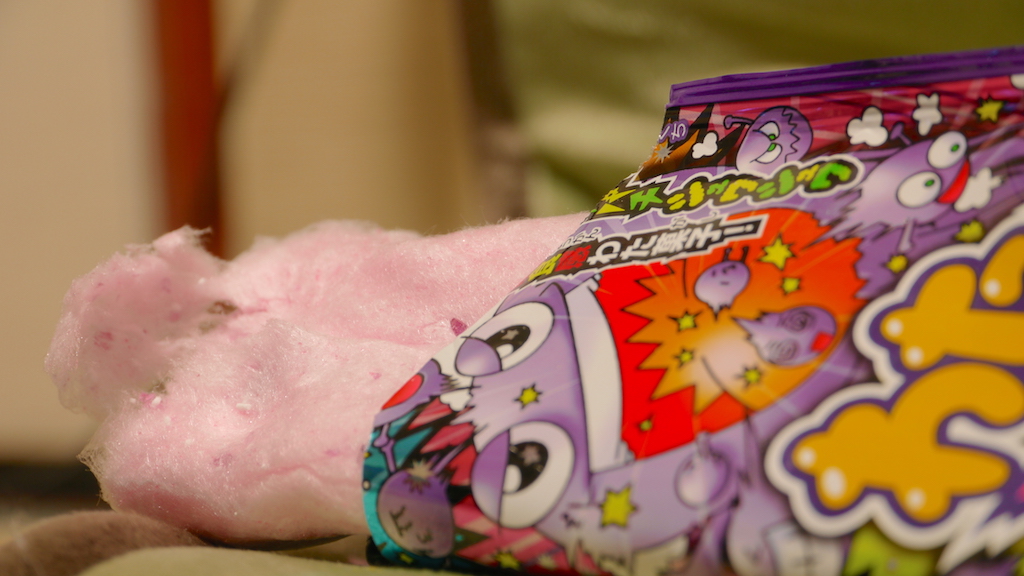 The sweet and sour price of candy justice. This candy is not only way too sour for lightweights like me (my face puckered up so much that I think I saw the color out of space), but it is loaded with pop rocks. And aren't your dad's pop rocks. These are the M-80s of pop rocks! You'll definitely have a blast with this candy!
An Ode to Tonkotsu Ramen It's cold, late and winter creeps. Teaching children English? I must be crazy. Stepping off the JR, I almost weep. I just want to go home and watch some Leo and Scorsese. But then that scent?! It makes me leap! The taste of it is absolutely savory. Did I mention it's super cheap? You want to try it maybe? What's that? This poem is weak? The whole thing is cockamamie? Ramen, ramen, ramen. This ramen is awesome. The end.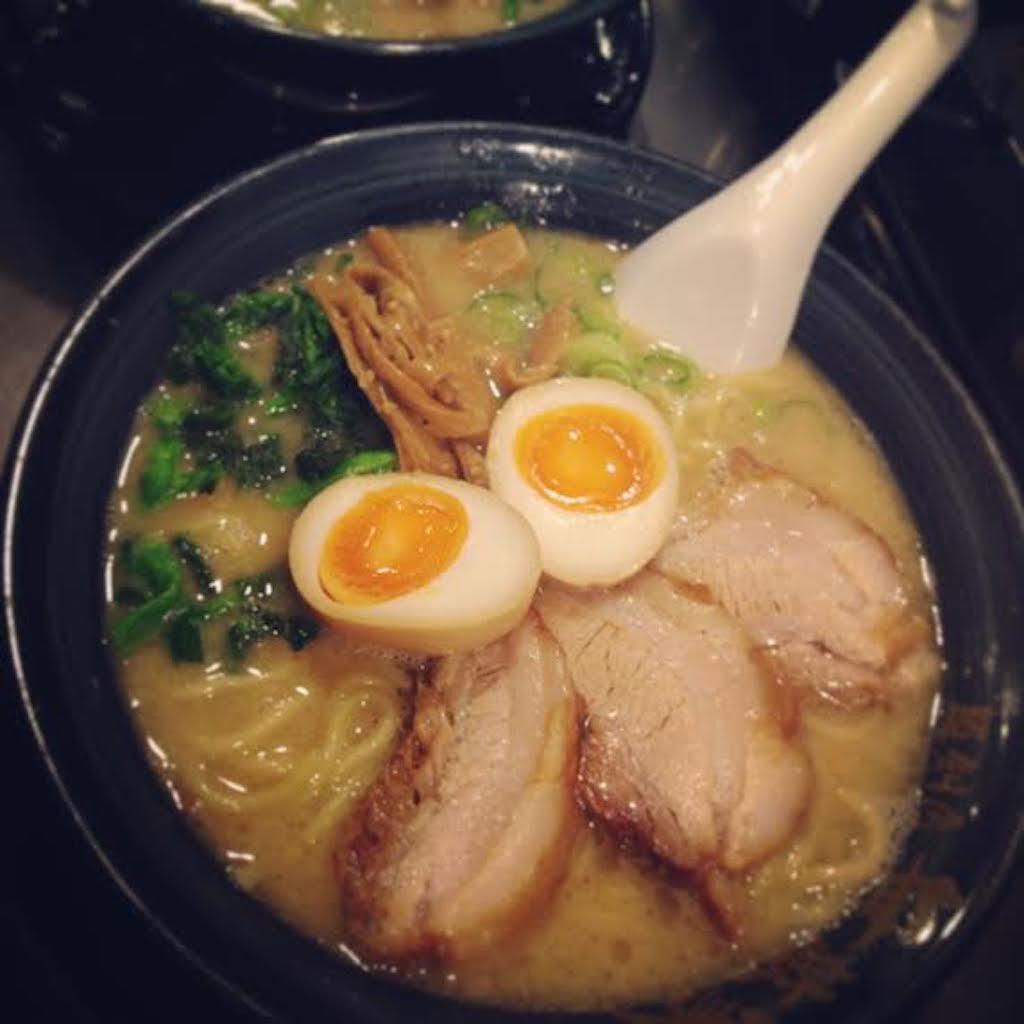 Had to cancel our trip to Thailand, so looks like December will also be Japanese sweets. This month has been quite eventful. I've spent so much time doing a bunch of projects like Candy Japan that my graduation from university was EXTREMELY delayed. But I kept doing schoolwork on the side. Thanks to the flexible Finnish education system and some very cool teachers, I was able to complete some courses remotely from Japan. I started in 2001 and now, 13 years later I'm almost done and should be getting my M.Sc. in Spring. Feeling relieved already!
The highlight of my study was being an exchange student in Japan. I highly recommend doing an international exchange program if you can! It's stressful for sure at times, but opens up your mind to new possibilities (I wouldn't even be writing to you here had I not gone). By opening your mind I mean seeing how the little and big things in life that you take for granted are actually just specific to your country. Even if you are not a student, you could sign up for a limited time language learning program or some other type of cultural exchange program.
I digressed a bit there! Nachi hasn't been studying, but working hard instead. And you know why? She already completed the same degree years ago, and she actually also completed it in Finland while being an exchange student too. She studied engineering, very math-heavy courses and also many of them were in Finnish. She's very smart and hard working, always focusing fully on the task at hand. My attention tends to wander to the next shiny thing.
Maybe I'll get into the story of how we both ended up being exchange students in each other's countries and how we met etc. in the next newsletter :-)