Dec 14th 2014 | Crispy Mario machine
This month's shipment was a box containing three items. They should have arrived to you by January 14th. The contents were Super Mario chocolates, sweet potato snacks and a travel sized Japanese vending machine!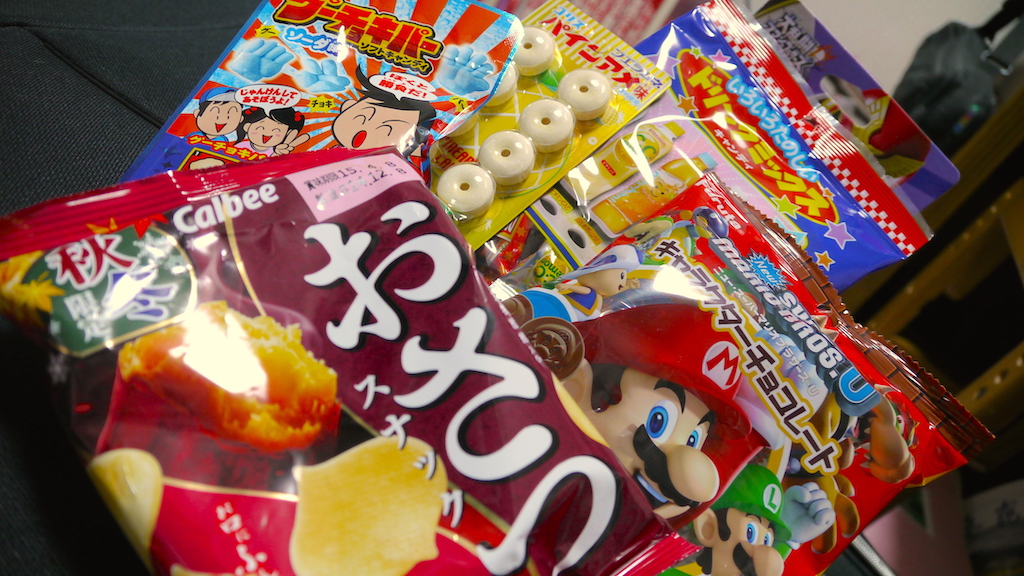 Calbee Osatsu Chips
Osatsu (おさつ) is Japanese for sweet potato, and these crispy snacks taste like the real deal. Sweet with just a hint of saltiness, Calbee Osatsu are a welcomed seasonal treat. Seasonal, because as with real sweet potatoes in Japan, they're normally only found in the fall and winter seasons. I also have to admit a little bias with these because they happen to be one of my favorite snacks in Japan. I think I have about five packs in my cupboard this very moment!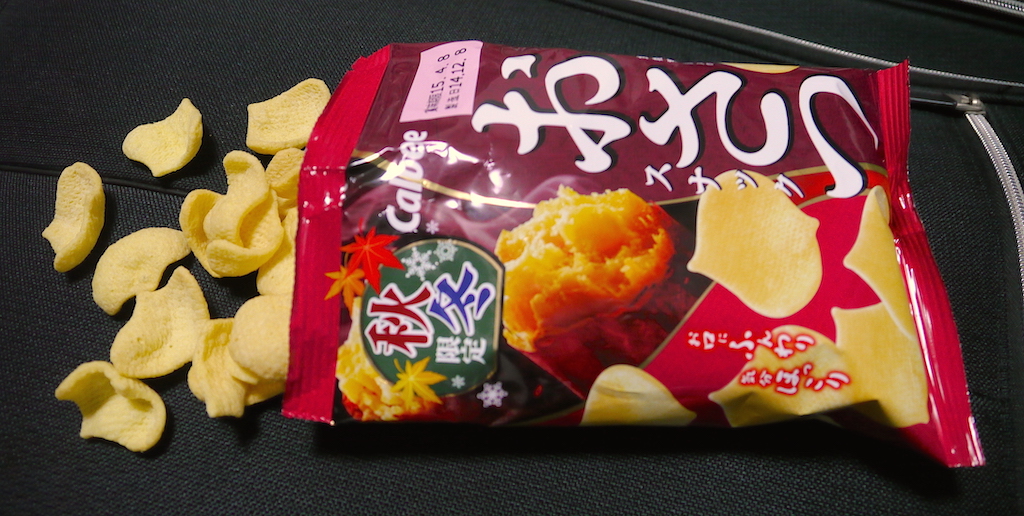 Super Mario Character Chocolates
How is it that so many memorable characters come out of Japan? Also, how is it that most of them (for me at least) come from Nintendo? Super Mario is absolutely timeless in Japan. During my English lessons, I'll sometimes use Mario music to time English games, and the old and children alike know exactly where the tunes are from.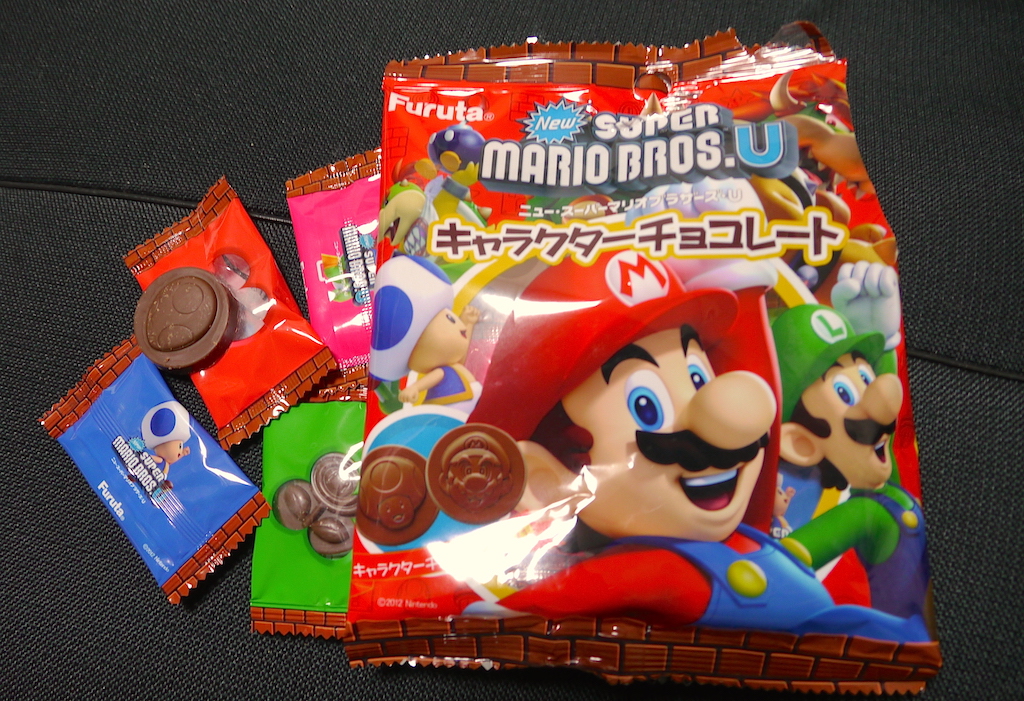 What better way to celebrate the mustached super plumber than with delicious milk chocolate confectioneries! Well, I actually playing the games could be better, but chocolate coins are the next best thing! They feature items and characters from the latest games on them, even that green guy! I can't seem to remember his name...Oh well! He's probably not important anyway.
Vending Machine Hard Candies
This is very cool for anyone interested in the crazy wonderful world of Japanese vending machines! Every drink on the package is an actual drink you can find in Japan. These hard candies let you experience some of Japan's finest thirst quenchers right from home! Dekavita C in particular is a hugely popular energy drink in Tokyo. I can't skip a stone without hitting a vending machine featuring that particular drink.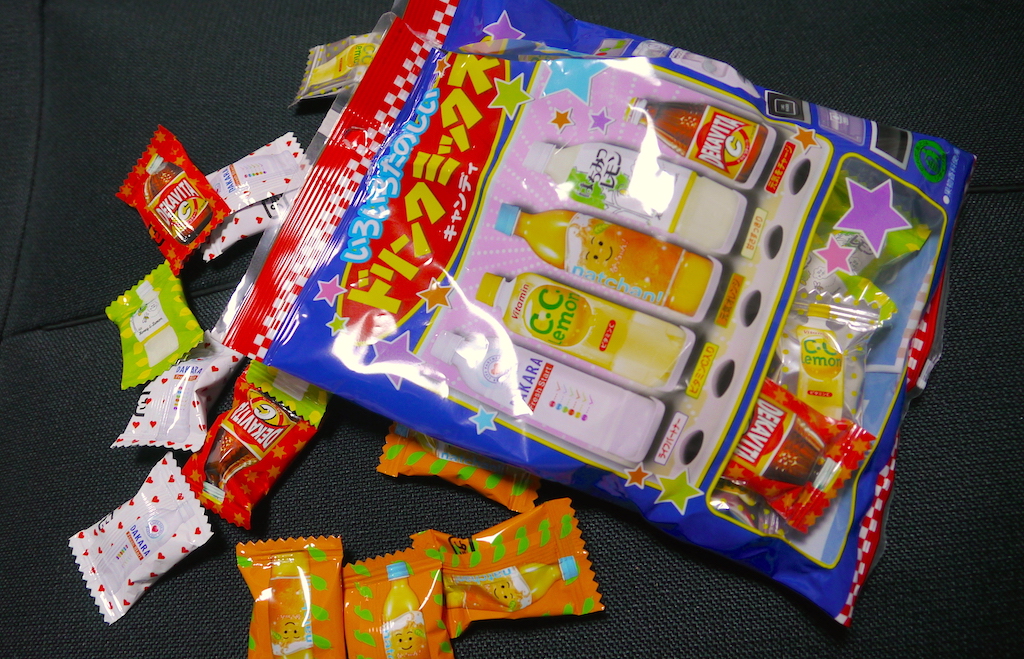 I can't skip a stone without actually hitting and breaking a vending machine for that matter. The one thing you can count on in Japan is that you'll never be thirsty as long as you have some change in your pocket.
Have you ever wondered how much a small 1LDK apartment would cost in Japan? Well, I recently made a video showing you just that. While it is quite pricey, many factors come into play when apartment hunting in Tokyo. How close it to the station? How close is your station to another station? Is it on the side of the building with sunlight? How far is the commute to work? Etc.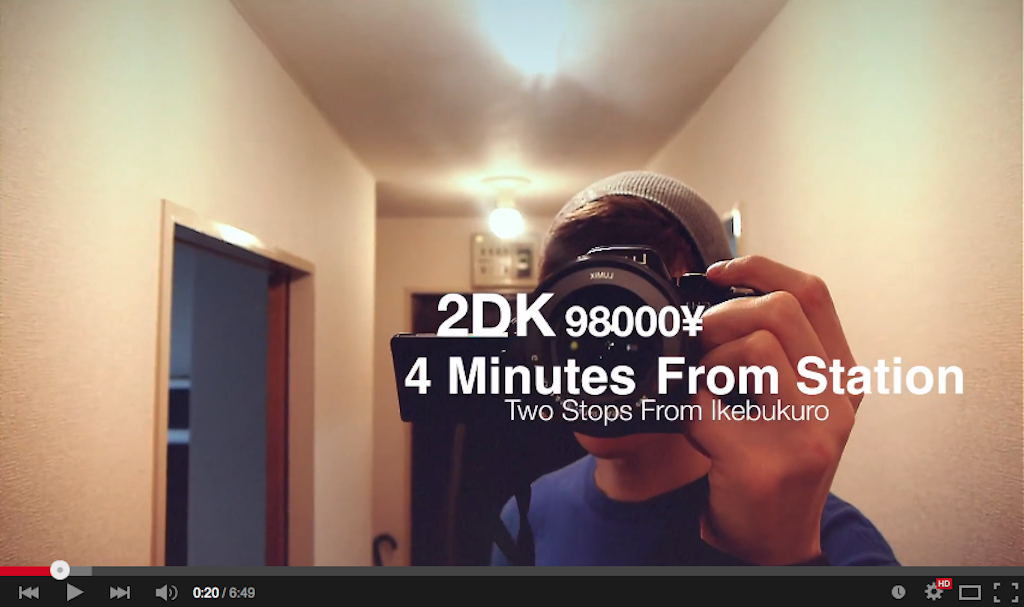 I personally love Ikebukuro, so I wanted to live within 10 minutes of it. Also keep in mind that Tokyo is a major Blade Runner-esque metropolitan city. You can definitely find apartments in Tokyo in the $600-$700 range, but they will most likely be pre-WWII 1k hovels with two hour long commutes. If you're interested subscribe and check out my other videos! :D