Aug 14th 2015 | Snap, Crackle and Jellohhhhhhhhhhhhhhhh!
This month's shipment was a box containing four items. This shipment will likely arrive to you around end/ beginning of September. The contents were sour ume, assorted chewies, cola rock candy, and DIY jello!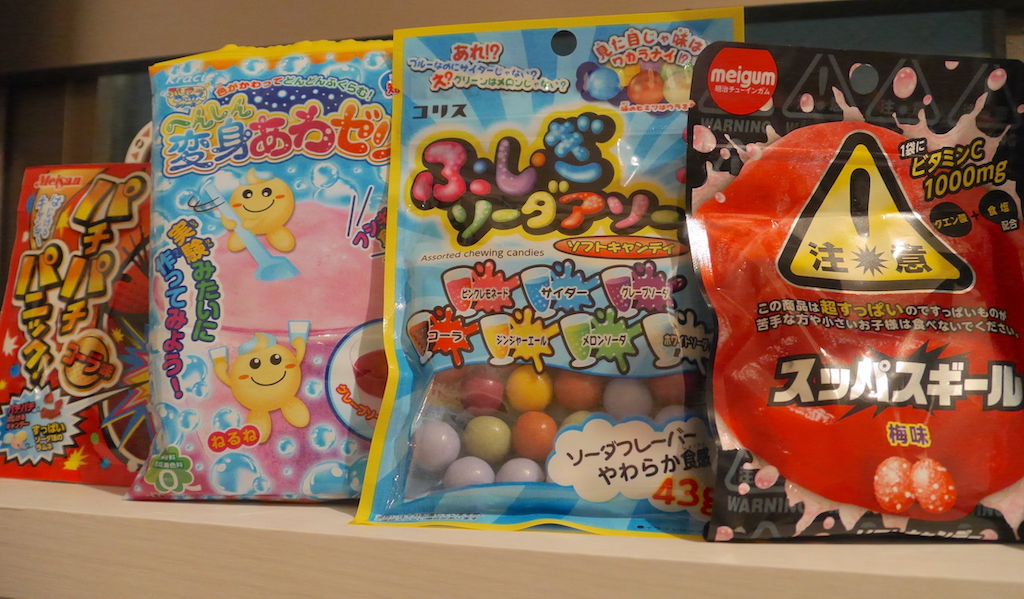 Meiji Ume SoftGum
So the package says soft candy, but it feels a lot more like gum. I guess it's up to you. Japanese plum (ume) is a staple flavor of Japanese snacks and candies. Japanese plum is always sour, but these candies are over the top sour! My face caved in on itself. There is even a warning on the package (a joke of course). Also contains 1000mg vitamin C.
Assorted Soda Soft Candy
This bag of chewy candy has practically every flavor of soda packed in! There's pink lemonade, blue cider, grape soda, cola, ginger ale, melon soda and white soda (Calpis perhaps?). Really try to fight the urge to shove all of these in your mouth all at once in an attempt to travel through time in a sugar induced coma.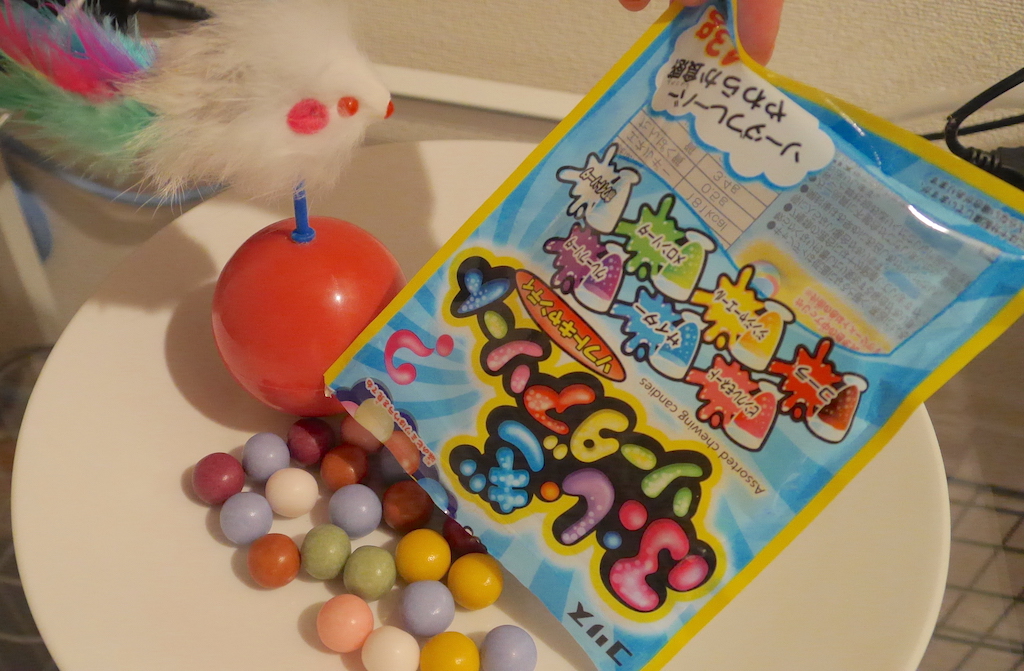 Pachi Pachi Panic
"Pachi Pachi" is the sound of cola fizzling in your mouth. In Japan, people use sounds to describe things instead of feelings. For example in America you might tell a doctor you have a sharp pain in your stomach, whereas in Japan they say "kiri kiri" or "siku siku" to describe the "sound" of pain. It's all very confusing and annoying when I have to visit a doctor. Any-who, this candy is cola and ramune flavored and has a fun fizzle effect in your mouth!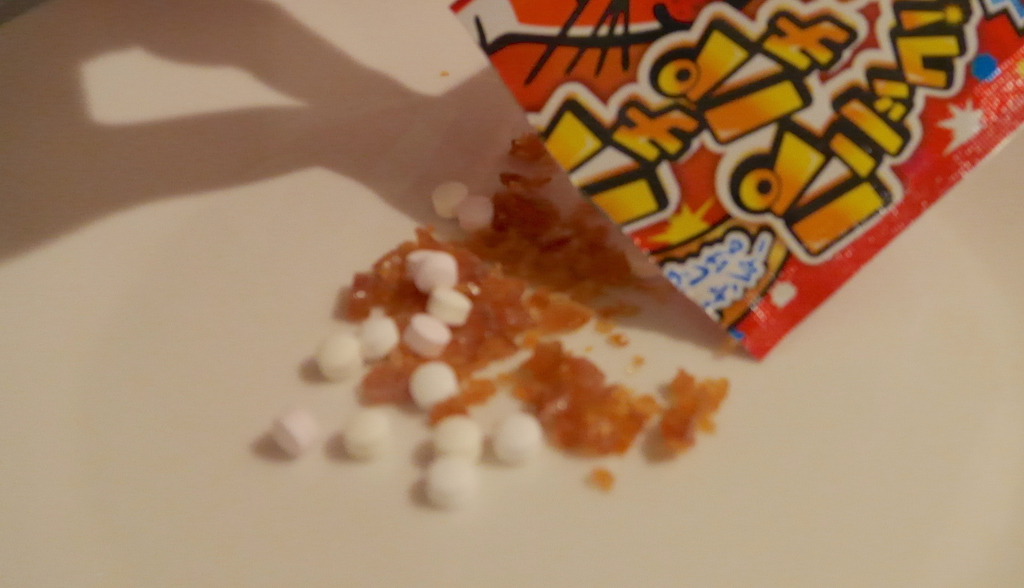 Kracie Bubble Jelly
This DIY kit features grape flavored bubbly jelly! To make it, get a measuring cup and two glasses (the kit makes about 200ml worth). I went with my favorite bunny glass. Then just follow these steps:
Pour the contents of the first package into your glass. Mix with 50ml of water and mix really fast with a spoon for about 60 rotations.
Pour the contents of the second package into a new clean cup, and mix with 20ml of water quickly for about 60 rotations. Pour this into your original glass and mix quickly while pouring. The two liquids should turn white and thick.
Finally, mix the contents of the third package with 10ml of water. Stir and gently pour on top of your white jelly. It should stay on the top like in my picture below. I put mine in the refrigerator for a couple of minutes to chill. Here is a video if you still need help.
I adopted a kitten and my rabbits don't really know what to make of her. My girlfriend's brother-in-law worked with a guy who didn't want them. I tried finding the whole litter a home, but it didn't work out. The least I could do was take one of them in. She is super cute and genki though. Here she is trying to look bigger than she really is.
At one point I really considered getting my very own shiba inu doge. I went as far as to start looking for a pet-friendly apartment and buying an owner's guide. In the end we didn't get one, but yesterday I got to fulfill my dream of running around and playing with one on the beach.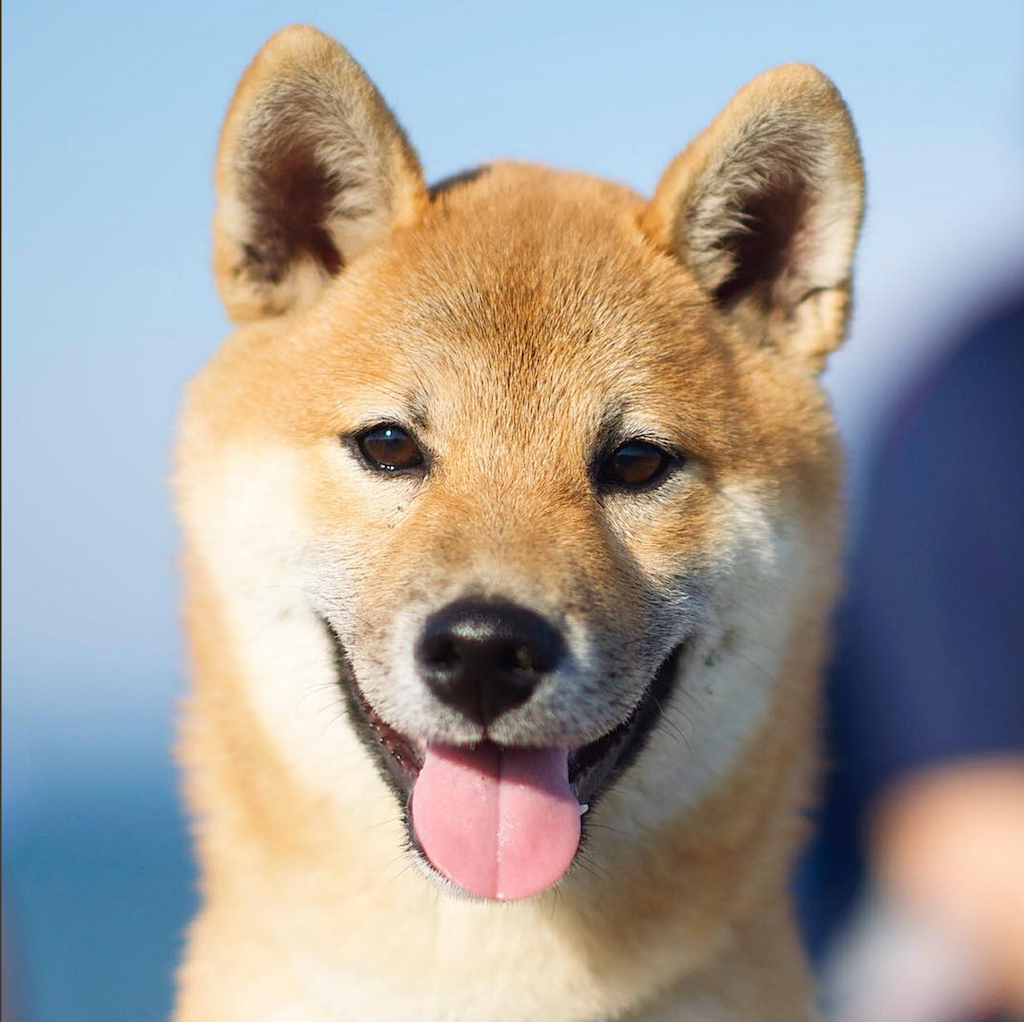 Just a random encounter. I complimented the owners of what a cute puppy they have, and soon he was licking and biting me (and trying to destroy my camera). His name is Leon and he is 5 months old. So cute!