Jan 28th 2017 | Delicious Candies Octopi This Box.🍬🍬
Your Japanese candies are almost there! This email explains what was in the box, so it could be a bit of a spoiler.
The items in the box are: Monster Hunter Energy Rice, PekoxSanrio Chocolate, and Poppin' Cookin' Tacoyaki.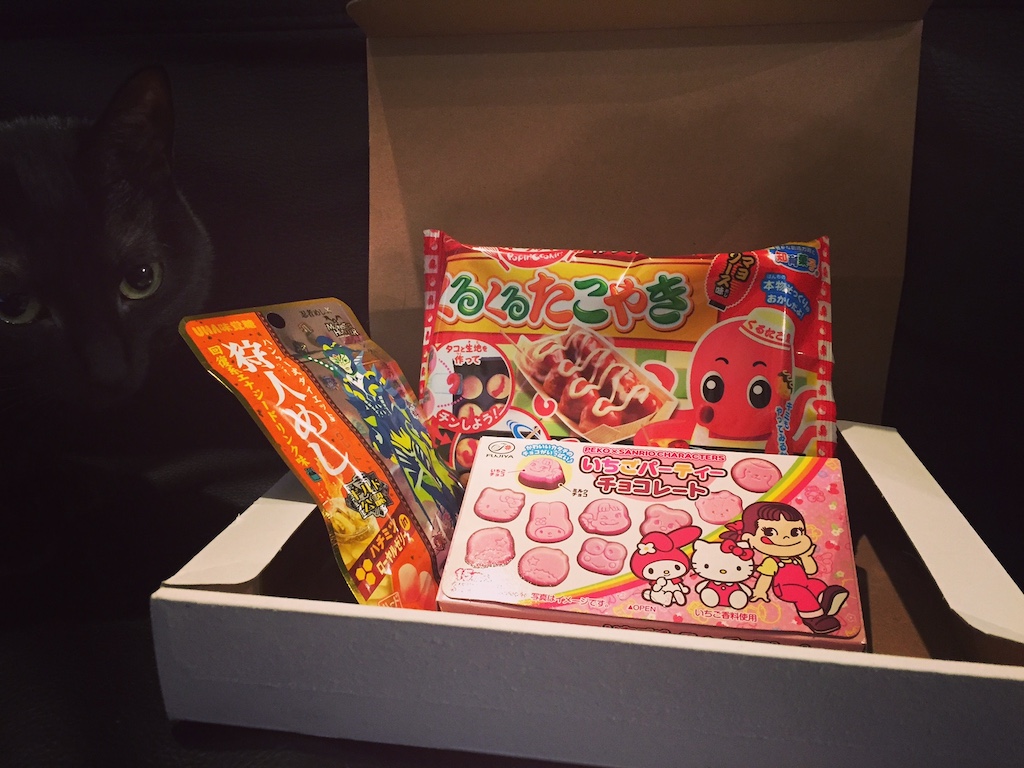 Monster Hunter Energy Rice
Monster Hunter is the insanely popular videogame series about hunting scary beasts with anamorphic talking warrior cats. I can't say I've ever been a fan, but it's hard to miss in Japan. This package of "energy rice" is actually sour energy drink flavored gummy candy that replicates the health recovery item from the game. Eat it as is or spice up your cosplay at the next anime con.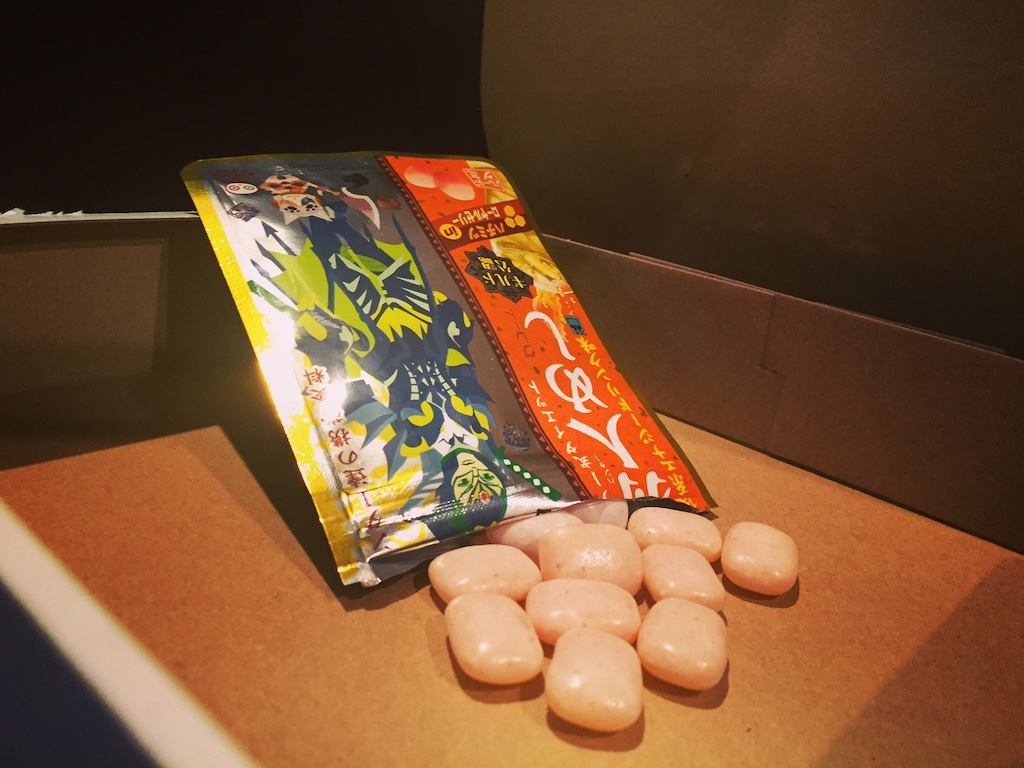 Fujiya Peko x Sanrio Strawberry Party Chocolate
These sweet chocolates from Fujiya feature the famous Peko Chan and Sanrio characters such as Hello Kitty, My Melody, Little Twin Stars, PomPomPurin, Keroppi and more. The candies are covered in unbearably cute Peko and Sanrio designs. Their chocolate creamy flavor is made with milk chocolate topped with a layer of strawberry chocolate.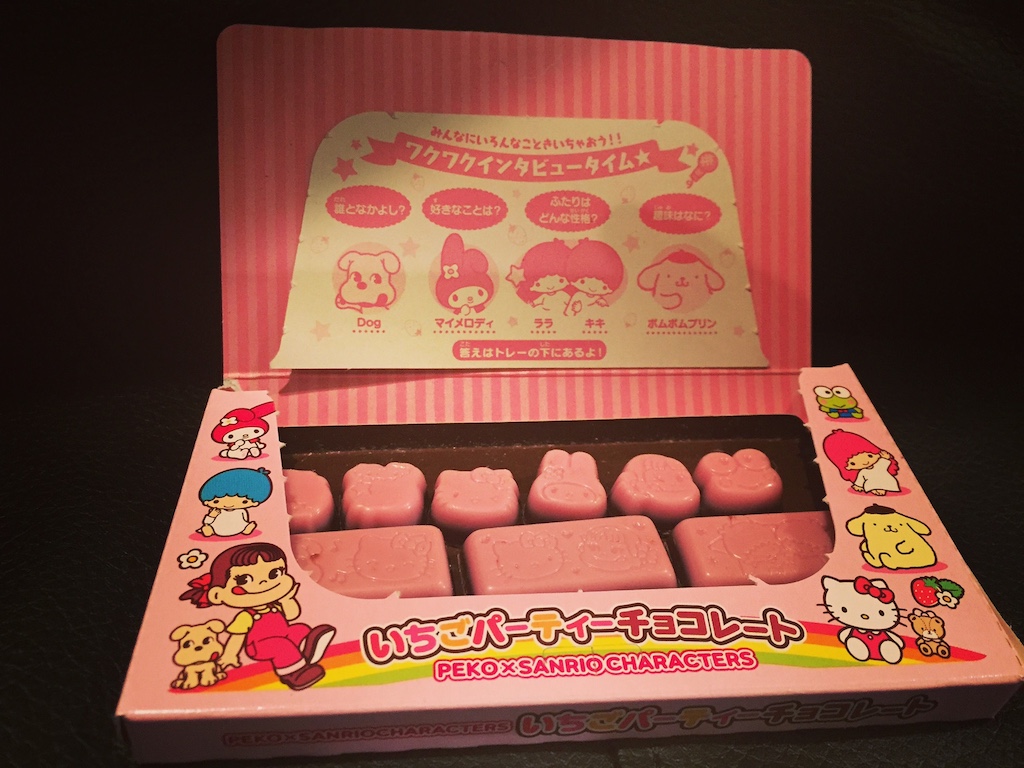 Poppin' Cookin' Kurokuro Tacoyaki
Tacoyaki is essentially fried octopus balls. It's actually pretty good and you can find tacoyaki stands practically anywhere in Japan. However, candy tacoyaki? That's news to me. Let's get cookin':
Cut the tray as shown on the back of the package.
Add the red package contents (octopus mold) to the music note and add one scoop of water (from the included try). Mix. Take the clay shaped candy and mash eight pieces into octopus molder.
Take the blue mayonnaise package and add a scoop of water. Mix, but leave it in its package.
Take the orange mix (tacoyaki flour) and mix it with two scoops of water in the music note.scoop out the contents into the tacoyaki "pan." Then drop the eight octopus pieces into the batter. Microwave for 40 seconds in a 500w microwave. Put the tray near the edge of the microwave and not in the middle.
Flip the tacoyaki balls over with the included toothpick.
Take the brown package (tacoyaki sauce) and mix it with one scoop of water in the star shape.
Cover your tacoyaki in sauce and mayonnaise.
You are now a qualified tacoyaki chef. Go pick up your visa.
Here is a video if you need more help.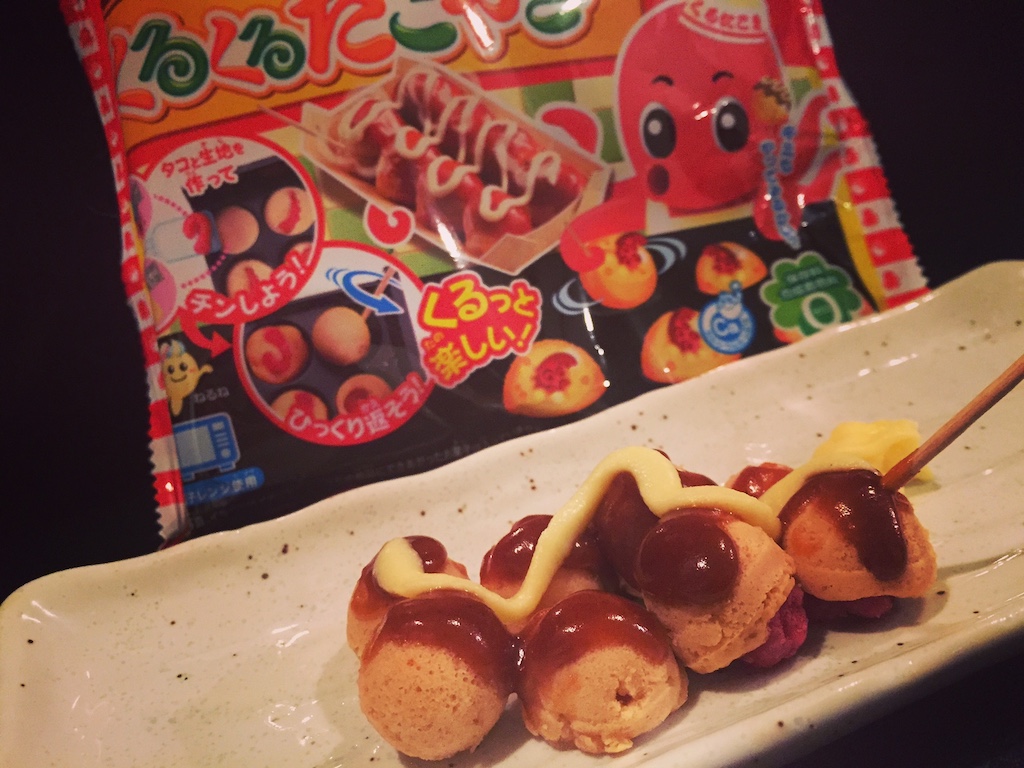 Walking around Tokyo you can spot unusual and sometimes very awesome things. A couple of weeks ago I spotted a man carrying a rabbit around in his hood. It was the most chill and relaxed bunny I have ever seen. Suffice to say, I was very excited. My rabbits would probably not be so chill. I so want to try though...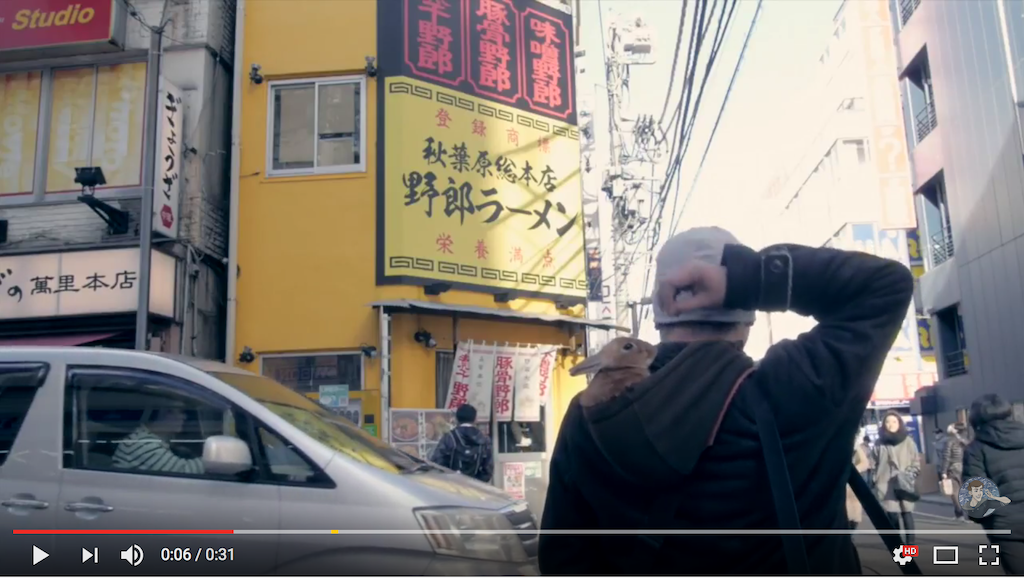 Since I'm living in Japan, to learn Japanese it might seem better to go out and talk to people, but at this point I'm not getting much new vocab out of random conversations.
Instead a year ago I started doing daily kanji flashcards, and recently celebrated getting through all the ones that come built-in with the Nihongo app. I think I've more than doubled my kanji repertoire, but still need to continue doing daily reviews to get them to stick.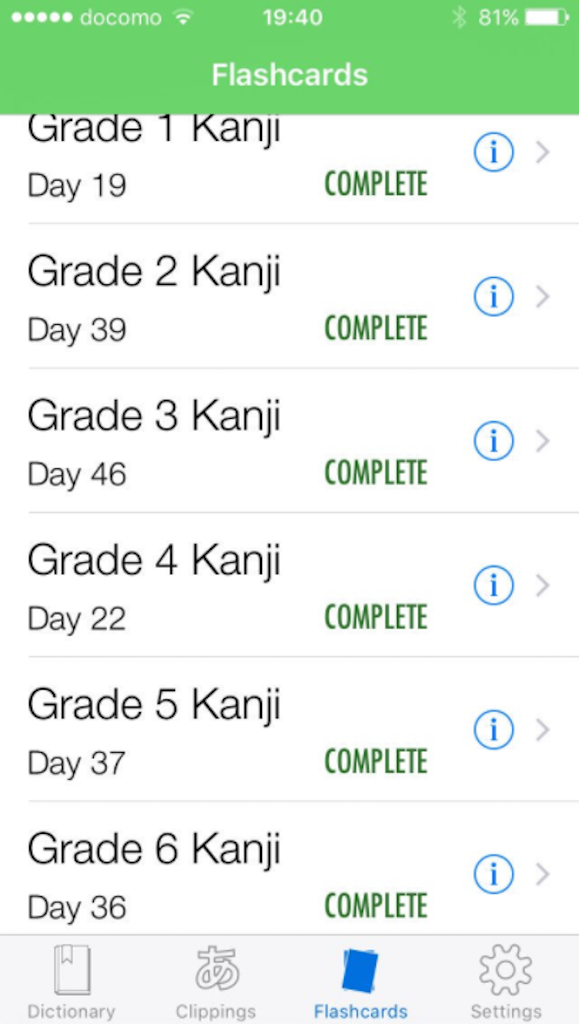 Next I've decided I need to read words in context, so I continued with an app called Satori Reader (update: I've since abandoned it, the level was pretty basic and the text only mildly interesting ). It reads text out aloud (spoken by real people), and you can click on words you don't know to see their meaning and add them to flashcards.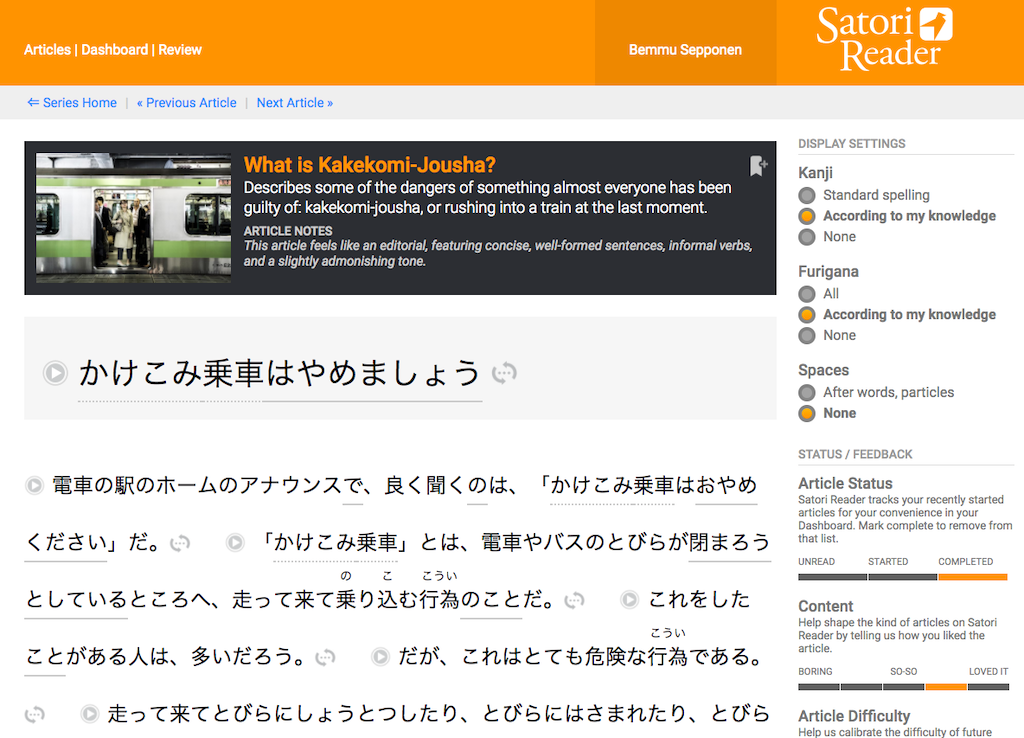 I'm not sure what my endgame is with all this studying, as I could survive just fine in Japan at a basic conversational level, but it seems like a worthwhile goal in itself. Hopefully it'll turn out to have some use in real life as well.