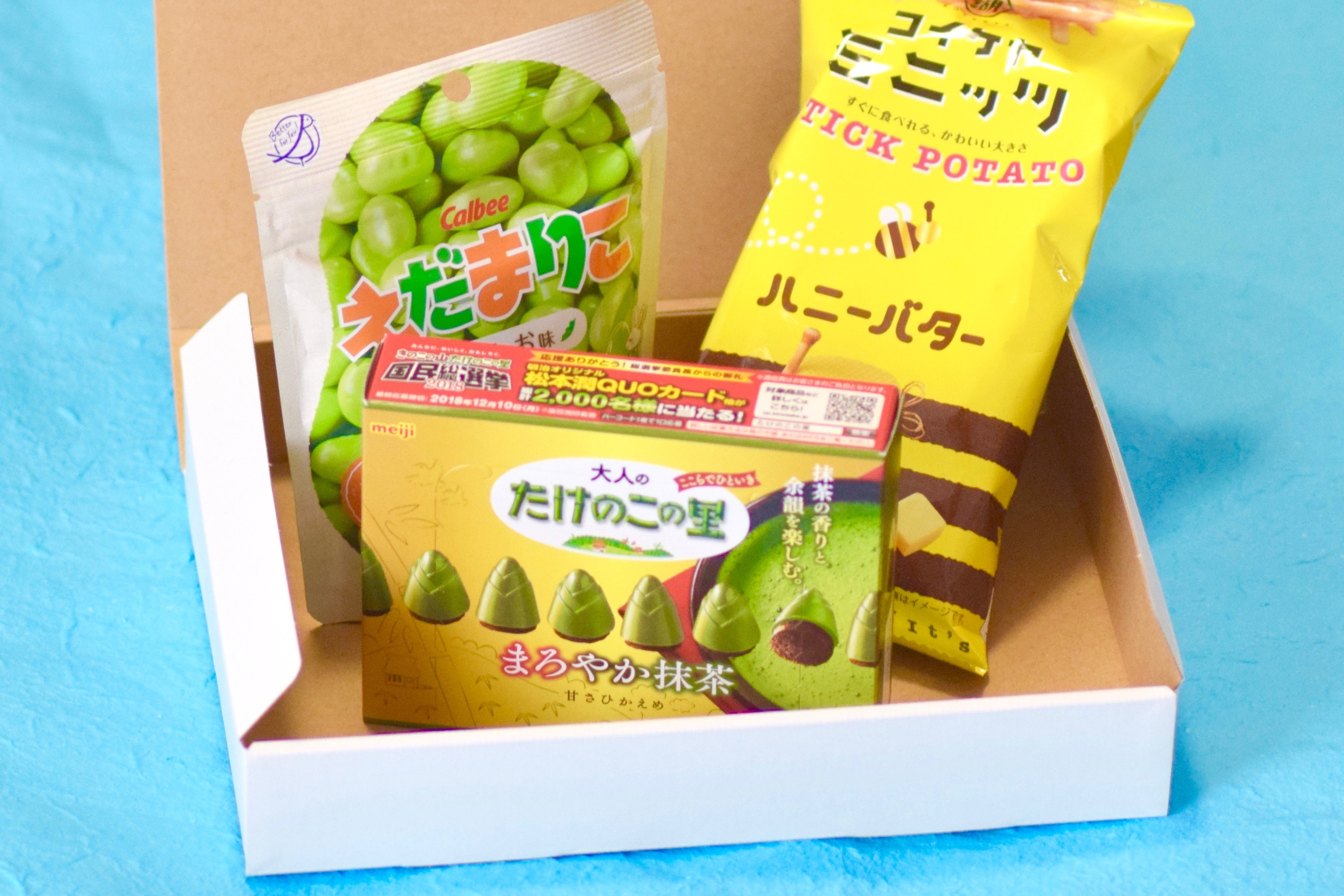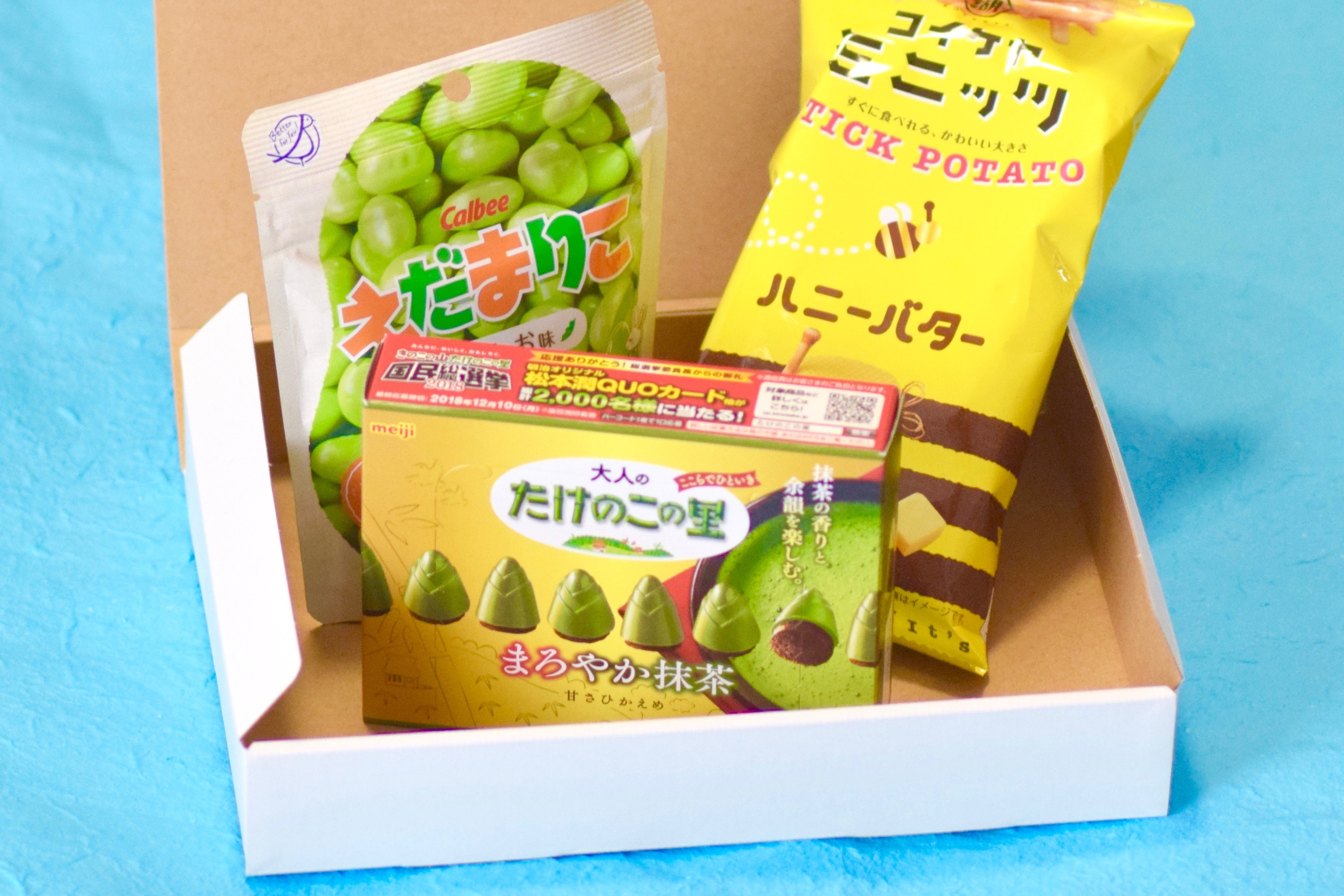 Dec 14th 2018 | Soylent Green is Soybeans... or Matcha?
Here's what is in the candy shipment we prepared just now in Japan, which should arrive to subscribers around mid-January 2019.
Honey Butter Potato Chips
Last month we included seaweed chips, this time the flavor is honey & butter.
Up to the 50s, potato chips in Japan were something you'd either make at home or order at a bar, but not something you could just buy at the store. These are from Koikeya, the company that first introduced mass-produced potato chips to Japan.
100% Japan-grown potatoes. Package suggests opening it lengthwise, to make them easy to eat.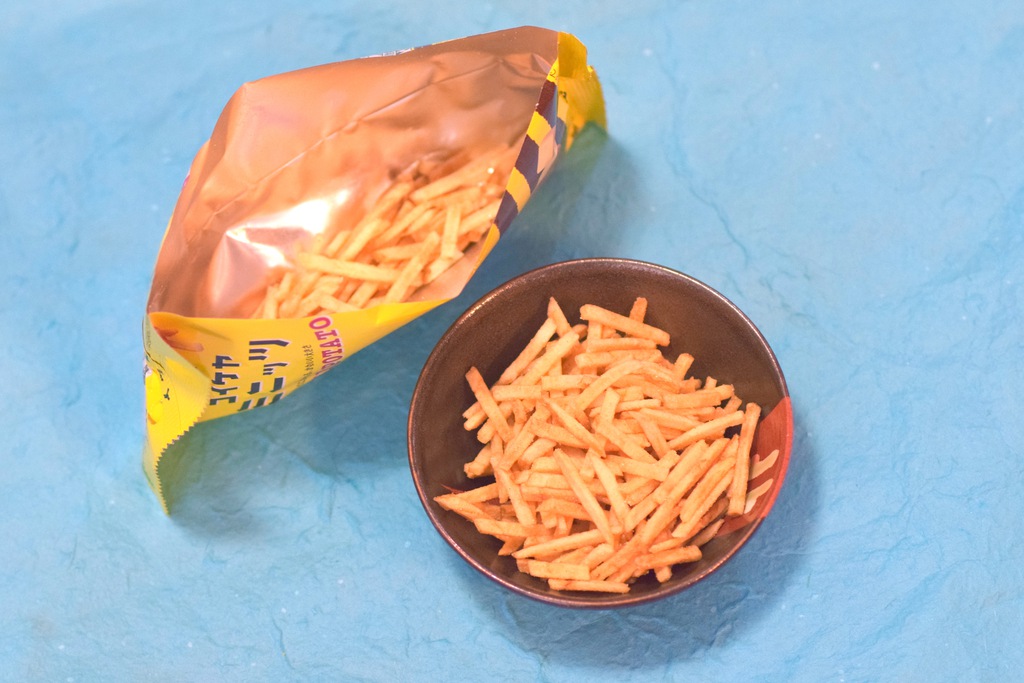 Matcha Bamboo Village
You can think of matcha as the fancier, purer version of green tea.
If you opened a can of matcha tea, the first thing you'd notice is its powdery consistency. It's so fine that it can puff like flour when you first open a container of pure matcha. Here you have that wonderful matcha powder fusioned with chocolate. The second thing you'd notice is the wonderful fragrance of it, which these chocolates capture well.
These might just be the most delicious chocolates we've ever sent, and were challenging to photograph, because more and more kept mysteriously disappearing. Into my mouth.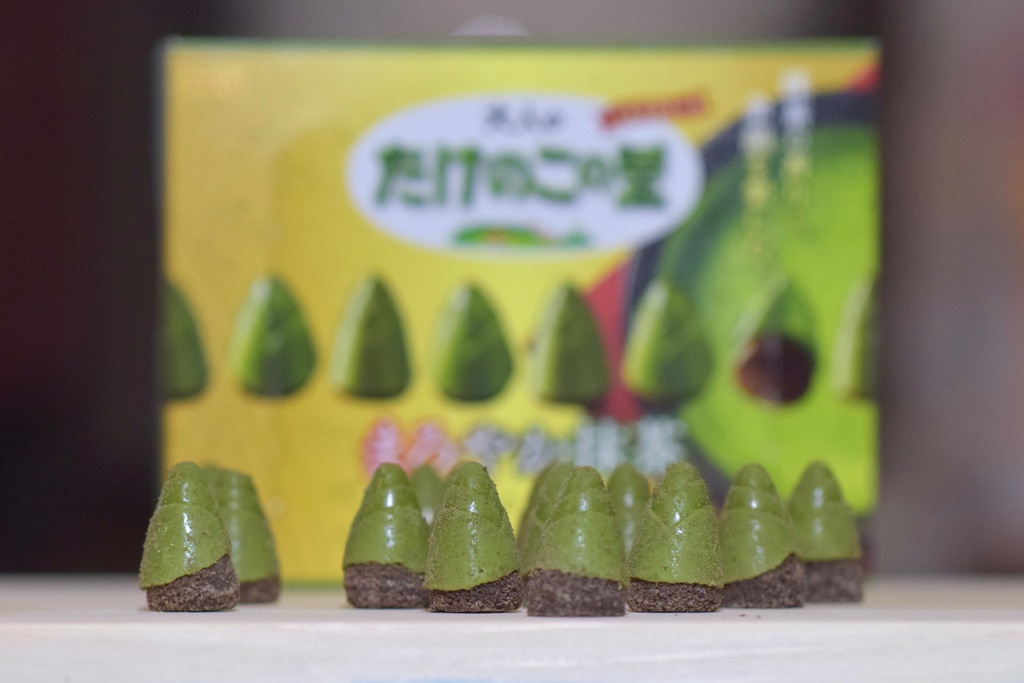 Edamariko Umashio
I attend a monthly gathering called Hacker News Kansai. The event features some geeky presentations, and afterwards we head out to a traditional Japanese izakaya for some more casual talk.
"Edamame" are green soybeans in pods. First time I joined, our table got served a with a plate of them. I wasn't too used to eating them, but decided to try them, picking up one after another while chatting with other participants, pressing my lips firmly against each pod I'd pick up to try to get the soybeans out. After a while I noticed that there was something wrong with them, as none actually contained any soybeans. Moreover, I noticed a look of shock / concern in the eyes of my friends.
I had been picking up discarded pods from the trash pile instead of the fresh ones. I had been carefully trying to suck soybeans out from pods that other meetup members had just eaten. Yuck. Why no-one pointed this out to me, I'm still not quite sure. Perhaps they were too lost for words to say anything.
Anyways, here's a salty snack made out of those soybeans. Don't be like me, eat the beans, not the bag.