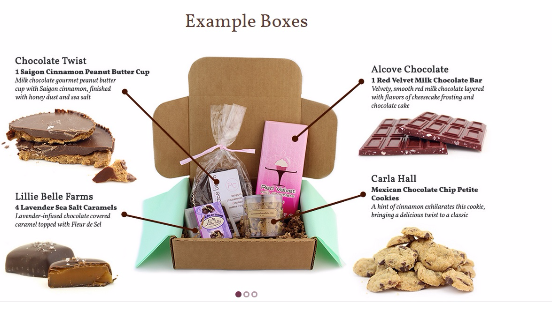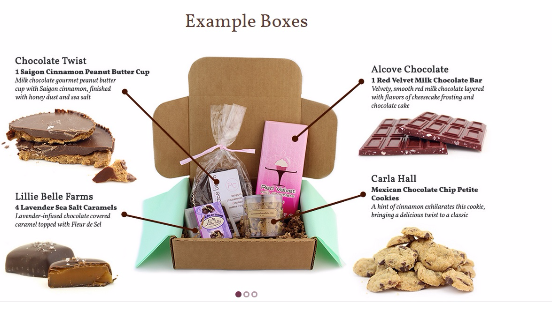 8 International Candy Subscriptions You Must Try At Least Once
There are candy subscription boxes from pretty much all over the world available on the Internet, including Mexico, Japan, Thailand, etc… They are perfect opportunities to try a selection of local sweets without actually making a trip to the destination. Plus, it makes up a great gift idea for any person with a sweet tooth in your life.
Let's take a look at 8 of the most popular candy-related international subscriptionboxes.
Does the term "German candy" ring a bell to anyone? Probably not as much as brand names such as Haribo, Kinder or Ritter Sport do. But all of these now world-famous treats originated from Germany, and that is exactly what the company packs up in their monthly boxes. A bag of the infamous Haribo Gummy Bears, a bar of Ritter Sport chocolate, a Kinder egg, a pack of Leibniz cookies and many more less-known, but not less delicious brands of confections make up the Candy German subscription boxes.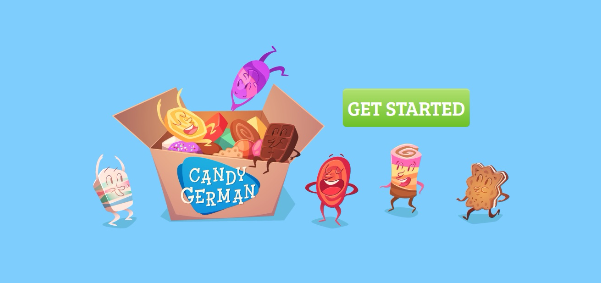 They provide free shipping worldwide and 6 to 8 items in every monthly package. The price for one month worth of treats is €29, which is about $32.43. Candy German webside also proposes 3 and 6 months plans that allow the customers to save up to $3 per box. It might seem pretty pricey compared to other subscription boxes, but the company sticks to the german quality standards- their website states that no package contains less than 1kg of candy.
As for the confections themselves- they are sure to delight you with their exquisite flavours and textures. Worth a try!
Speaking of Gummy Bears. Have you ever walked by one of those stores full of tall jars filled with multicolored gummies and thought "I want them all!"? Well, that's what Gummi Munchies is here for. For only $21.95 a month, this company provides two pounds (~0.9kg) worth of mixed bulk gummies.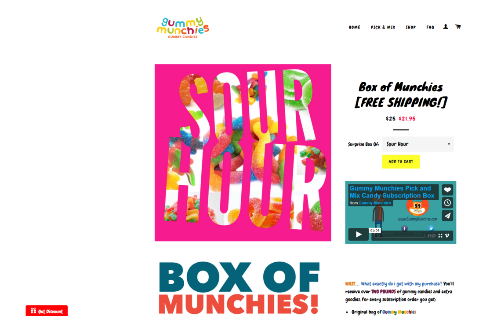 The best part is that you can mix and match your favorite flavors and shapes to create your own, unique mix that fits your tastes. You can choose from sour, fruity or sweet gummies, you can have bears, nature or marine shaped ones, or even a gluten-free alternative for those who keep their figure in check.
Even though the multi-choice option ruins a bit of the surprise factor, who doesn't love a selection customized to one's tastes? However, aside from the original bag of Gummi Munchies (the pick-and- mix one), the box also includes a jar of surprise candy and some gummies from a foreign country, to satisfy those who seek mystery and suspense in their subscription boxes.
The Gummi Munchies website is full of discount options and contests – customers can get 25% off the entire order just by following the company's social media accounts. Now, there's even a contest for the subscribers, the prize being a free 12-month supply of candy.
KarePax is a US based company that combines sweet treats and comic books in a mystery-type subscription box. Their treats come from all over the world- the contents of the previous boxes published on the website include Japanese Pocky and KitKat, candy corn flavored Oreos and chewy chocolate bars from the US.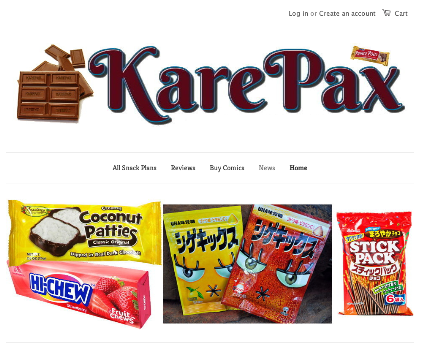 Each package contains 11 to 13 full-size snacks, a handful of little candies from various countries and 3-4 comic books. For those who aren't really into comics, KarePax offers the opportunity to get some treats doubled instead of them. On to the prices, a big box of sweets and geeky indie comics will cost you $26, with 3, 6 and 12 months plans available to choose from. However, for overseas shipping you will be charged an additional fee of $10.
OmNomBox is a subscription box company that includes candy from most Asian countries- China, Korea, Taiwan, and of course, Japan. While there are at least 10 Japanese-only sweets subscription boxes, OmNomBox appeals to its customers by including typical Korean and Taiwanese treats, such as honey flavored apple chips, probiotic strawberry yoghurt gummies and Pejoy biscuits.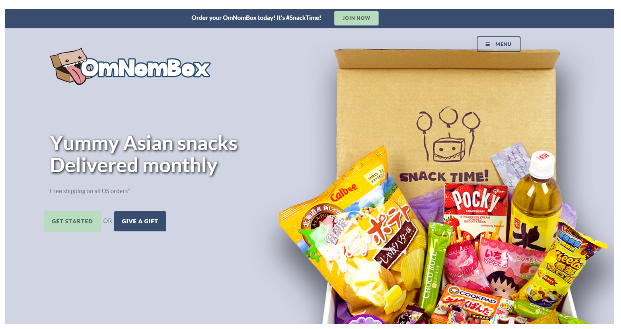 Never heard of Pejoy before? Look it up in the information provided, as every box comes with a detailed description of each snack and beverage! For instance, Pejoy is Pocky's inside out version- a hollow biscuit stick with chocolate cream filling, much like a wafer roll.
Another specific of the OmNomBox is including a drink in each package - usually green tea from China or Taiwan, but various juices and soft drinks such as Ramune soda have also been featured.
To taste the confections of the Far East will cost you $25 a month, plus shipping fees if you live outside the US. The company offers a month-to- month auto-renewing plan, various coupon codes for discounts and opportunities for bloggers to get free boxes for public reviews.
For all the Harry Potter fans out there, you might want to take a look at this website.
Old British Sweets will give you the impression that it's the online version of the Honeydukes sweets shop from the HP saga. With intriguing names such as Gobstoppers, White Mice and Dip Dabs, whimsical-looking pictures and mouthwatering flavors, the Old British Sweets are definitely worth a try. The company supports local candy making craftsmen and states that the best confectioneries are not the ones found among the aisles of a supermarket, but rather the ones crafted by hand.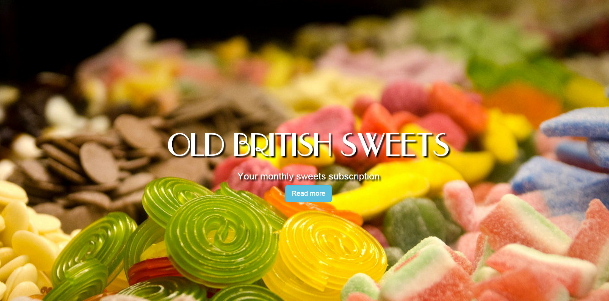 For only £19.99 (~$31) you can receive 450g of Britain's finest candy right at your door – that's right, the shipping worldwide is free of any charge.
Such a festive subscription box is the perfect option for a gift as well. The website has a special option for sending gift packages, which does not automatically renew every month, as a normal subscription does. Old British Sweets is the only company on the subscription service market that provides this kind of traditional and handcrafted candy.
You might want to put one of their boxes on your next Christmas wishlist.
The Sweet Club is a customizable monthly box of treats from the UK. Much like the Gummy Munchies, the company allows its customers to choose from a variety of confectioneries to make their own box, suited entirely to their tastes.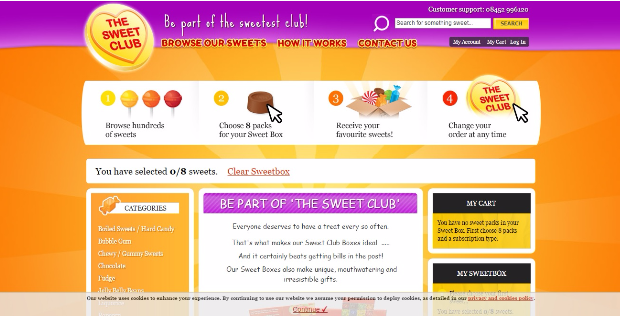 For those who are confused by the multitude of items on the "menu", The Sweet Club offers premade selections as well. A box typically includes 8 kinds of different treats(~100g of each) that you can pick from the website. What can you choose from? Well, pretty much any kind of candy you could think of. Chocolate, gummies, hard and soft candy, liquorice, fudge or lollipops – the menu on the website's got all of them.
You can even choose specific types from these categories, for example the Chocolate section includes items such as Chocolate Covered Marshmallows, Chocolate Eggs, Chocolate Fudge, etc… Just add some sour jellies to dilute the sweetness and voila! You have a selection ready to be packed and dispatched to your home country. For £9.95  a month or £8.25 a fortnight, plus shipping fees outside the UK, you'll get more than 800g of candy of your choice straight to yor doorstep.
You can update your selection every month or leave it to the company- they are sure to surprise you with one of the readymade selections!
For those who are less into gummies and jelly beans and love a more gourmet option when it comes to their sweets, Treatsie is the perfect choice. This smaller, but certainly more stylish box is sure to make the difference. What's inside it is even more appealing – bars of red velvet milk chocolate, peanut butter cups with cinnamon and sea salt, lavender-infused caramel, etc..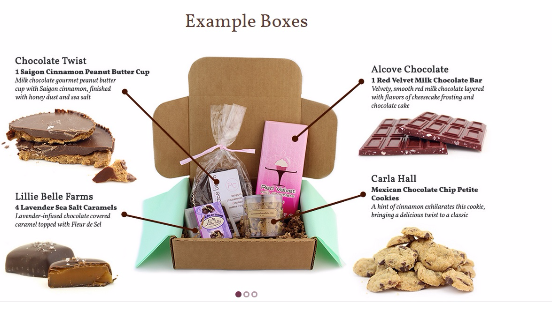 Original American chocolate chip cookies have also been included previously. Such an exquisite selection will be shipped to you monthly for only $12, with 3 and 12 months plans also available. The company also provides a gift giving option, which is perfect for anyone with a sweet tooth in your life. Treatsie takes great care of their customer service. In the hot summer months, the boxes are shipped in radiant cool packs, that keeps the chocolate from melting and makes sure that the box reaches its destination in the best condition possible.
The name of this subscription service says it all- their boxes are huge, treasure-chest like packages filled to the brim with fun, kitschy snacks from all over the world. Their treats come from the Far East, Central and South Americas, Europe and more.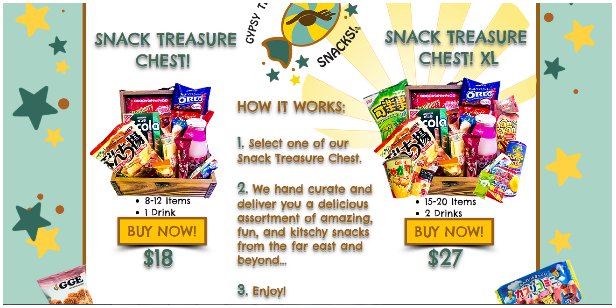 Flavors and brands we've never seen in other subscription boxes include Indonesian Milkita Lollipops, Mexican Chili Rokas, Bon o Bon chocolates from Argentina, Taro Cream Wafers for Taiwan and many more. Each box contains at least one drink and some savory snacks as well.
The drinks are also very unique- ever tried Inca Kola from Peru or Chinese Apple Jasmine drink?
Gypsy Trading Company gives you the opportunity to taste them all! A small snack treasure chest includes 8-12 treats and a drink, and a big one can hold up to 20 treats and 2 drinks. For $20 a small chest or $29 a big one, you can try the flavors of faraway countries without having to leave your house. Plans for 3 and 6 months are also available both for the big and small boxes of treats, allowing you to save up to $27 on the entire purchase.
Candy Japan (our site) mails Japanese surprise sweets to subscribers around the world twice a month, with free shipping of mystery boxes no matter which country you are ordering from.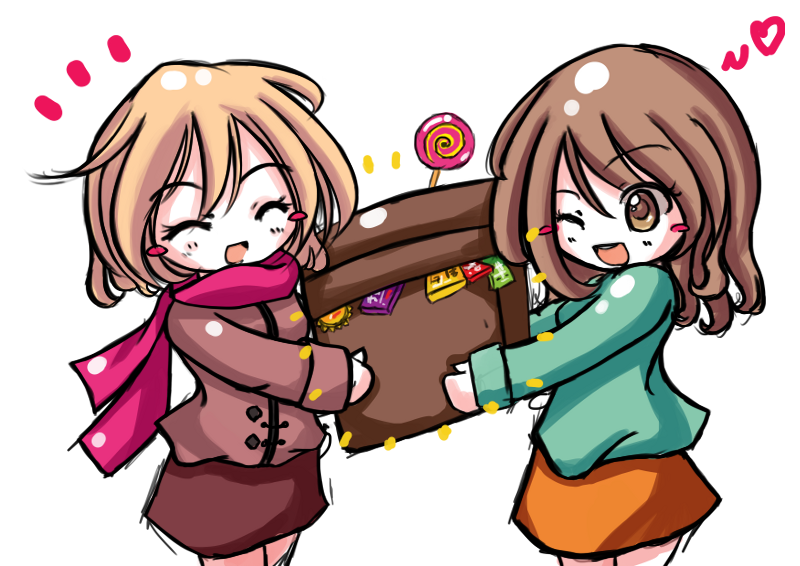 Japan has the most interesting sweets in the world, so if you are looking for an international candy subscription, this would be the one to start with. There are sweets with cute shapes that will make you go aww, bizarre flavors you cannot taste anywhere else, kits where some assembly is required before you get to eat your creation, even candy that make sounds or that you can otherwise play with.
Unlike most subscription boxes, Candy Japan ships smaller boxes, but twice a month so that you will always have the next box to look forward to soon enough and to keep you from eating too much at once!
---
The reason why the candy subscription services are so popular is obvious - everybody loves a sweet treat. However, everyone's tastes differ when it comes to candy, and that's why so many different companies have been appearing all over the internet. Do you love munching on gummies? Or would you rather have a fine selection of chocolates every now and then? Perhaps you want to try flavors from all over the world?
Got hungry after reading this? Don't worry, there's a candy subscription box out there which has got you covered.