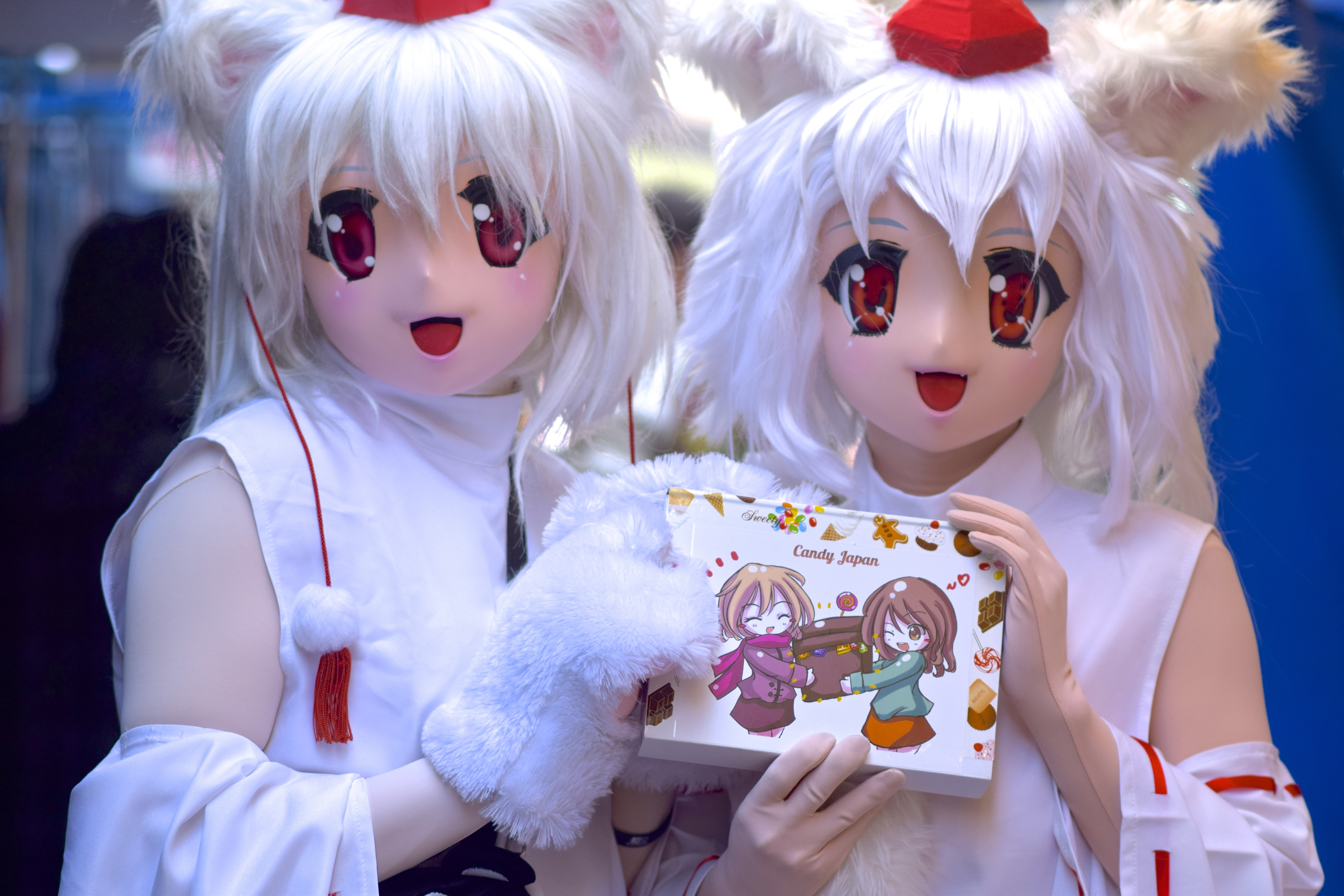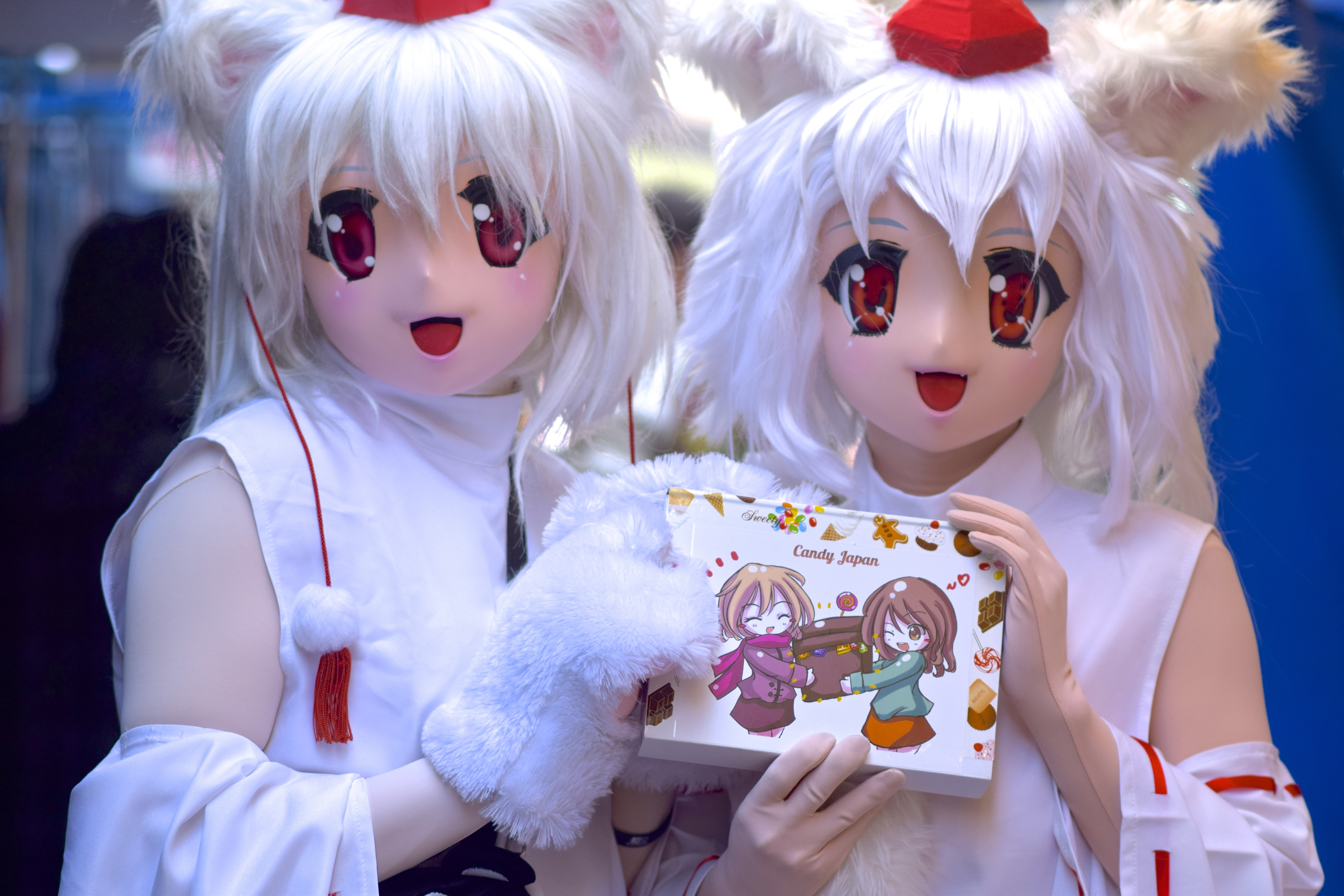 7 Japanese Subscription Boxes to Try Out
Japanese culture has brought stunning innovations to the table - including interesting fashion styles, delicious food, and cool gadgets – but there are still many things you might not even have thought about, why not get a compilation of items delivered to you monthly? Subscription boxes are becoming very popular lately, they put you in touch with local goods that you not have even thought to search for. Every month you'll get a box of Japanese surprises.
The subscription boxes listed below include diverse items which are loved by a big part of the Japanese community. For example, you can find stylish décor for your room or cool accessories that you could have never ever known about, as well as makeup, Japanese tea, and other products. In this article, we introduce you to seven subscription services that deliver the feel of Japan right to your door. Each service has a different price and delivers diverse types of products.
Monthly Japanese stationery subscription: Neko Box / Zakka Kit
Neko Box offers traditional Japanese goods, such as homeware, textiles and different types of craft materials. Each month they ship unique mystery content such that subscribers never know what is inside until they open the box. Each box has about five items and a special bonus originally designed one. Each shipment is limited to only 300 boxes, so you have to be quick to join if you want to try some.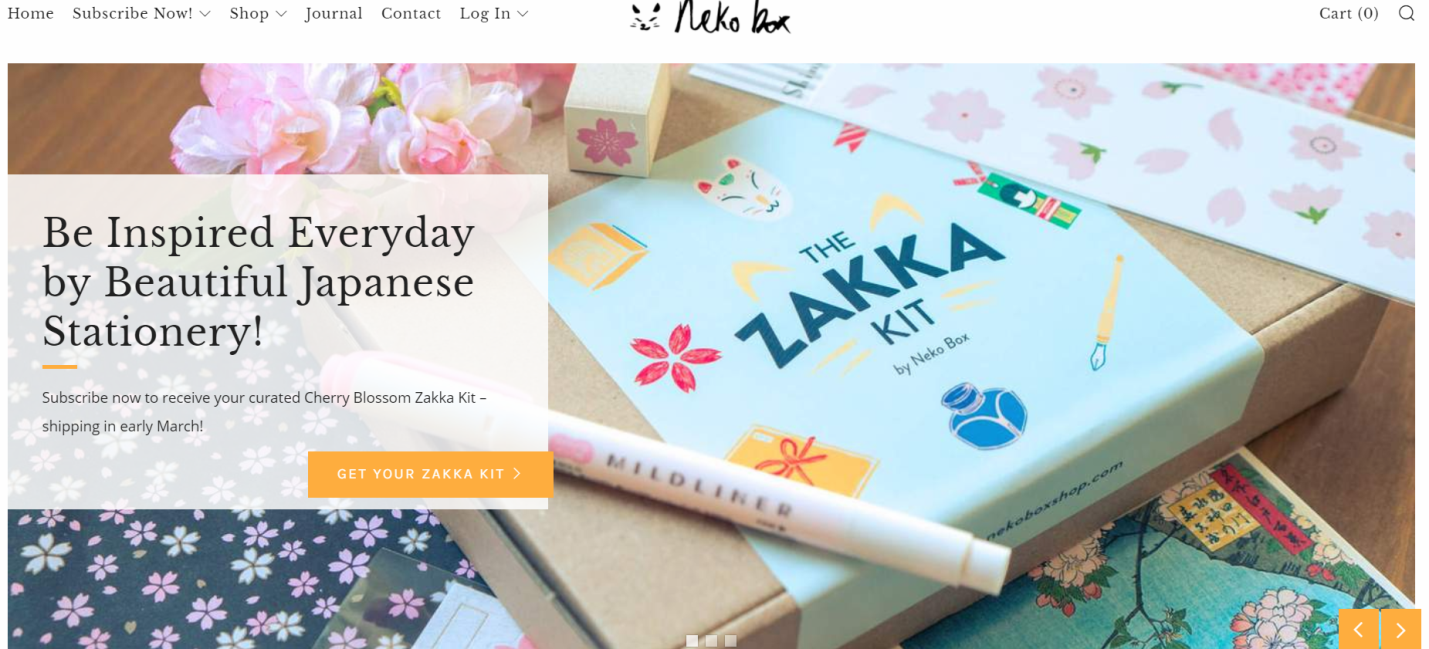 Besides Neko Box, the company also has another box called the Zakka Kit. Having a similar style to Neko Box, Zakka features about five to eight interesting stationery products. If you are unsure with which one to start off, you can try out the Zakka Kit as its contents are smaller sized and cost $17.50 for a month, while the Neko Box is $35.99.
Their boxes also make for a great gift for anyone into Japanese stuff. Upon request, they can even leave a handwritten note beside the items. If you have some special wishes, you can always submit suggestions, which you could see soon in their shop.
Japanese make-up subscription: Nomakenolife
Nomakenolife is a service that offers beauty items such as lotions, creams, face masks, makeup, and much more. Their team consists of Japanese enthusiasts and industry players, who have been following the latest trends for a long time.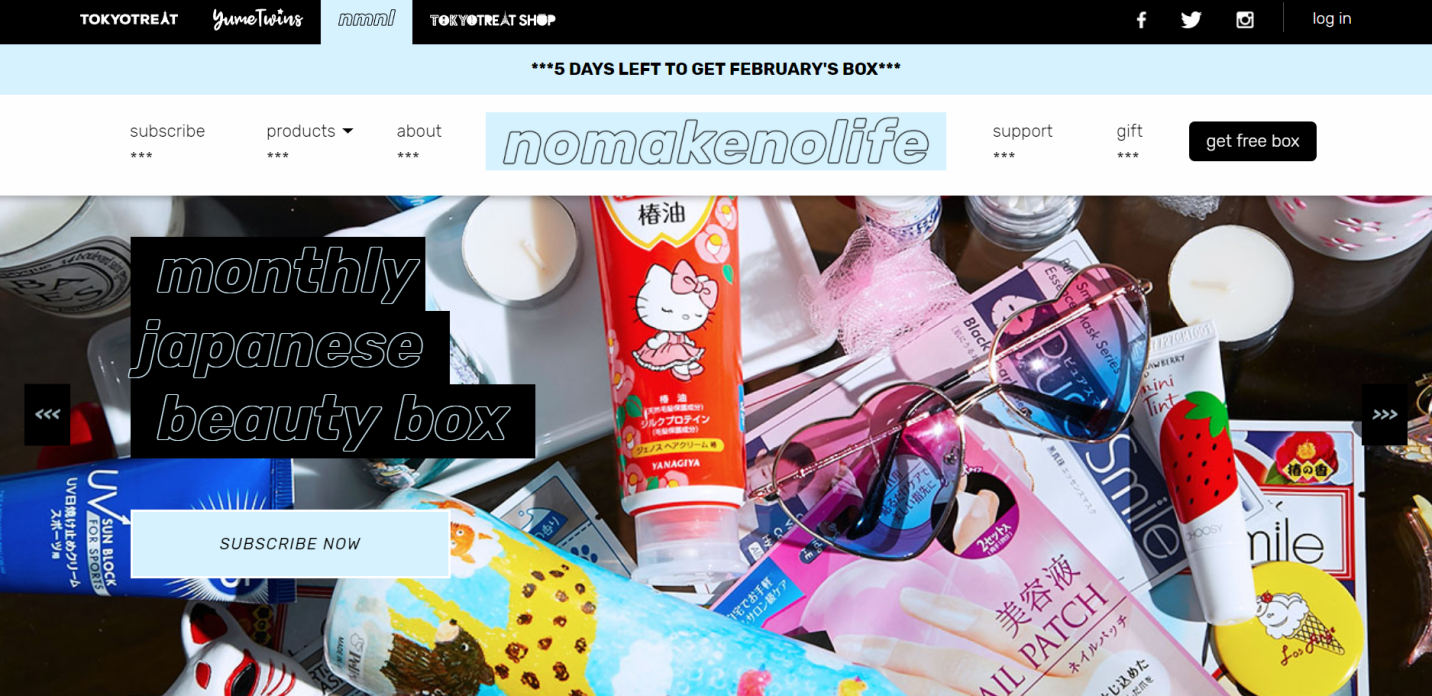 Their choice of products is divided simply into six categories. In each of their boxes, you can find makeup, hair, skin, body and bath items. All of the delivered products originate in Japan and are already a part of the local culture. Their monthly plan starts at $29.99, which includes one box, however you can save $30 if you subscribe to their yearly option.
Nomakenolife is a perfect alternative if you want to try out new beauty brands and you love Japanese culture. Even if you are not all that into Japan, Nomakenolife is still a great option for beauty and makeup enthusiasts, as Japan is constantly involved in the development of new innovative make-up products.
Japanese beauty product subscription: Kira Kira Crate
Japan Crate has many offerings on their list, and Kira Kira Crate is one of their most beloved alternatives. Similar to the Nomakenolife box, Kira Kira Crate offers diverse beauty products.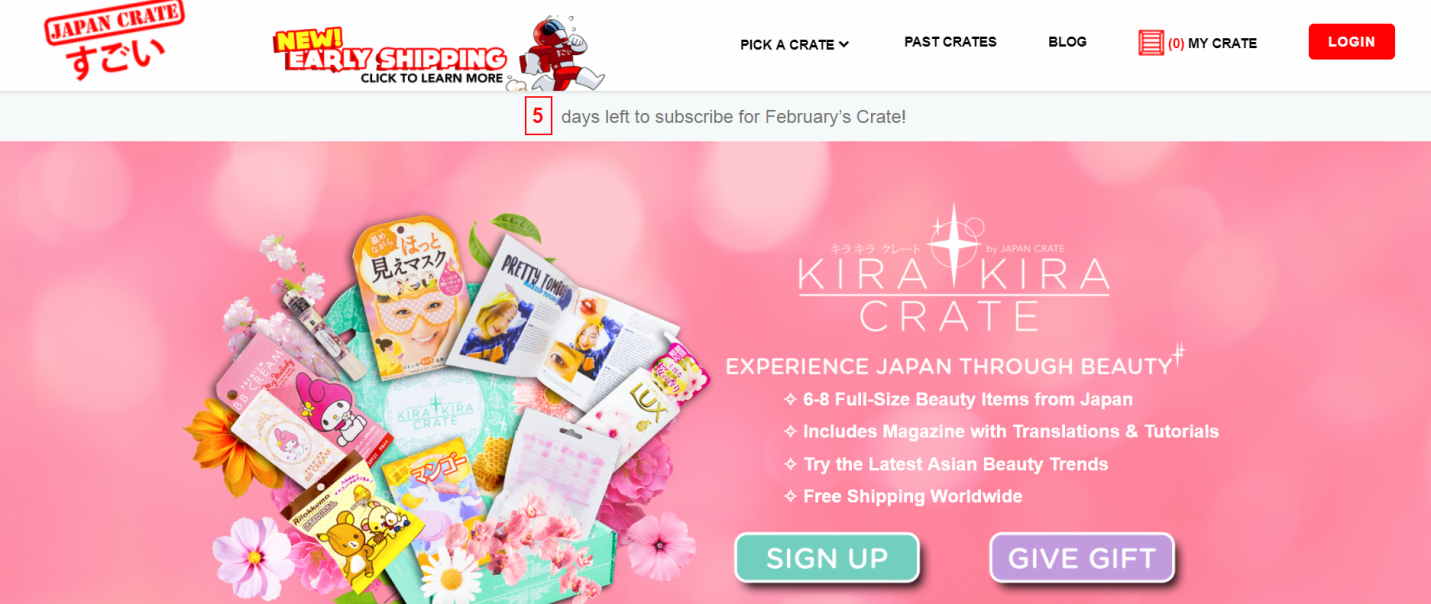 Kira Kira Crate monthly subscription costs $29, with each box containing six to eight of curated items. There is no any specific rule on what should be inside, but you will be surprised to find many unique items, which can be hard to find anywhere else. The boxes cover cosmetics such as heated eye masks, bath items, foot wraps and face washes that are suitable for any type of skin. A great addition is the accessories that can include fake eyelashes or eyebrow pencils. Their offers cover tutorials and information on the items, to prevent any misunderstandings, so don't worry if your Japanese is not top-notch!
If you are following the latest beauty trends, their boxes are perfect for you. Of course, they also make for good gifts to a friend or relative.
Japanese tea subscription: Tomotcha
If you are a tea lover – this one is for you! Tomotcha delivers tea produced in Japan, one flavor at a time. There are hundreds of varieties of tea around the world and many of them originate in Japan. The interesting part is that many regions in Japan have their own way of growing and preparing the tea, resulting in unique tastes.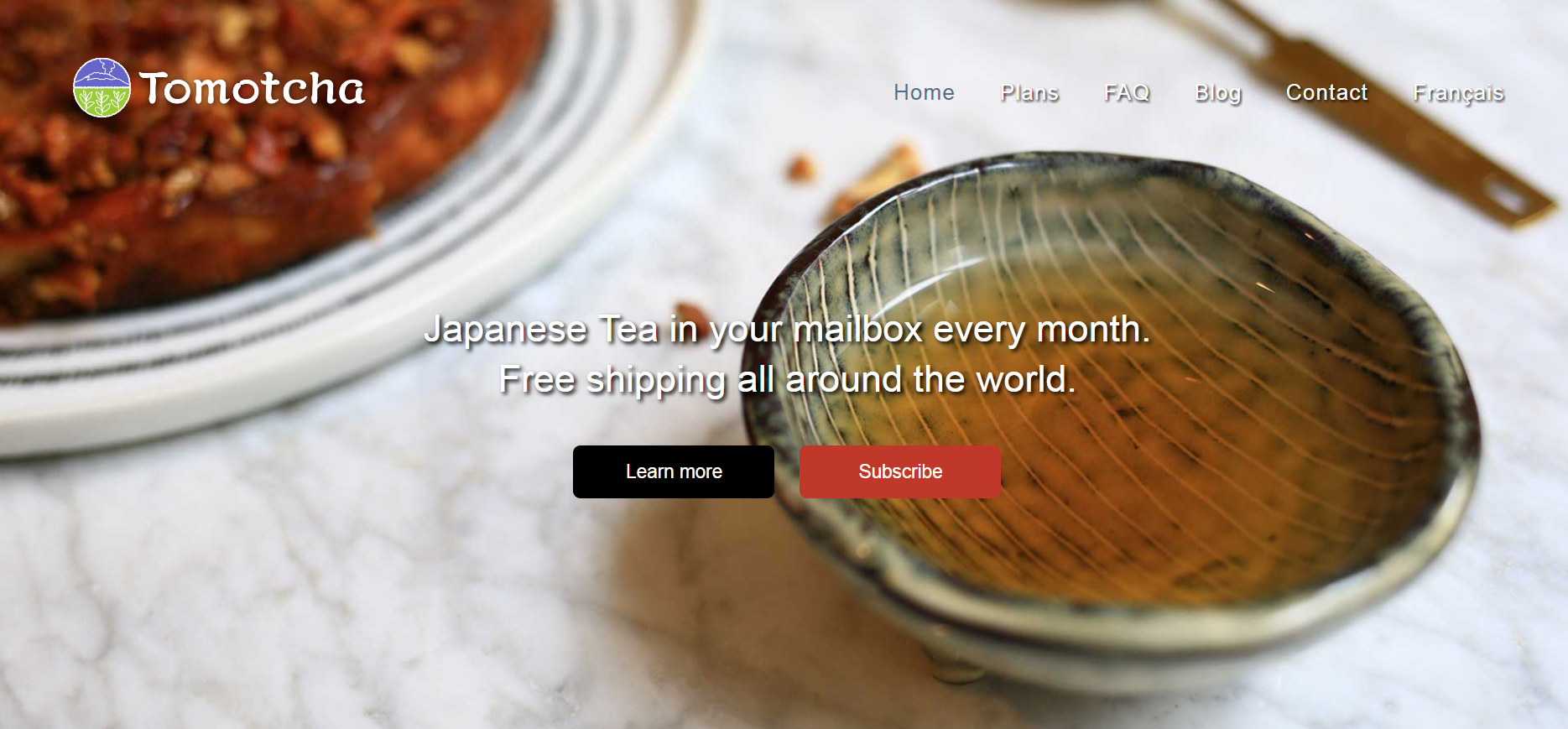 Each month, Tomotcha publishes informative articles about each tea they have sent. You can find instructions on different ways to prepare the teas for achieving various tastes and read about their historic importance. For tea connoisseurs, this would be the perfect box. The basic plan costs $18 per month, which includes their standard shipment. There is also a gift option, where you can immediately choose how much you would like to order.
If you have special preferences, you can email their team anytime. For instance, if you would prefer to get more tea than is included in the standard subscription, the quantity can be adjusted to your liking.
Anime subscription box: Anime Bento
In case you're into anime, manga, or Japanese games, join Anime Bento's large satisfied worldwide subscriber base.
Anime Bento boxes contain figures, apparel, and accessories which might just be merchandise from your favorite anime or manga! If you are wondering about what kind of products they have, check their shop for an idea on what might be included in the boxes.

Their standard shipment costs $35 per month. If you want to receive more, or something special, they offer an Anime Bento Plus option that costs $200 per year quarter. They include bigger sized figures and more of the interesting accessories in one box. Anime Box is a great all-in-one option to start off with if you share some interest in Japanese pop culture. You could find unexpected pieces or even discover something that could expand your interests to new series or games you might not have known about.
Ramen subscription box: Umai Crate
As their name implies, the Umai (tasty) Crate brings you delicious instant noodles, that can be hard to find anywhere outside of Japan. Just check out their website. Have you ever known that instant noodles could look so tasty? Well, in Japan, they can!
You will find seven to eight different flavored noodles in their boxes, which they ship on a recurring monthly basis. If you like ramen and yakisoba then you should definitively try it out. If you still think that the instant noodles cannot beat the real thing – Umai Crate's premium selection will certainly prove you wrong. In addition to the delicious snacks, you can receive a special surprise in the form of chopsticks or gachapon surprise toys, which are included in each box.
With only $25 per month, you can get it all. If you like the idea, you could even split one shipment up with your friends. After all, everything tastes better with friends!
Another Stationery Subscription: ZenPop Puppy Pack
This is another option if you were looking for a stationery subscription box. This box covers almost all the popular themes in the Japanese culture. If you are into stationery collectibles, ZenPop Puppy Pack could be perfect for you.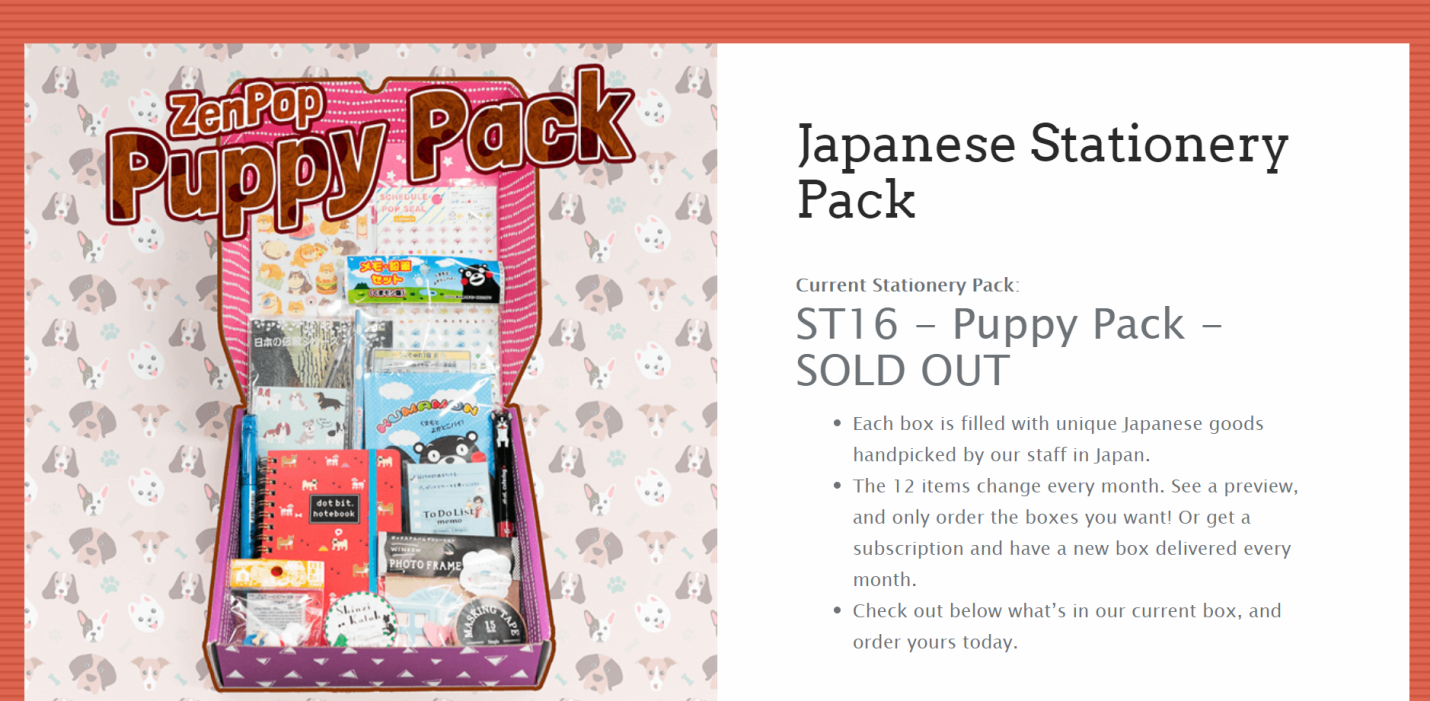 The boxes contain different Japanese stationery goods, that are selected thoughtfully by their team. Usually, they include 12 items in their shipments, but sometimes there may be extra items included as well. Their items are based on a specific seasonal theme. The included notebooks, erasers, pens, washi tape, frames, stickers, etc. reflect a specific topic. For example, in February, you might get items depicting a Valentine's Day theme, and in April, stationery with Cherry blossom motifs.
They offer different subscription options. First, you can buy just one of their boxes for $29.50. If you want to subscribe for three months, each box would cost $28, and for six it will become $27.50. There is an add-on to enable tracked shipping, so that you can follow your box travel to you from Japan.
Thanks for reading
If you are into some of the Japanese trends, or you like cute and artistic things, their boxes might be the perfect monthly gift for yourself. As they include items depicting diverse Japanese motifs, it is also a great way to explore their culture! These subscription services have intrigued us with their versatile contents and interesting themed goods. If you feel that there should be anything else – don't hesitate to drop us a hint. Otherwise, we hope that you have already found a Japanese subscription service fitting your tastes.
If you were looking for a Japanese candy subscription, also check out our box Candy Japan.