Kawaii subscription boxes
Kawaii fever has taken the world by storm in the last decade – cute little Japanese items and snacks have never been so popular outside of Japan. Now with the popularity of subscription services, international fans of kawaii culture can get their hands on some authentic merchandise at a really great price.
Here are seven different subscription boxes that bring the essence of Japanese cuteness to your door. These boxes are the perfect gift for anyone interested in Japanese character goods, stationery, and more – so let's take a look at them! Some sometimes even have snacks and candies included (if you would prefer to get only those, try Candy Japan).
Kawaii Box
This being an article on kawaii subscription boxes, we couldn't resist including the one literally called 'Kawaii Box'. It is one of the most affordable subscription services within the niche, with plans starting at only $18.20 per month when subscribing for a yearly membership.
Even if you're not sure whether you're ready to commit to living the kawaii dream for a full year or not, you can still give Kawaii Box a shot with their $20 monthly plan. Despite the low price of the box, the value of the items inside is around $40 – the service is not skimping out on cuteness.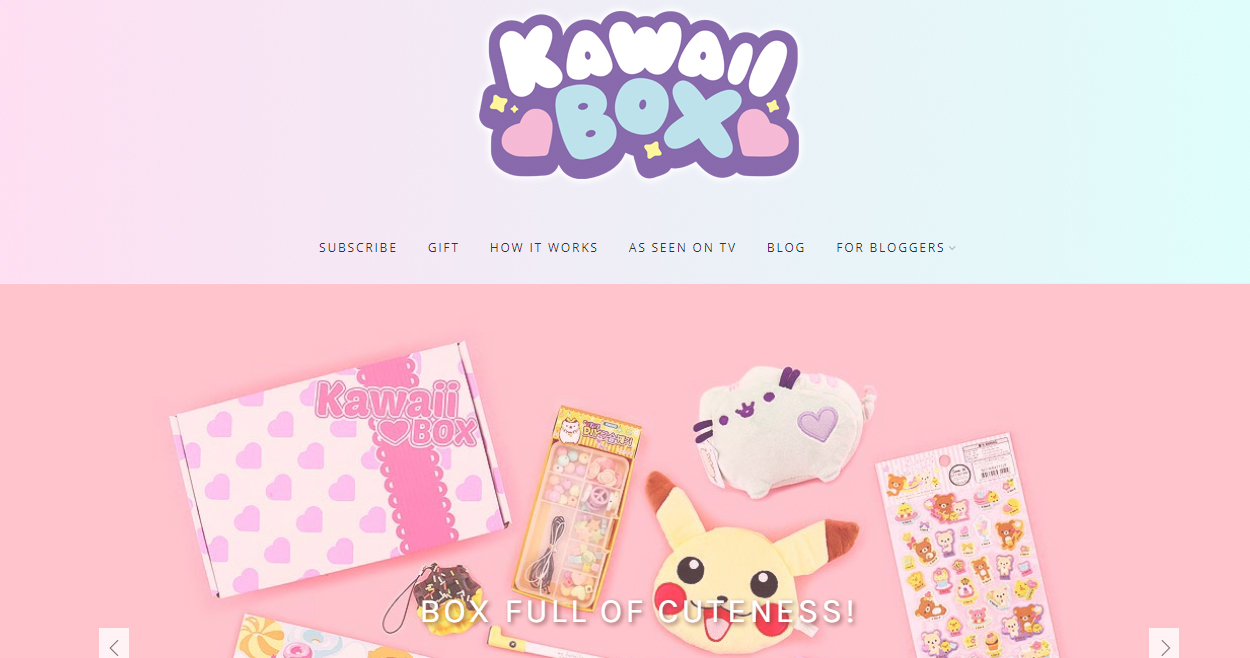 What can you find in your Kawaii Box? Each monthly shipment contains around ten items that are carefully handpicked by the staff. From candy DIY kits to Pusheen sleeping masks, and from adorable accessories to Sanrio items, Kawaii Box has a bit of everything.
Your monthly shipment is sure to soothe your sweet tooth, decorate your outfit with new accessories, and even give you a new plushie friend to snuggle with.
Yume Twins
In case you've been living under a rock for the past year, let us introduce you to the Yume Twins box. It has been all over YouTube and Instagram ever since its launch, grace to the unique aesthetic and original concept behind it. Yume Twins calls itself a 'Yume kawaii' subscription box – but what is that exactly? Well, you're already familiar with the 'kawaii' part, and the 'Yume' part translates as 'dream.'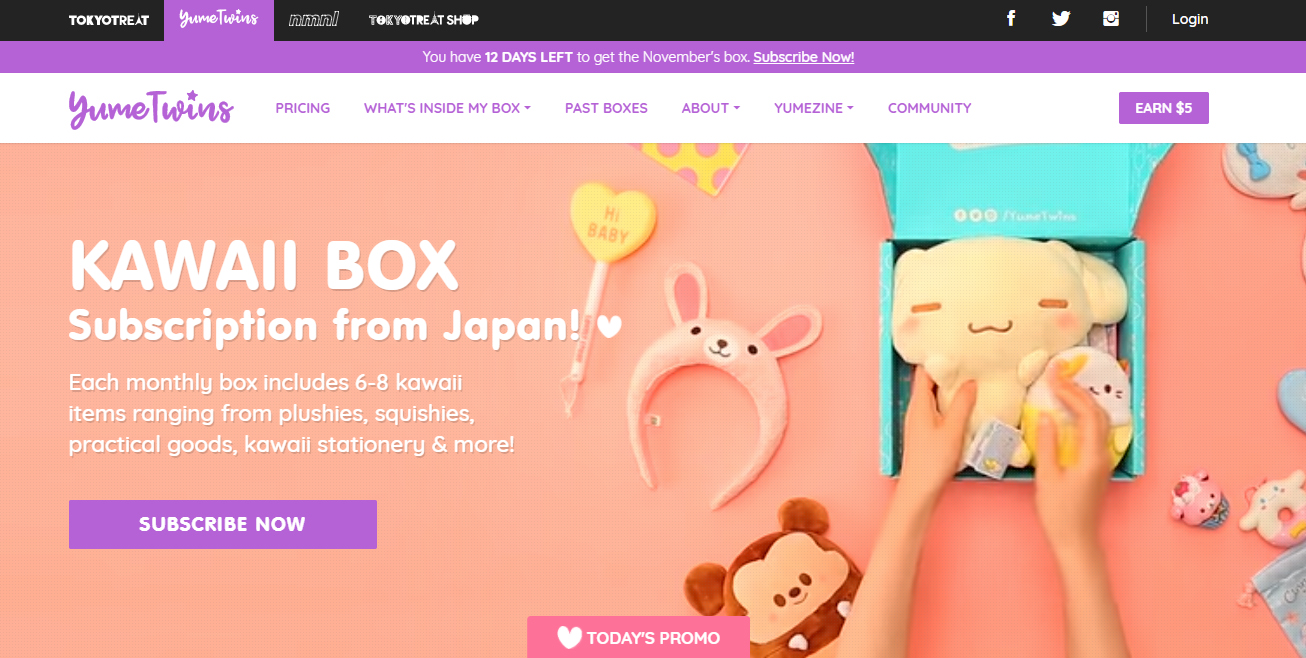 The dreamy cuteness, or Yume kawaii, as it is called in Japan, refers to cute items with a nostalgic or geeky twist. For instance, 90's Sailor Moon merchandise, Tamagotchi, and Hello Kitty items are considered 'Yume kawaii', and have been previously included in the Yume Twins box.
Yume Twins is the perfect box for Japanese stationery enthusiasts as they include a cute notebook, pen, stickers, or washi tape in nearly every box. Bento boxes, cutlery, and other kawaii kitchenware have also been spotted in past boxes. And lastly, Yume Twins include rather high-quality wearables – including PJs – because what could be more appropriate for such a dreamy aesthetic than a cute outfit to accompany you in the land of dreams!
As far as pricing goes, you can get Yume Twins box starting at $31.50 with the yearly plan, or $35 with a monthly subscription.
Doki Doki Crate
Doki Doki Crate is sub brand of Japan Crate. While Japan Crate sends out Japanese candy and snacks, Doki Doki Crate concentrates more on cute wearables, stationery, and licensed character goods. The great thing about Doki Doki is that you are guaranteed to get at least one wearable item and a Hoppe Chan squishie in each shipment – so that you can be sure that you're getting your money's worth of cuteness. Other items you can expect to get in your Doki Doki crate are kitchenware and plush toys.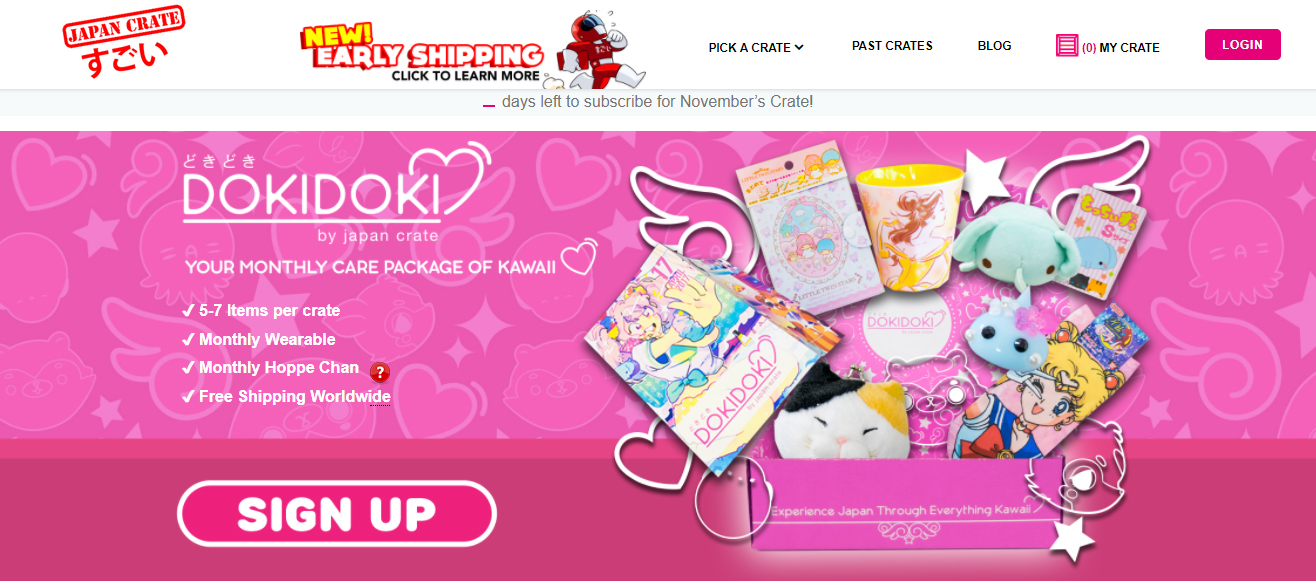 What's more, by signing up for the Doki Doki Crate, everyone is automatically entered in the Suteki Crate raffle, in which the service gives away a huge box of goodies worth over $100 to one lucky winner. To get your hands on the Doki Doki Crate, all you have to do is have an Internet connection and $30 to spare (or $27.50 if you're going all in with the yearly plan).
The Squishy Box
This is an interesting one. Squishy Box is fairly recent subscription service with an original name and approach. While not having 'kawaii' anywhere in the title, the service does have a lot to do with the Japanese culture of cuteness. If you've ever visited Tokyo, or at least kept in touch with the local trends online, you'd know how popular squishie toys are in Japan. Inspired by fruits, sushi, baked goods or even popular kawaii characters, squishies are a flashy way of decorating a bag or a phone case. Not only that, but they're also great stress relieving toys – all while looking weird, cute, and trendy at the same time.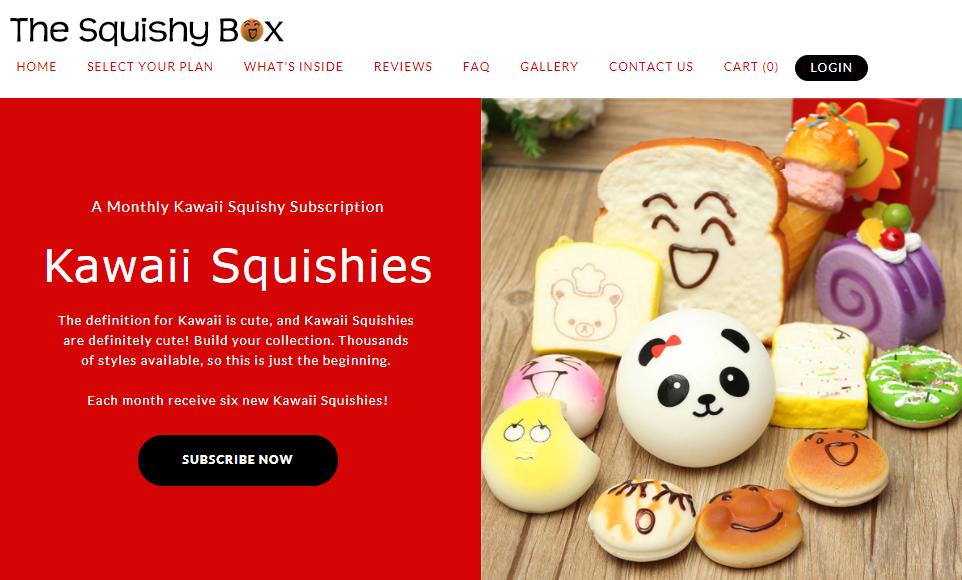 The Squishy box is a unique subscription service that can help you grow your own squishie collection – bringing you as many as six in each monthly crate! Some squishies we've spotted in past boxes are a fluffy Rilakkuma pancake one, a delicious-looking ice cream cone, yummy doughnuts, and our personal favourite – the huge toast slice squishie. Now you can channel your inner anime protagonist – bump into your crush while running to school munching on your slice of toast! In all seriousness though, the squishies are not edible.
To get your own Squishy box, you'll have to pay around $24 per month. More information and details can be found on their site.
Gacha Crate
Gacha Crate is another unique service – these guys wander around Tokyo and play the latest gachapon machines to bring you the thrill of opening your own capsule toys. While you may find these in other countries as well, Japan is the king of capsule toy machines – or, as they call them, gachapons.
You might think that gachapons only feature anime-related goods or playing cards, but it's nothing like that! Capsule toys can include anything from cute and colourful squishies to miniature Japanese garden and house models, or from sushi cats to hamsters-in-desserts. Say what? That's right – gacha toys can get ridiculous at times, but that doesn't change the fact that they are extremely cute.
If you're living for the kawaii aesthetic, you can order a special Kawaii Gacha Crate from this service, as opposed to the Kakkoii Gacha Crate, which features a cooler and weirder selection. In the Kawaii Gacha Crate, you can find all sorts of surprises, such as small animal figures, models of sweets and food, and cute anime characters.
To get your hands on your own Gacha crate, you'll have to choose between the 1-month, 3-month, and 6-month plan, and pay the price starting at $25.
The Cute Box
Update: Cute Box has recently shut down.
The Cute box is another kawaii subscription service that combines sweets and snacks with all sorts of non-edible cuteness. For only $24 a month for the monthly plan, The Cute Box will bring you 5 to 7 cute premium items, including merchandise from brands like Sanrio, Rilakkuma, and Hello Kitty, as well as popular treats such as Pocky or Ramune. The service also offers free shipping in the US, as well as a better price if you opt for the 3-month or 6-month plan.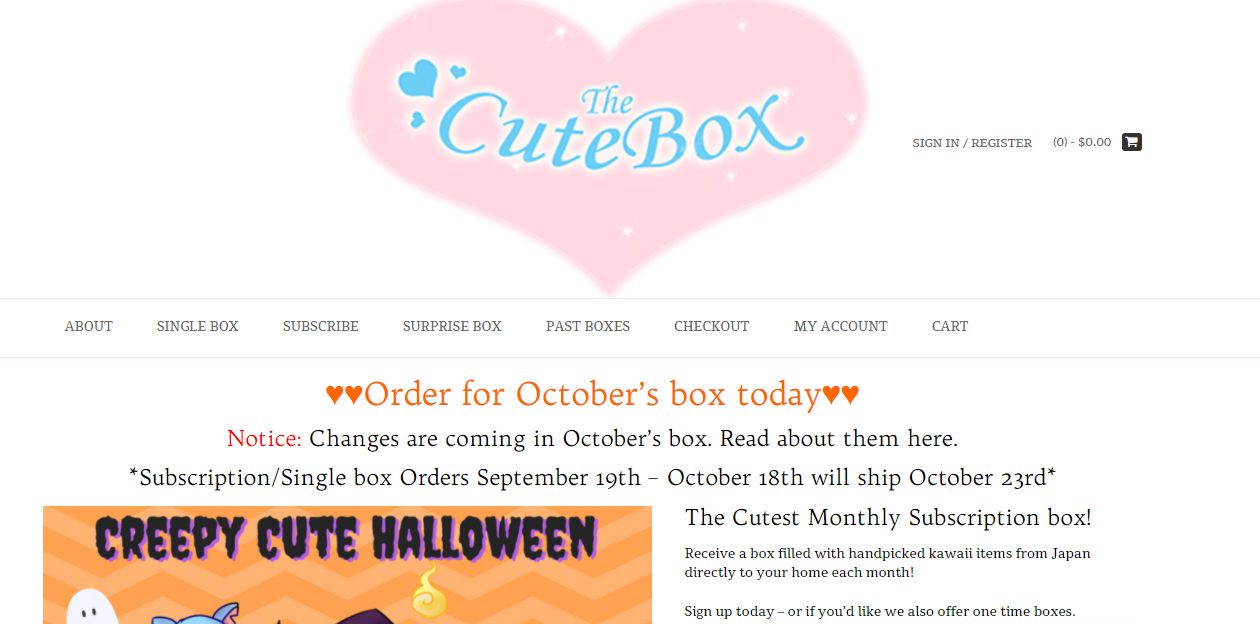 So, why would you want to get The Cute Box? First, this is one of the few services that allow you to purchase past boxes. So if you watched someone do an unboxing of The Cute Box with items you really really loved, you could get that very same selection right now. They even give discounts for past boxes, which is a really nice touch – you won't be able to find a better value anywhere else on the internet. To find out more details, you're always welcome on their website.
Hello Happiness Box
The name of this one is pretty self-explanatory – subscribe to them and every shipment will make you think 'hello, happiness' when you open it. Although they are one of the youngest services in the niche to hit the market, Hello Happiness box has already made a name for itself on social media. Their boxes are known to include a classic selection of kawaii items – character goods with a focus on Sanrio stars, like Hello Kitty and My Melody, adorable stationery items like pens, stickers, and washi tape, cute and colourful socks (our personal favourite!), and the occasional sweet treat.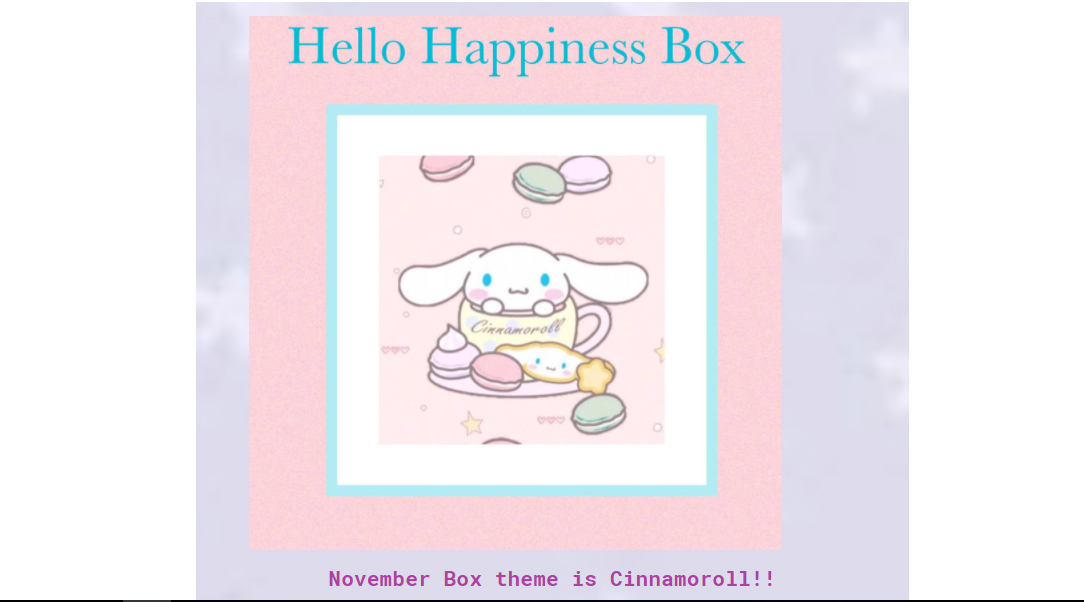 If you're wondering what is so special about this box, we're here to tell you – they offer one of the cheapest kawaii-themed gift boxes on the market. For only $12.95, you can get a premium selection of cute goodies, beautifully packaged and wrapped, ready to be offered or sent as a gift to your loved ones.
On the other hand, if you're thinking of grabbing a Hello Happiness box for yourself, you'll have to prepare $27 a month for it. Or get the 3-month membership and enjoy a 20% discount on the price of the crate!
Thanks for reading
I hope you found what you were looking for in one of these seven kawaii subscription boxes. If you would like to subscribe to only Japanese candy and snacks, check out Candy Japan.