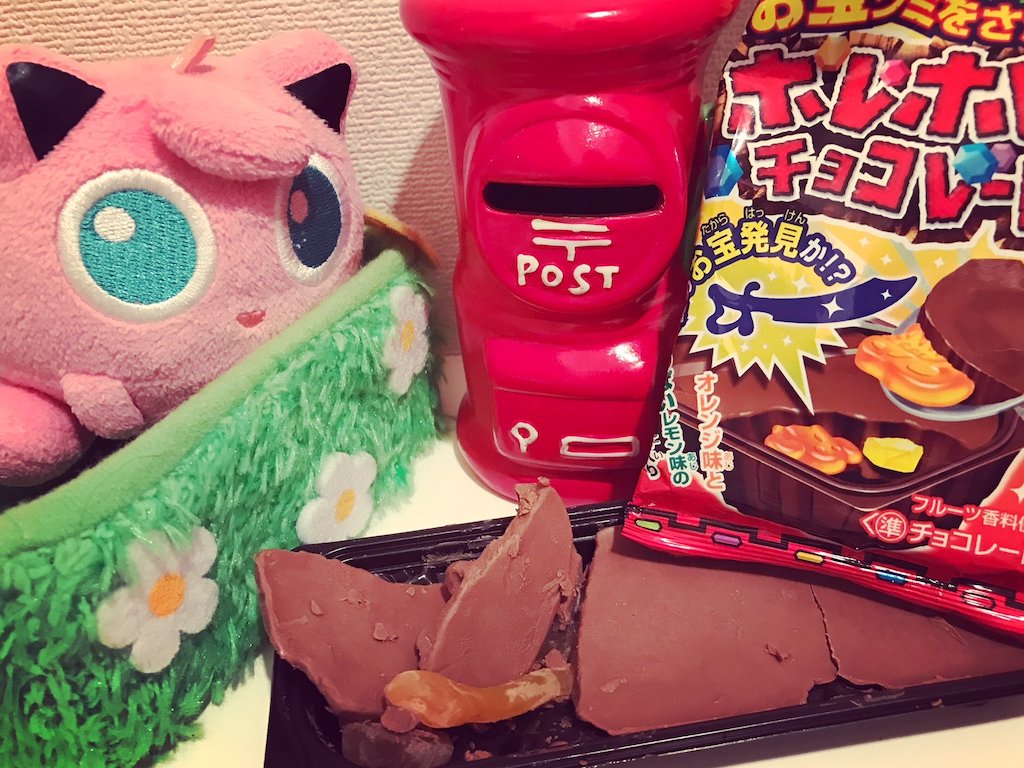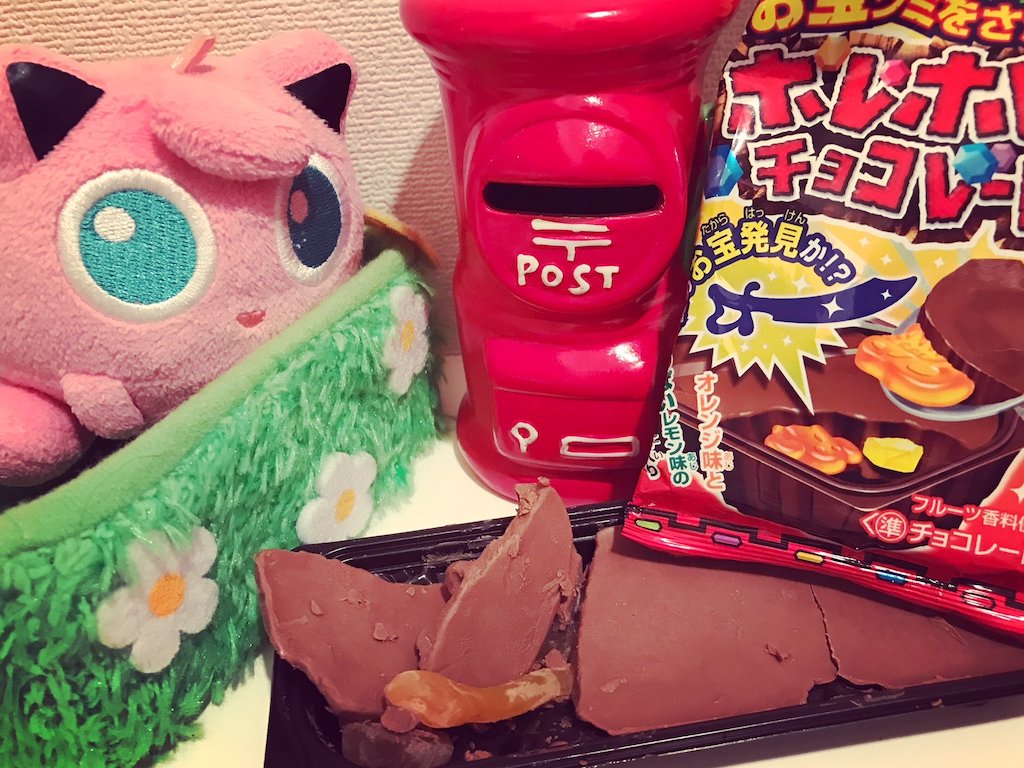 Japanese gummy candy
Are you a gummivore?
Japanese gummy candies have an amazing variety. From frog-themed gummies to strange tearable ones, all the way to character gummies such as Super Mario, Ultraman and Splatoon. There's even one where you have to dig through chocolate to find the gummies hidden inside. See full list of 26 candies below.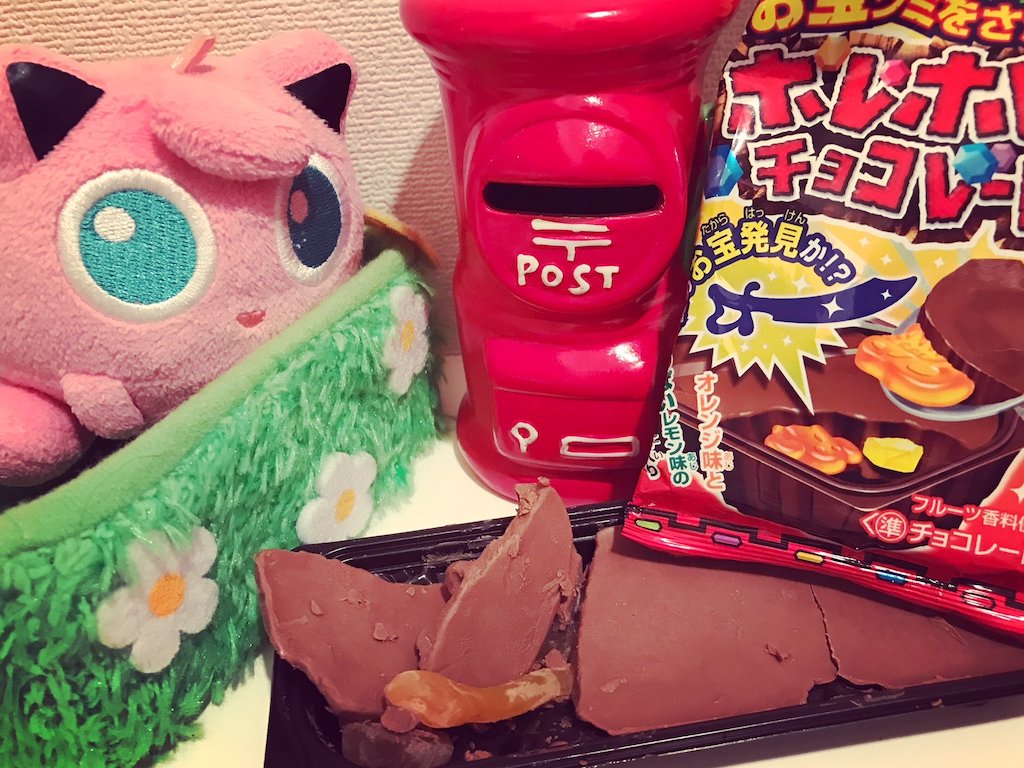 WakuWaku Zukan Gummies
This one is really fun, but takes a bit of explaining. "Waku waku" is a way of saying excited and nervous in Japanese. "Zukan" is kind of liked an illustrated encyclopedia. It's even used to describe the Pok'eDex in Pokemon! So think of these muscat grape and apple flavored gummies as pages from an encyclopedia! Each gummy shows a part of a frog's life cycle: Egg, tadpole and frog. The package also reads that the egg holds a secret inside! What this? A gummy inside of a gummy? GUMMICEPTiON!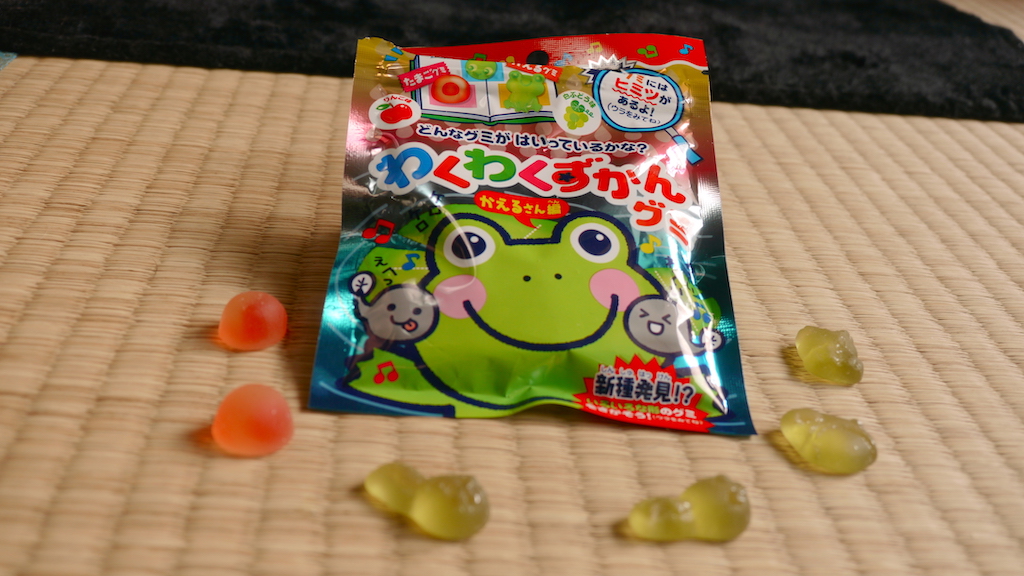 Super Mario Gummy
Super Mario is a video game character loved by people all over the world. There are many products based on this popular character and candy is no exception. The taste is cola. If the package contains other shapes than just Mario, consider yourself lucky. For example you can find gummies shaped like power up stars, coins, mushrooms or question mark mystery cubes. "Mario became a gummy!" proclaims the packaging.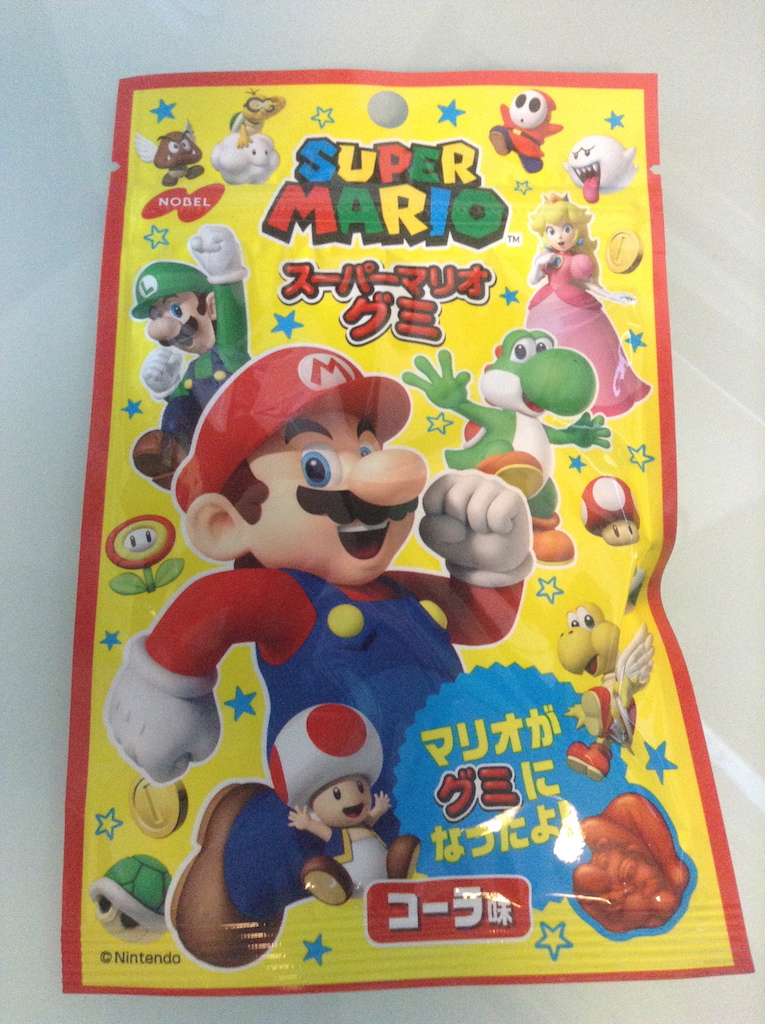 Sakeru Gummi
Talk about a weird texture! Sakeru (さける) means "to split" or "tear," and that is exactly what you're supposed to do with these grape flavored gummis. Although I don't see what harm eating one all at once could do. Perhaps too much flavor? Challenge accepted.
Bemmu's (the guy who runs Candy Japan) comment: I decided to include these because tearing off pieces was somehow really satisfying, in the same way string cheese is.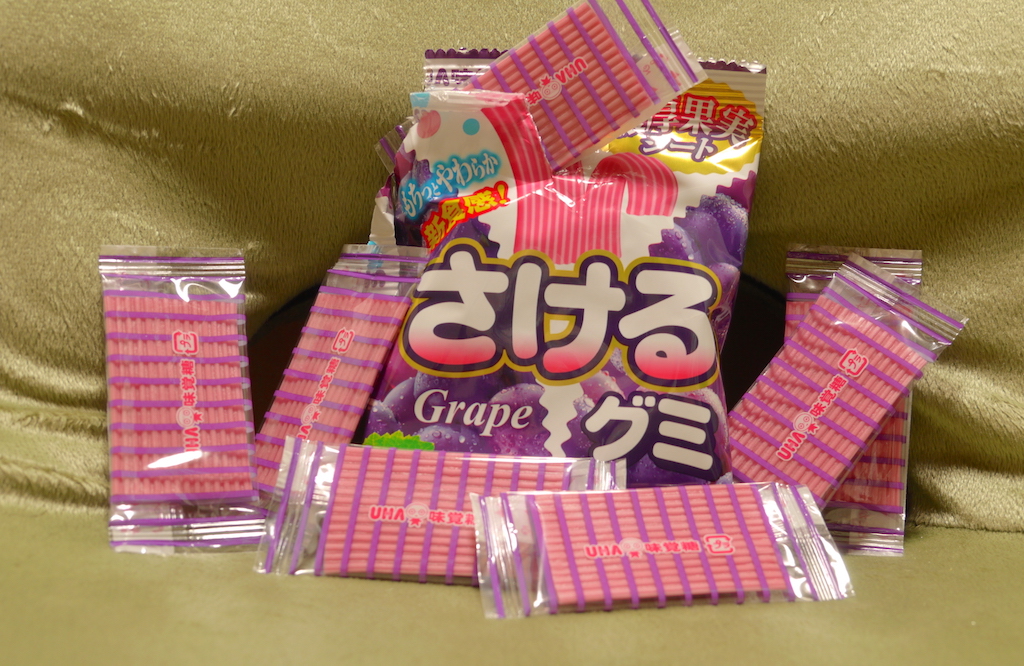 Cherry Puccho Gummis
Hoppechan (ほっぺちゃん) is a popular game series with children featuring cream-like characters that sort of remind me of tamagotchi. I've actually never seen or played it, but it's popular enough be a Puccho Gummi! These cherry flavored Puccho are supposed to look like the title characters. I really hope they didn't mind me eating them.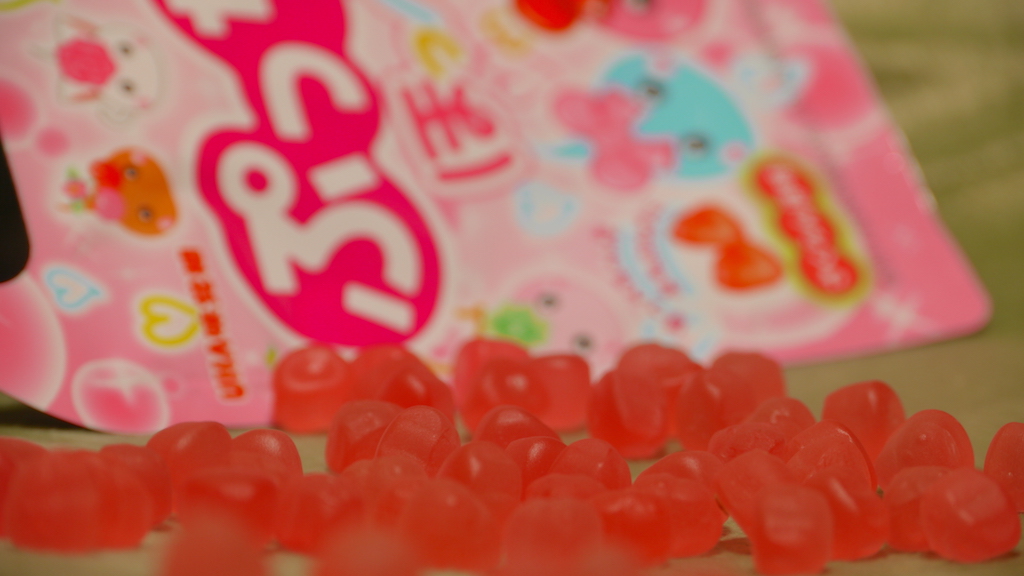 Janken Gummies
Janken, or "rock paper scissors" as it's known in the West, is more than just a children's schoolyard game. It's destiny! With just a few flicks of the hand, fate is determined. Who will go first? Who will claim the prize? Who will be the victor in the case of a tie? If only you could eat yours and your opponents hand after a game! Wait. No. That would be awful.
Thank goodness we have these chewy Janken gummies instead! They're soda flavored, so just a bit sour, but sweet enough to keep the game flowing. Choose your destiny and take turns pulling gummies out of the bag!
You can play by making rock, paper or scissors with your hand. Then take out a candy and see if you win. You get it if you win, your friend gets to eat it if you lose.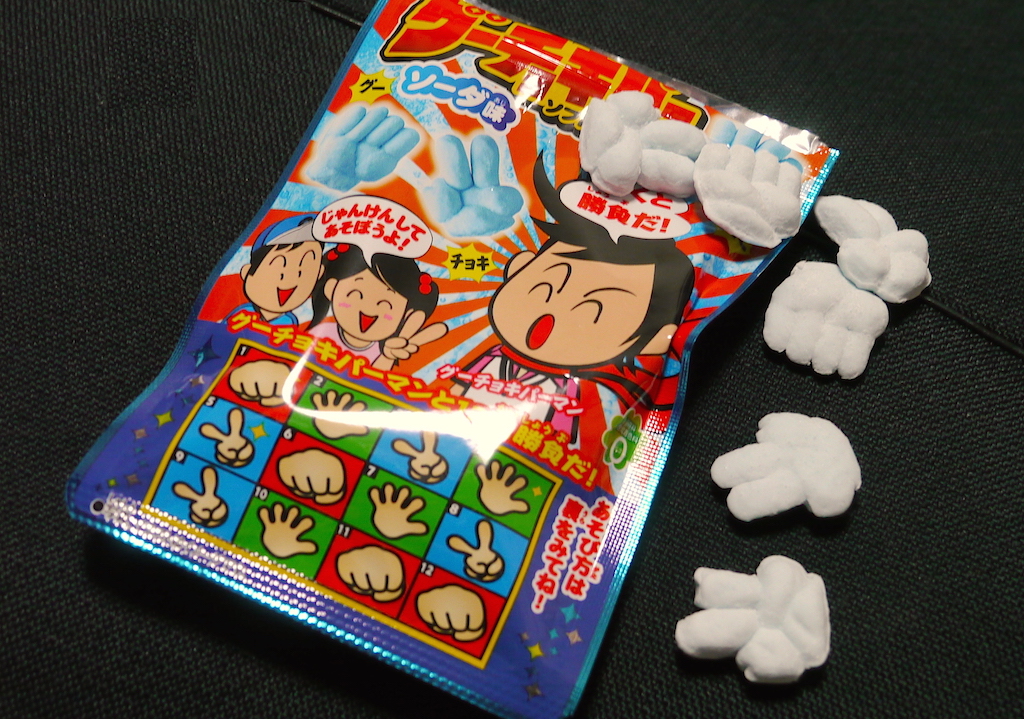 Cola Hard Gummies
These hard gummies combine a strong sour kick with a sweet cola after taste. I don't recommend eating too many of these at once though, because they're actually quite sour. Then again, I'm a bit of a push-over (ed.'s note: maybe eat some yogurt instead?). And while they're indeed gummies, they're some of the strongest gummies I've ever had the pleasure of eating, making them quite chewy!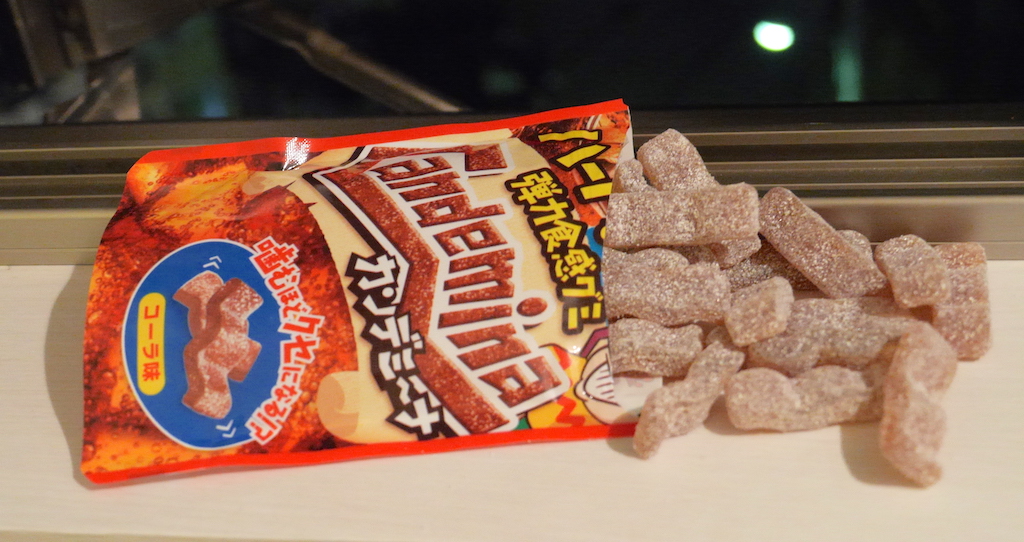 Sour Poifull
I know what you're thinking, and while they do look a whole lot like Jelly Beans, they're actually gummies. They're sweet and fruity, but these cute little guys are a bit too sour for me. I didn't read the package and just dove right in with a handful, and as usual, paid the sour price. Suppai (すつぱい) is sour in Japanese!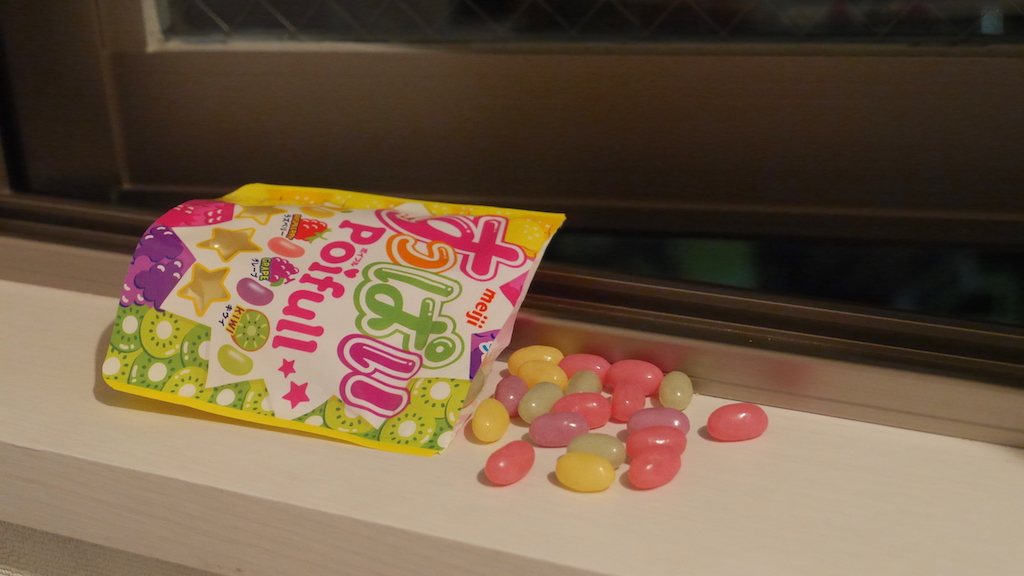 Ultraman Battle Gummies
I'll be honest. I was never into Ultraman (Bemmu note: sacrilege! ). My brother and I rented an Ultraman game for SNES when I was eight, and we couldn't figure out how to get pass the first boss. That's as far as my knowledge on the subject goes. As for these candies, it's a pretty unique take on gummies!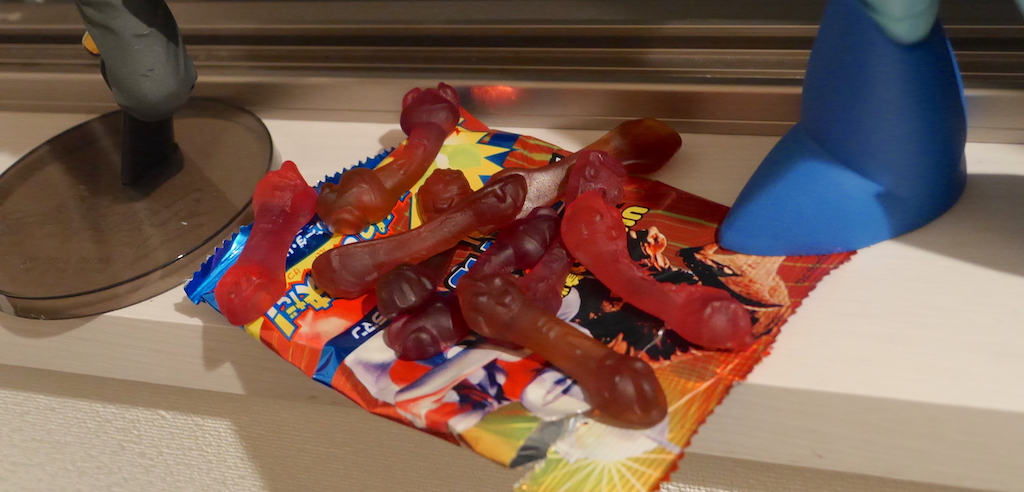 These ultraman gummies actually battle it out. Wrap them around one another and yank them for a yummy match of tug-of-war! The first one to snap in half loses.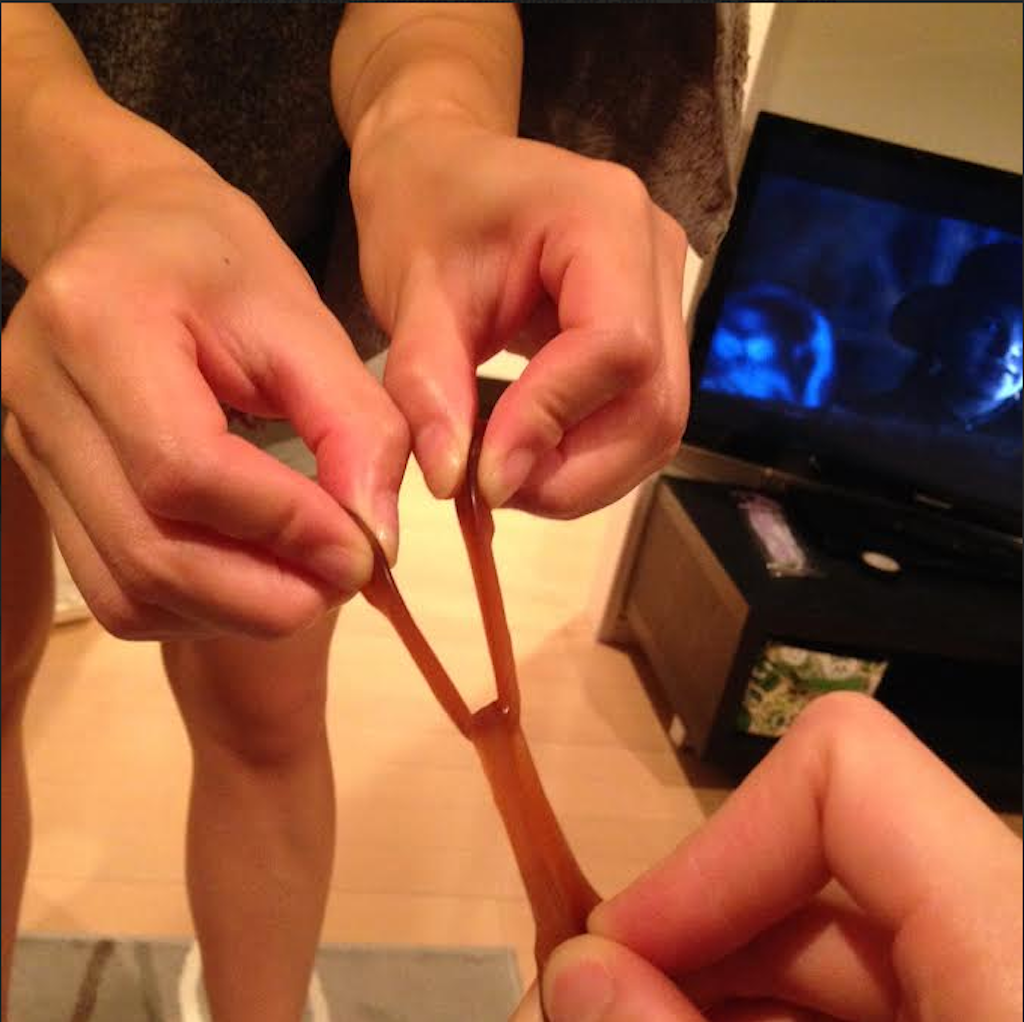 The flavors are supposed to be cola, grape, apple and melon soda, but my package only contained grape and cola. The flavors, cola in particular, were pretty strong. Though I wish I could say the same for my gummies' durability.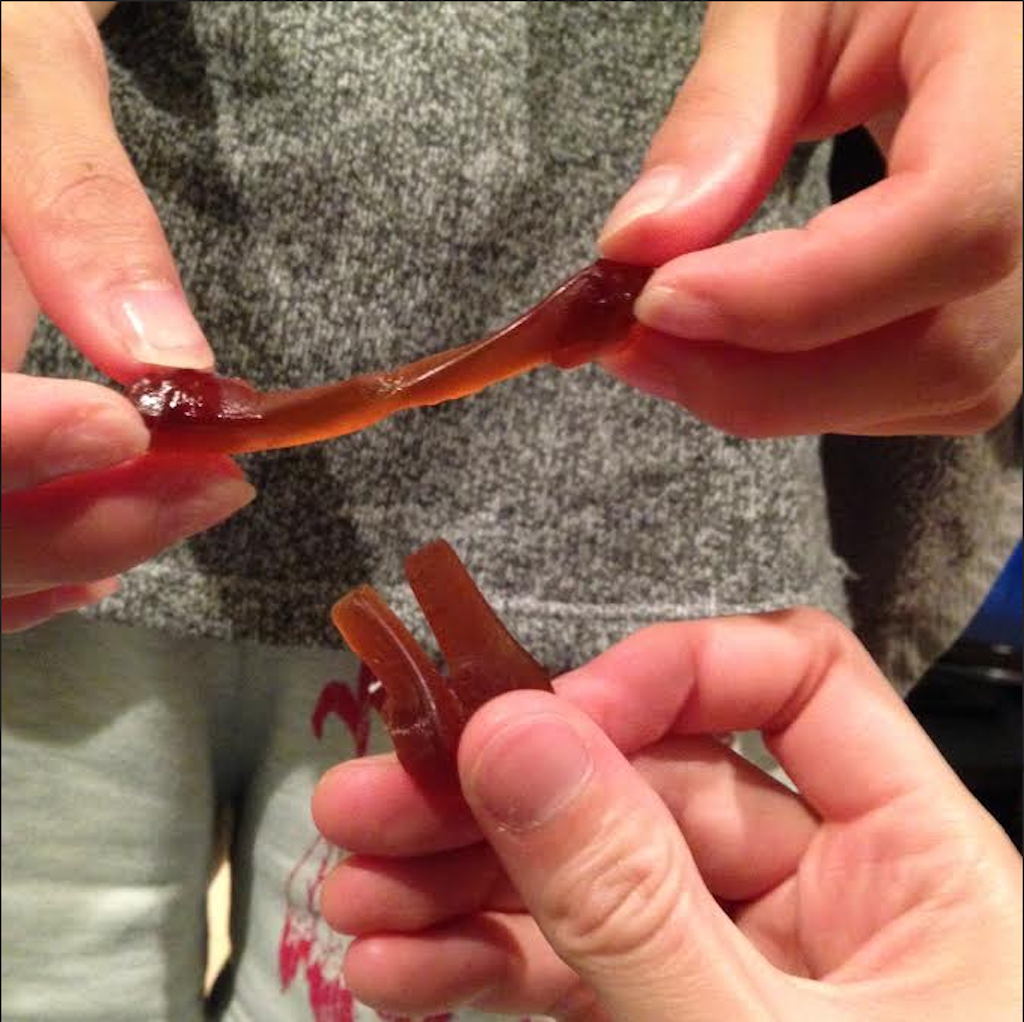 Mogi Mogi Grape and Muscot gummies
This large gummy is shaped liked an actual grape vine. The flavors are grape and muscot, but the vine itself is one of my favorite flavors in Japan, melon soda! The chewey gummi candy is really sweet, and actually really pretty looking. It's almost too pretty to eat, but I'm sure you will anyway.
Meiji Biology Deep Sea Gummies
Science! Gummies! Together at last! Oh man, who doesn't like looking at deep sea fish. I mean have you seen angler fish? I thought that thing was a mythical animal until I was like 16. Now I can eat a gummi anglar fish in Japan. Life is weird sometimes. These gummies come in orange (mikan), grape and soda flavors. Included is a collectible card featuring a deep sea creature. Gotta' catch 'em all! Or eat them. Whatever comes first.
Kabaya Watermelon Gummies
Japan has unreal hot summers. I mean I'm from Arkansas (U.S.), where the soles of your shoes melt on the road in the summer, but Japan heat is no joke. To stay cool, the go-to treat for Japanese people is delicious and refreshing watermelon. Kabaya has essentially packaged mini-watermelons into candy form. They are very close to the real thing. Sweet, juicy, refreshing and fun to eat!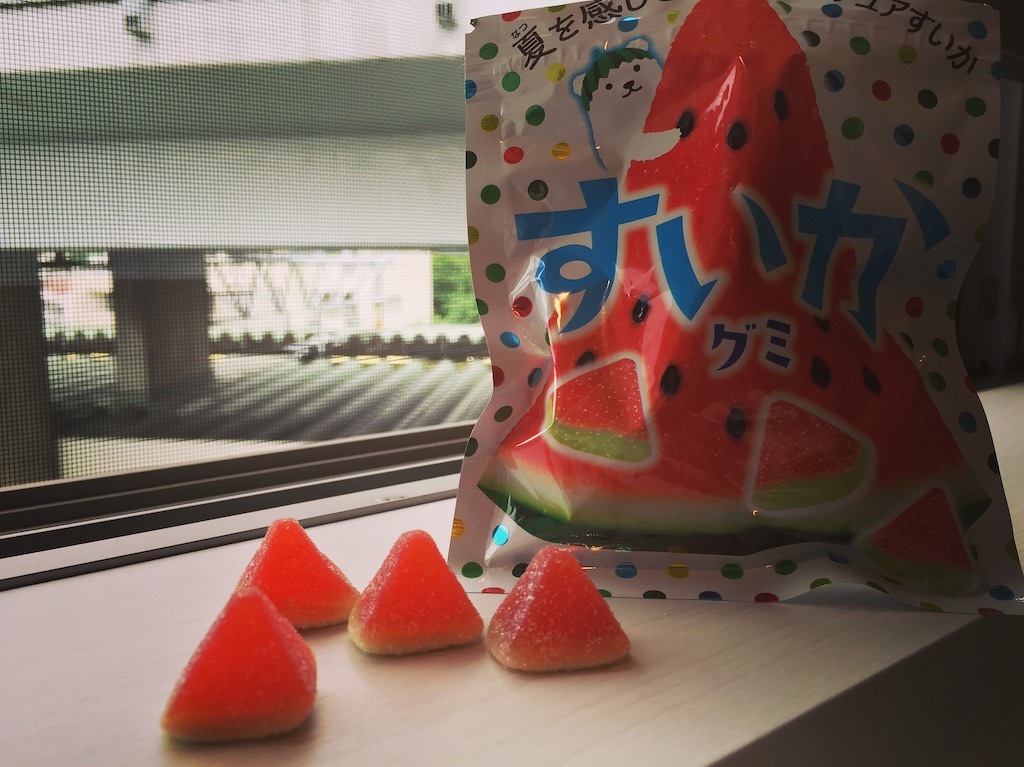 Kabaya Shaka Shaka Gummies
Is there no better feeling than shaking the heck out of something? Now you can get your shake on and enjoy gummies at the same time with Shaka Shaka Gummies. The fruity (and cola) flavored gummies are nice on their own, but if you pour the sugary powder on them (included inside) and give it a nice big shake, you'll get an even sweeter taste with a hint of sourness.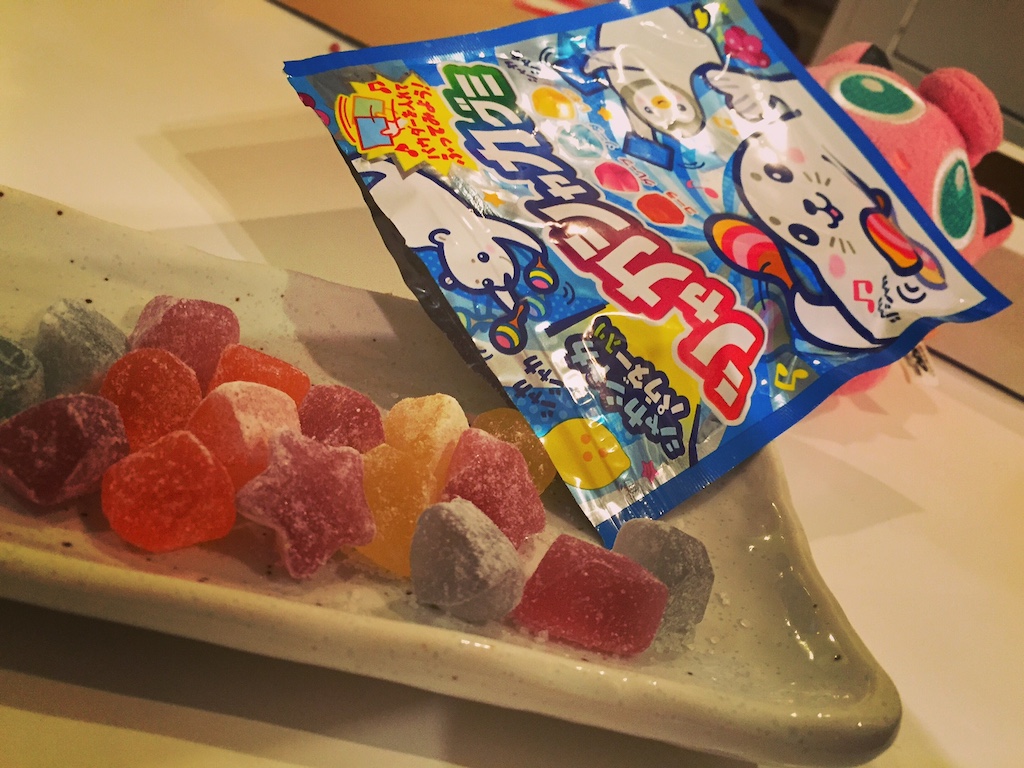 Meiji Cho Himo Q Gummy String
The only thing better than gummy string is 126cm of gummy string. That is over four feet of sweet and sour gummy goodness. The flavors included are grape and and muscot. Twist them up to combine the flavors, tie them into a cute ribbon, or just use them as shoe laces! Actually you probably don't want to do that last one.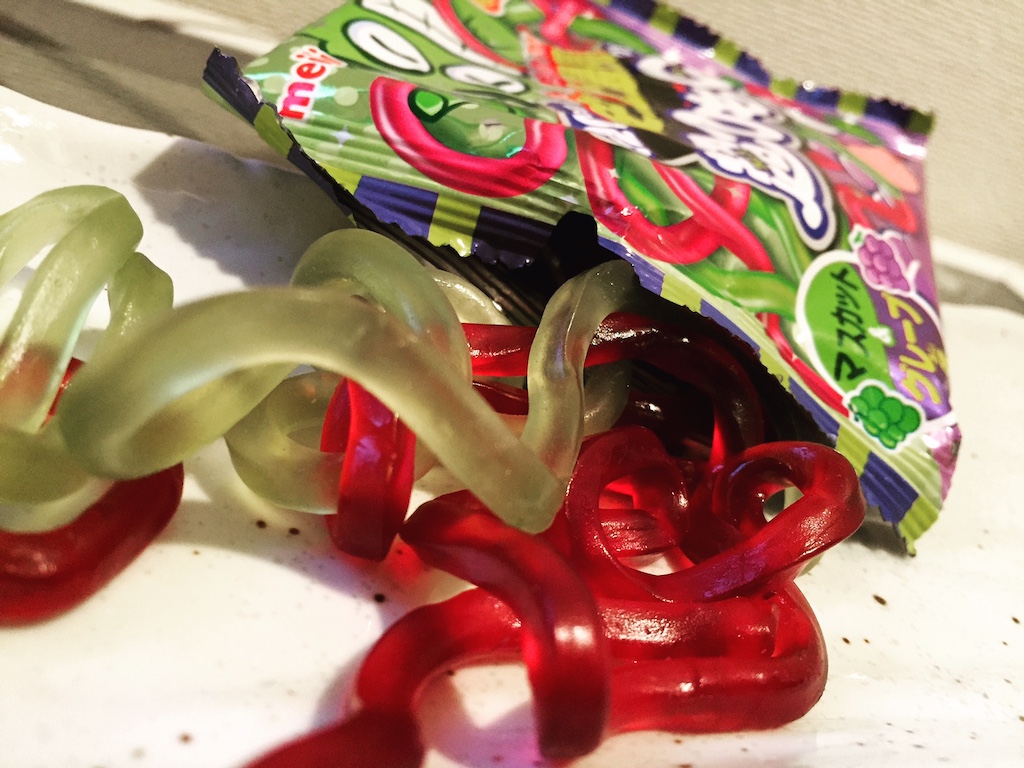 UHA Cherry Gummy Cheeks
I'm sure if you were to ask people what the cutest body part is, you would get different answers from everyone. However, if you were to ask the candy people at UHA, they would no doubt go with the cheeks. Specifically the cheeks of Hoppe-chan. Literally "Cheeks-chan" in Japanese. These famous characters are all cheeks. The bouncy red gummies are sweet and cherry flavored. Does it get any cuter?
Kabaya Okinawa Salt and Lyche Gummies
The Kabaya "Kitchens From Around the World" series is back. These gummies take ingredients often used from the best kitchens in other countries, and packs them into tiny gummies. The flavors here didn't venture too far from Japan, but no doubt are new for the rest of you: Okinawa sea salt and fruity lyche. What a perfect splash of flavors!
UHA Shiny Peach Gummies
These sparkly gummy strips are bursting with juicy peach flavors. There is no need to avert your eyes though, these sparkles come from sugar crystals. The unique shape and texture allows you the peel them in however many servings you want. Perfect for sharing with your friends and family!
Kabaya Pure Selection Gummies
If there was ever a "fine wine" of gummies then this is definitely it. The bag boasts having the purest of the pure when it comes to its fruit selection. The four flavors of chewy goodness are grape, aloe, pineapple and peach. Who will win the peach flavored gummy smack down? Kabaya pure? UHA Shine? There's only one way to find out.
Bourbon Bound Rock Gummi
Speaking of candy that is grape and chewy, take a gander at these vibrant Bound Rock gummies. Named after their hard texture, these sweets come powdered in sour candy sugar. They're sealed and specially made so that their flavor is long-lasting.
Kabaya Cola Mania
I really enjoyed these gummies. Not only are they fun to eat, but they come in three yummy flavors. There is the typical classic cola flavor, the mild cola flavor, and my favorite, the lightly fizzy pop cola flavor.
I had a hard time putting these down. The cola flavor (and smell) is really strong too! The bag is really hefty, so you'll have plenty to share with your friends and family. Or just gorge on them all by yourself.
It is your candy after all.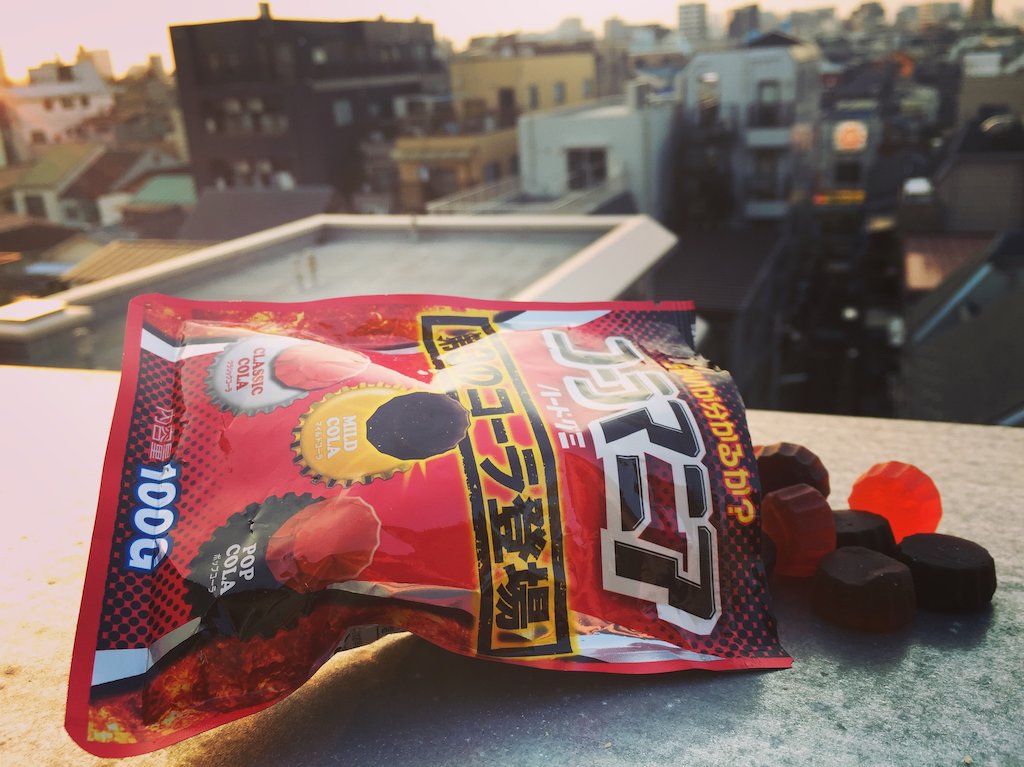 Furutakyu Ranger Gummies
Now here is a series I haven't kept up with in nearly 20 years. The Sentai Ranger series is popular as everin Japan. The package of gummies celebrates the show by packing grape flavored bite-sized gummy ranger helmets.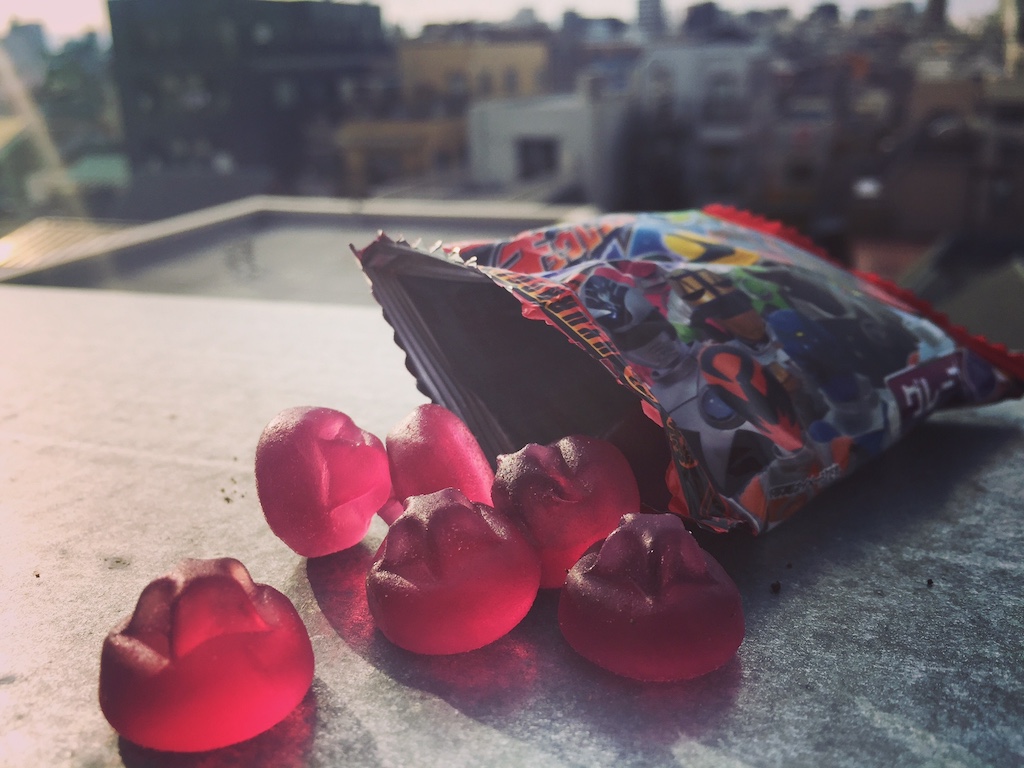 Okin Kogumi Gumis
Can candy get cuter than these Okin Kogumi Gumis? They're bursting with beary fruity flavor. Gummy bears are a popular treat all over the world. Their cute shape and springy and bouncy bodies add a lot to their "kawaii" factor too, making them very popular in Japan as well.
Meiji Jihaki Cola Up
These cola gummies are shaped like fun little cola bottles. As you can imagine, they come blasted with straight up delicious cola flavor too. I honestly cannot tell the difference between these gummies and a can of the real thing. Besides one being a gummy and the other a liquid of course.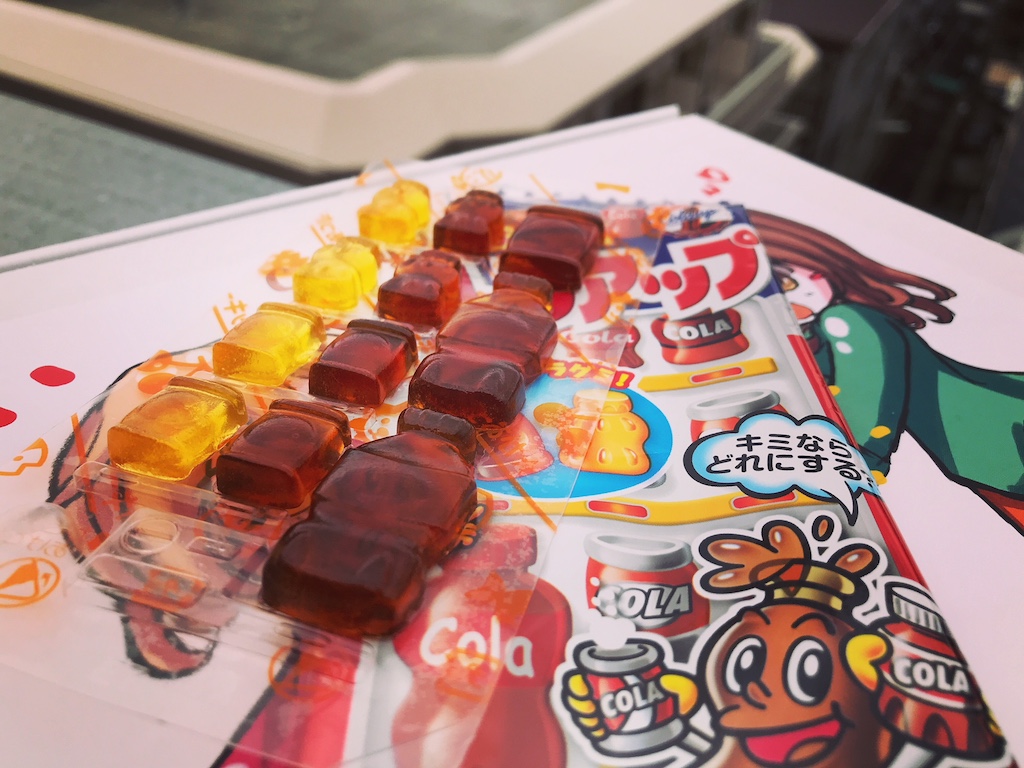 Splatoon Melon and Orange Soda Gummies
These gummies come from a collaboration with Nintendo and their very popular Splatoon videogame. The bouncy gummies are fruity orange soda and juicy melon flavor. You'll be surprised by how much flavor explodes from each little bite. I haven't had a chance to play the actual Splatoon videogame, but here is hoping Santa Bemmu will visit me with a Switch this Christmas and change that.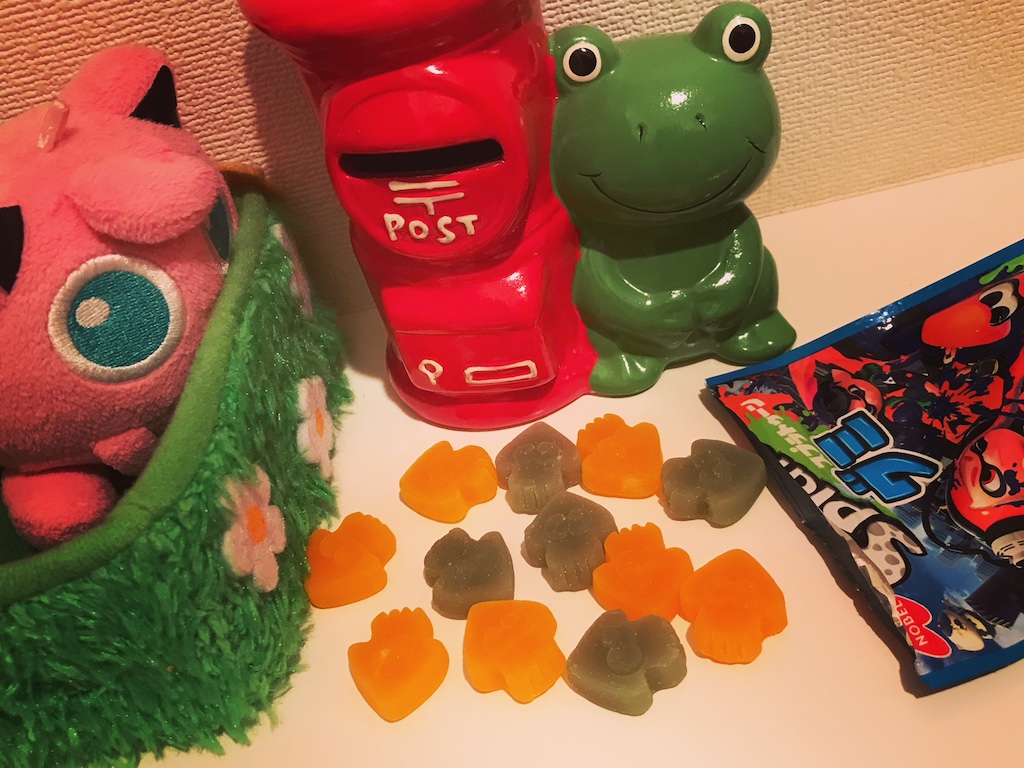 Chibi Sours Yogurt Gummy
Despite the title, these gummies are not very sour, and that is coming from a weakling when it comes to sour candy. The sugar coated gummies are a yogurt fans delight: Plain, strawberry, pineapple and lime flavors make up this sweet treat. Each taste is distinct and comes with a strong yummy yogurt aftertaste.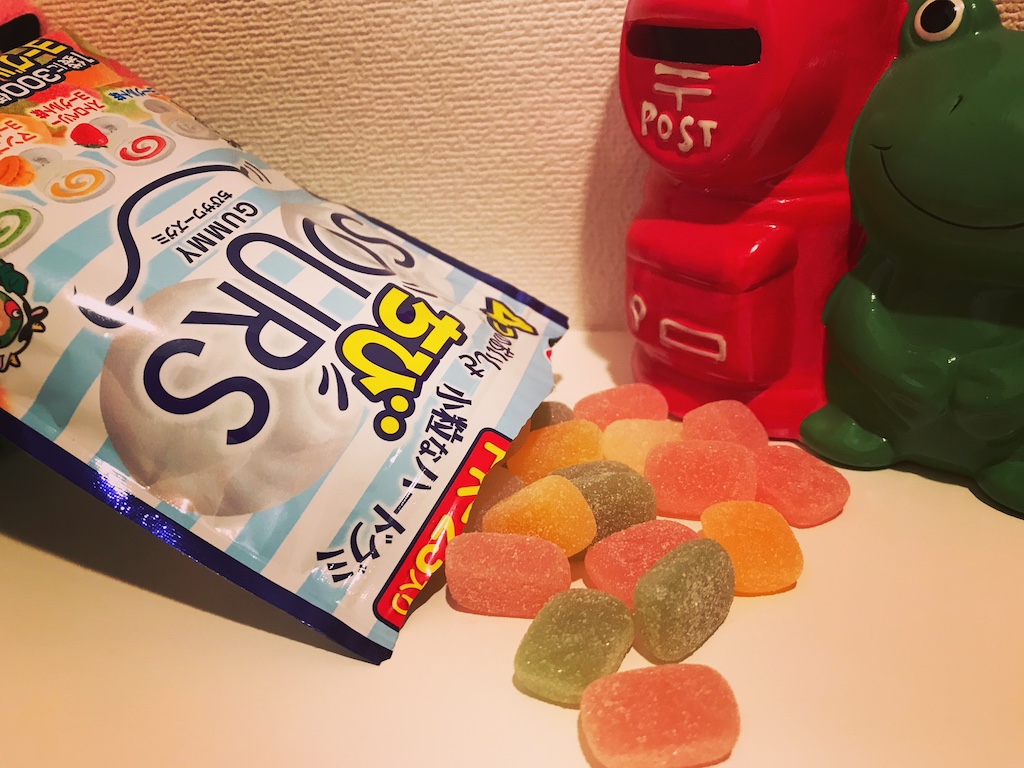 Hore Hore Chocolate Gummy
This is a great example of Japanese candy: Equally fun and tasty. There are over 10 various shapes of gummy candies you can discover hidden inside this milk chocolate, including swords, skulls, and gold, and even super rare and equally big dinosaurs. You can either burrow into it with your hands like I did for a messy experience or use a spoon like an actual archeologist! The "treasure" itself is delicious orange and lemon flavored gummies. While you could eat this candy as intended, no one is going to judge you for biting into like a chocolate bar.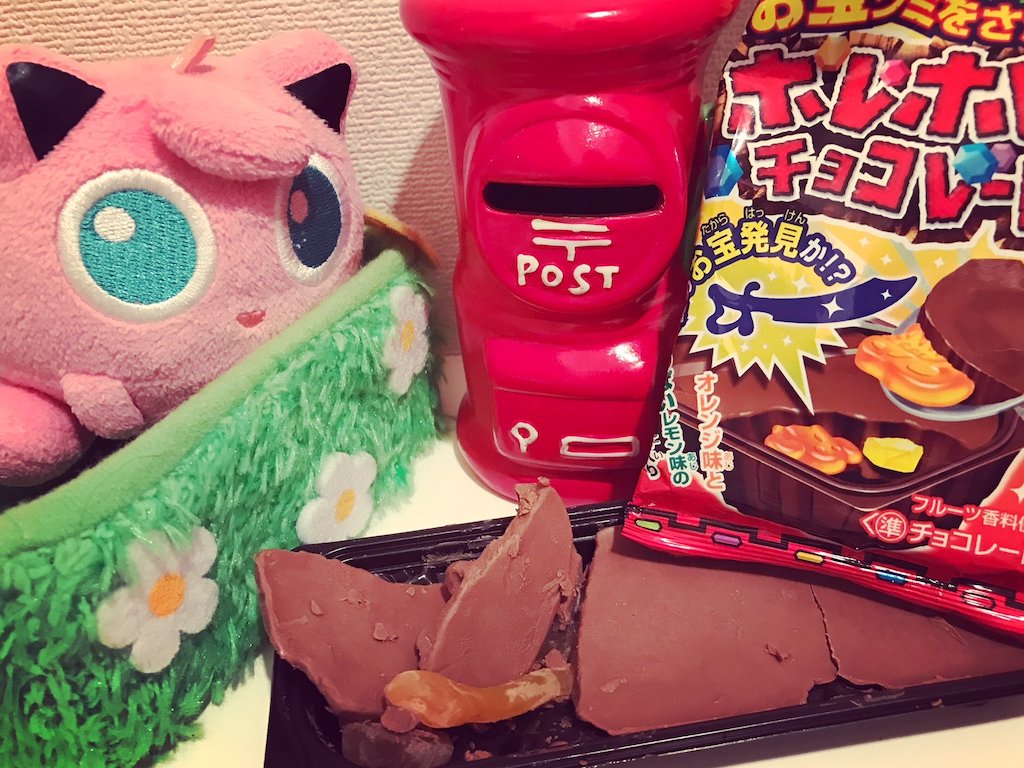 Furuta Pretty Cure Gummy
Pretty Cure is a popular anime for girls. It sometimes called the next Sailor Moon, which might be considered blasphemy to some people.These cute gummies come in three flavors: Peach, lemon, and grape. Peach, in particular, has a very strong taste packed inside such a tiny gummy snack.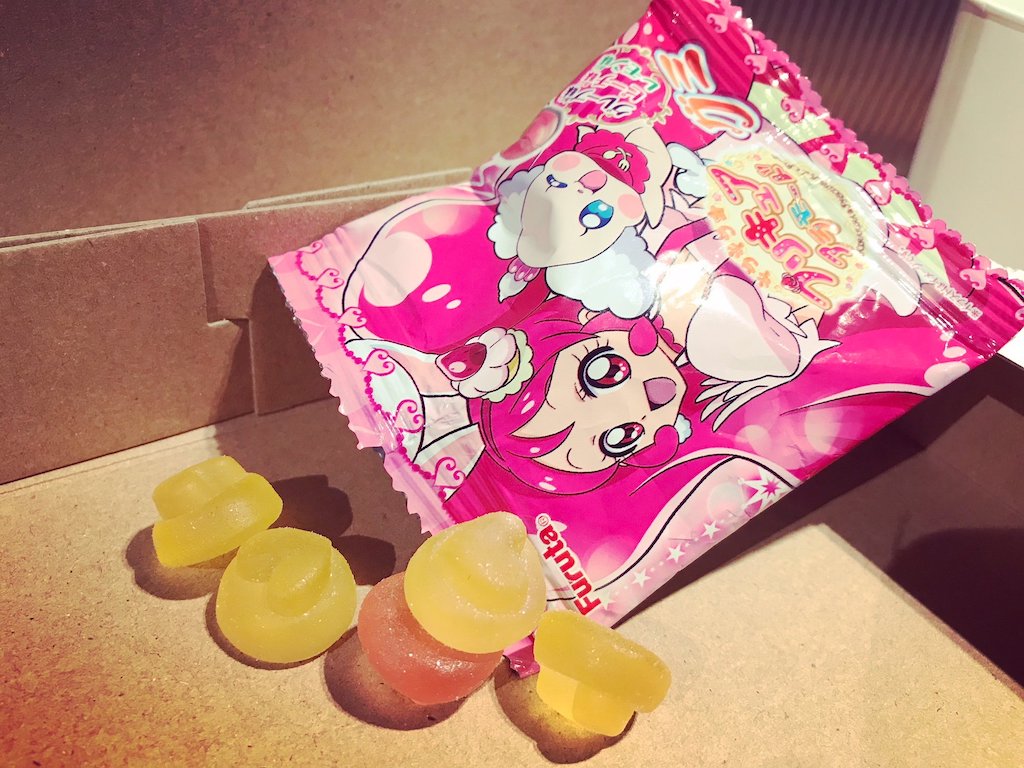 To order a specific gummy you saw on this list, here's an article about how you might go about getting some: How to Buy Japanese Candy Online.
Subscribe to Candy Japan and we'll start sending you new candies periodically from Japan! See here for more information.